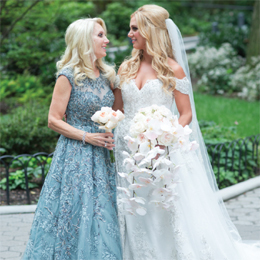 Her Turn
Gabrielle Frederico, co-owner of La Belle Mariée Bridal in Bucks County, has spent the past three years helping scores of brides-to-be make their wedding day special.
From finding the right silhouette to fine-tuning the bedazzled finishing touches, this family-owned bridal salon has quickly become a local leader in sophisticated bridal designs and styles from prominent designers, as well as exceptional service. Offering a wide array of high-fashion styles and wide range of prices, La Belle Mariée Bridal strives to cater to every bride, every budget and every idea.
Recently, however, the roles reversed, as it was Gabrielle's turn to walk down the aisle. In October, she stood opposite Jeff Devine, the man who would become her husband, and recited the vows to bind their lives together. Given her occupation, of course, she had all the resources needed to create a flower-petal-speckled path to the wedding of her dreams.
Despite the passion for all things bridal Gabrielle discovered through La Belle Mariée, her initial career path took her far opposite the direction of gorgeous ivory-colored gowns, according to Michele Federico, Gabrielle's mother and business partner in La Belle Mariée Bridal.
"Gabrielle went to Drexel University and got her accounting degree, then went for her master's and became a teacher," says Michele, who adds that she and her daughter had long envisioned starting a business together. "We both always loved fashion, and one day I began thinking of doing a bridal salon. So I proposed the idea to her and we ended up working with a friend who was a great mentor and consultant who sort of showed us the way. We took a leap of faith, and it worked out for the best."
"I realized early on the career path I was on wasn't the life I wanted," adds Gabrielle. "When my mother approached me about this idea, we began realizing there was nothing in the area like it. We knew it would be a fun, crazy and insane adventure. I could have never even anticipated how it was going to go from there, but it's been an amazing two years, almost three."
Something New
So when it was her turn, Gabrielle knew exactly where to go to find the dress of her dreams.
"We pride ourselves on carrying a wide range of styles, options and price points," she says. "We want to cater to the traditional brides but also the out-of-the-box brides who seek something different, unique or maybe even a little funky."
Gabrielle and Michele attend bridal industry events twice a year to keep current on seasonal trends and designs and to bring in styles suggested by clientele.
"Surely you want to keep up with what's trendy, but we also try to really listen to what our brides want and what they suggest to us," Gabrielle says. "When we're working with them day in and day out, we're listening to what they want, what they're asking for."
This includes keeping a conscientious awareness of price points as well, Michele suggests, by offering affordable gowns in addition to higher-end designs.
"We always want to remember the average bride—that's the bread and butter of our business," she notes. "We don't want to be known as that beautiful salon but nobody can afford to walk through the door. A bride can walk in with any type of budget and will be treated all the same."
Each bridal appointment—including Gabrielle's—ends with a celebratory toast of champagne and photos for the bridal party's keepsake. Despite particular influxes in trending styles, every bride completes the appointment with her own distinctive look, smiling and satisfied.
"Every girl that comes into the salon is unique and therefore chooses her own unique dress, tailored to her personality and wedding," Michele says.
Gabrielle can attest to that fact. After trying on hundreds of dresses, she decided on an Ysa Makino convertible ball gown with plentiful embellishment over the bodice and subtle detailing along the train and skirts. The two-in-one style, she says, allowed her to have a built in fit-and-flare reception dress underneath the gown-shaped train, which was detachable. The versatility gave her the confidence to know she had found the dress.
"For owning a bridal salon, I had no idea what kind of dress I even wanted," she laughs. "I was all over the board. Working here and seeing all of the various dresses every day made the selection process so much harder because I was changing my mind every day. Every time a new dress arrived I would think: Oh, maybe that's the one!
"The dress I ended up choosing was a gown that we have in the store," she continues. "After knowing more about what I wanted out of my wedding-day look, I went to the designer himself and had him make a few custom changes to it. We had a lot of fun working together to bring the look to life. He did a fantastic job with mine, and my mother's gown as well."
In addition to the exquisite couture gowns crafted by designer Ysa Makino, Gabrielle mentions several other designers that remain popular among brides. These include Barcelona-based designer Pronovias, Lithiuanian- Canadian Romona Keveza, Israeli designer Alon Liviné and all-American favorite Hayley Paige.
For Gabrielle, her dress played a central role in planning her entire wedding. For example, the dress provided inspiration for everything from her enchanted garden interior décor to the breathtaking venue at the New York Public Library, which her mother chose.
"I knew I actually wanted to get married in New York, thinking it would be fun and somewhat of a destination wedding but still manageable for friends and family," Gabrielle says. Similar to her dress, Gabrielle wanted to create a space different than the ones she had seen in wedding publications and on Pinterest. "Surely, I used inspiration from the typical culprits, but even though this was an indoor venue, I almost wanted it to feel like an outdoor event."
The Best Experience
Being on the "other side," she says, was both fun and a bit nerve wracking. Now, having gone through the process herself, Gabrielle says she feels she can be an even greater source of guidance for future brides.
"It's funny; I was able to help coach these girls through the process before, but after being through it myself, I have an entirely different understanding of what they're going through," she notes. "Everyone always tells you it's stressful, it's a ton of work, and the day flies by. I learned that all of that really is true. I now try to use my experience to give our brides more calming advice."
Likewise, Michele offers a similar sentiment: "Like every mother and daughter, we got caught up in the process and fear of not picking the dress soon enough, and trying to get everything done on time. I better understand what the mothers go through now, too."
As a result, Gabrielle and Michele have invested in additional enhancements to the salon, apart from a recent store expansion. This includes offering more styles from favorite designers while narrowing down the number of designers carried. Gabrielle and Michele expect these changes will only build on La Belle Mariée's success in the near future.
"We not only listen to what our brides have to say, but we also listen to what each other has to say," says Michele. "We really do work well together. This has been the best experience of my life with my daughter. I love her. She's always been my best friend, and now she's the best business partner."
La Belle Mariée Bridal
14 Summit Square Center
Langhorne, PA 19047 215-860-6400
www.labellemarieebridal.com
Published (and copyrighted) in Suburban Life Magazine, December, 2016.