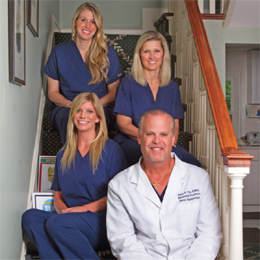 The Art of Restoration with James A. Vito, D.M.D.
When Bernadette Hoffa first came to see James A. Vito, D.M.D., it was after trying multiple other dentists. Suffering from an extreme case of dental phobia, Hoffa admits she would get physically sick in the parking lot before entering a dentist's office. Though it's a relatively common fear, Hoffa felt belittled whenever she tried a new dentist. They would chastise her for not coming in sooner and show no empathy for her fears. After a lot of her research, Hoffa felt that Dr. Vito was the right choice for her. Her only regret was that she hadn't found his office in Wayne sooner.
"Dr. Vito understood my fears and went out of his way to make me more comfortable," says Hoffa. "It was the first time I'd ever been to the dentist and didn't feel inferior."
Still, Hoffa says she was leery when Dr. Vito suggested dental implants. As someone who has long been afraid of dental work, the idea sounded incredibly frightening. But Hoffa says Dr. Vito walked her through the process and then left the final decision to her. Never once did she feel forced into the decision. She made the commitment to have her long-overdue dental work done and scheduled her "Teeth in a Day" procedure with Dr. Vito.
Dr. Vito stresses how incredibly important it is that the job is done right the first time. When the procedure is not planned out well, and changes need to be made during the procedure, the results may be less than satisfactory.
"One thing I always tell my patients is that we can do it fast, we can do it cheap, or we can do it right," Dr. Vito says. "I think that my patients do appreciate that I tell them what's best for them. Too often patients are just told what they want to hear—not what they really need to hear. And that's really doing a disservice to everyone."
Undoubtedly, Dr. Vito's patients value his honesty. Hoffa says that finding a dentist she trusted was so important. And so many more of Dr. Vito's patients echo similar sentiments. One patient, who wishes to remain anonymous, expressed how much she feels Dr. Vito cares about his patients, which is a rare quality these days. This patient—who, like Hoffa, chose the "Teeth in a Day" process to address her dental problems—considers Dr. Vito a practitioner of "boutique dentistry."
"You just don't find that as much anymore—where your provider not only really gets to know you, but cares about you," the patient says. "Dr. Vito gave me his cellphone number after my implants and said to call him directly if I needed him. Most professionals just use an answering service, but not Dr. Vito. He's available to his patients."
Putting Patients First
When Dr. Vito started out in the field of dentistry in 1987, dental implants were a "hard sell," as he remembers it. But today, Dr. Vito says patients not only have accepted implants but are actually coming in asking for them. Implants seem to be "in vogue," and many patients say they strongly prefer the option over dentures or dental bridgework.
As an implant specialist, Dr. Vito is skilled in the surgical placement and restoration of dental implants. He holds three fellowships and is dual board certified in implant dentistry through the International Congress of Oral Implantologists and the American Board of Oral Implantology/Implant Dentistry. He is also certified as a Master in Implant Prosthodontics through the International Congress of Oral Implantologists.
While the acceptance of dental implants has come incredibly far, so have the technology and the dental implants themselves. Dr. Vito's office has all of the latest technology, including a cone beam scanner for advanced 3-D imaging. Dr. Vito is also implementing a new machine that will allow him to virtually place a dental implant, precisely guiding it into the bone. This kind of cutting-edge technology ensures that everything is aligned correctly. Dr. Vito's office also has plans to implement a 3-D printer that will allow him to print a model of the patient's jaw, thereby giving him an exact replica of the patients' jaw to show the patient what their exact problem is, as well as to do his planning work outside of the mouth. With all of these advances, the procedure continues to become more precise, which is important because patients today expect their dental implant restorations to look like real teeth.
"Because of the increased aesthetic demands with dental implants, patients want to be sure they get it done right the first time," Dr. Vito stresses. "After making an investment, patients want to be certain it's done properly and they want to be happy with the results."
Ensuring his patients' happiness, and that the job is done right, is also why Dr. Vito does things a bit differently from most other dental professionals. Some dentists, for the "Teeth in a Day" procedure, will push patients to have the teeth removed, the implants and the restoration placed all in one day.
Dr. Vito believes in a more conservative approach, wherein he ensures that his patients will get their teeth within 24 hours or "in a day." He makes sure his patients are well prepared for the process. Dr. Vito performs the extractions, the dental implant placement and impressions for the implant restoration and then has his patients go home and rest. The following day, they come back in for their implant restoration, which is then fitted in a very short, predictable and pain-free appointment. The patient has the entire "Teeth in a Day" procedure performed with a 24-hour time frame.
This, Dr. Vito feels, is "a much more humane, pleasant experience for the patient. Patients are fresh and feeling a lot better the day after the extraction and implant placement and ready to go. We put in their implant restoration and they go home happy."
Hoffa, who was incredibly nervous for the procedure, says the worst part of the procedure was the anesthetic injection—and even that wasn't too bad. She says Dr. Vito gave her breaks when she needed them, which helped her relax. She also liked that she returned to the office the next day rather than trying to push through everything at once.
"In order to get everything done in those two visits, I know that Dr. Vito did a lot of prep work," she says. "I know so many people who had the same procedure done all in the same day and have had to go back to their dentist many times because something didn't fit right or wasn't put in properly. I have had zero issues, and I'm certain that's because Dr. Vito did so much prep to get it right."
Hoffa couldn't be any happier with the end result.
"I smile all the time now," she raves. "I used to cover my mouth when I talked and now I proudly show my teeth. It changes you in many ways. I have a better outlook on life and conduct myself in a totally different way. It's amazing how different you not only look but also how different you feel."
This is Dr. Vito's goal with every patient: to get it right the first time. Whether it's for dental implants, cosmetic restorative procedures or even just a routine cleaning and general dental care, Dr. Vito is committed to meeting and exceeding his patients' expectations.
JAMES A. VITO, D.M.D.
523 E. Lancaster Ave.
Wayne, PA 19087
610-971-2590
www.jamesvito.com
Published (and copyrighted) in Suburban Life Magazine, December, 2016.