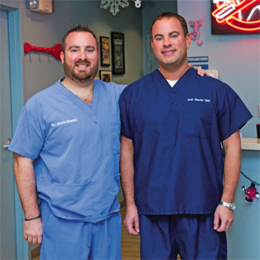 A Child's Smile
Nothing is more precious than a child's smile, and the practitioners of Doc Bresler's Cavity Busters take this to heart. Via a fun environment, delightful staff and a seasoned and accomplished array of dental professionals, children are assured of a great time—and, more importantly, great care—when visiting the office.
With DVDs, TVs, video games and more, it's more of a play-date than a trip to the dentist when visiting Doc Bresler's office. Care and compassion are the true stars of all that is done by Doctors Josh and Jason Bresler, their associates and staff.
"We pride ourselves on allowing kids to have fun and have an experience that isn't going to cause anxiety," says Dr. Jason. "Our goal is to have parents have a hard time getting their kids to leave, not getting their kids to come."
As practitioners of dentistry for young people from birth through collegiate age, these professionals have unique skill. The team is also equipped to see special needs adults in their practice.
"With seven locations throughout the city and suburbs, we provide comprehensive dental services for children in the Philadelphia area," says Dr. Josh. "We see kids from birth through college and we offer a full range of services from preventative to restorative care, including care under anesthesia."
Dr. Josh is Medical Director of the Red Lion Surgicenter—the nation's first Ambulatory Surgical Center dedicated to providing dental care to pediatric and adult patients while under general anesthesia. Each week, many young patients are safely treated while asleep so the highest quality of dental care can be performed without the risks of trauma to a scared, moving patient. The days of routinely holding young patients down to restore their teeth are over. Sleep dentistry provides a more compassionate and safer way to ensure all the dental needs are met. If a child is extremely anxious, it is very difficult to safely get these procedures completed without traumatizing them. In this case, the child goes to sleep, wakes up, and their mouth is 100 percent healthy. It provides a clean slate for the child and then the focus becomes more about prevention though proper oral hygiene and diet. Safety is always the top priority and every patient is cared for by a team lead by board certified pediatric medical anesthesiologists.
Drs. Josh and Jason are both graduates of Temple University's Maurice H. Kornberg School of Dentistry and are now both Assistant Professors of Pediatric Dentistry at Temple. Dr. Josh is also an Assistant Professor of Pediatric Dentistry at the University of Pennsylvania School of Dental Medicine. Both doctors see young patients, but many would be surprised at just how young patients can be. According to the American Academy of Pediatric Dentistry (AAPD), children should be seen by a dental professional by their first birthday, says Dr. Josh.
"There's still a lot of misconception that kids don't need to go to the dentist until age 3," he explains. "But, by the time a child is 3, it is often too late. The earlier that kids can get to the dentist, the better. Dental decay is the No. 1 chronic childhood disease."
Dr. Jason agrees: "It's important that a one-year-old visits and establishes a 'dental home,'" he says.
The doctors' commitment to dental health is one that is in their blood.
Drs. Josh and Jason have deep roots in the dental industry. They grew up in the field of dentistry, serving as helpers to their father, who had been running a successful practice since the boys were young. Both note that they were drawn to the field not just for the capacity to help young people but for the joy of practicing that their father felt each day.
"Our father was a pediatric dentist," Dr. Josh explains. "He opened an office in Roxborough 34 years ago that has now expanded into a seven-location group practice."
"Our father said, 'If you love what you do, it's not work,'" Dr. Jason says. "He would show us people getting on the train, going to office, with downtrodden looks on their face … versus when we got to the office with him, it was all smiles.
"He encouraged us to find a career that we love."
For all three of his children, the choice was clear—that is, pursuing a career dedicated to spreading smiles among young people. Drs. Josh and Jason have a younger sister, Rachel, who is a recent graduate of Temple Dental School and is currently completing a two-year residency in pediatric dentistry at Case Western Reserve University in Cleveland, Ohio.
"We watched him as we grew up go work every day to 'play' instead of go to work," Dr. Jason says. "It was very gratifying for him to help children get healthier and out of pain."
The entire team at Doc Bresler's Cavity Busters retains this philosophy. Whenever and however, they adopt means to keep their patients out of pain. Dr. Jason recalls having recently seen an 18-month-old child with multiple abscesses; he notes that, in a traditional care facility, such a problem would have a six-month wait for resolution. Yet, in the care of Doc Bresler's Cavity Busters, this problem could be taken care of straight away. He emphasizes, too, that no practice could be successful without its staff, and Drs. Josh and Jason are the first to acknowledge that. All the staffers of Doc Bresler's Cavity Busters must have, in addition to, as Dr. Josh says, "a friendly, out-going personality," a nature that is built upon a sincere love for children. "Our whole staff is upbeat and just loves being around children," he says.
A true family affair, Dr. Josh's wife, Tracey, is a pediatric dentist, Dr. Jason's wife, Jill, is a dentist and the company's COO is Sherry Bresler. In addition to a love for treating children that shows in their work every day, both Drs. Josh and Jason show their commitment through organizational involvement. Dr. Josh is an active staff member of St. Christopher's Hospital for Children and the Children's Hospital of Philadelphia. Dr. Jason is also an active staff member at St. Christopher's Hospital for Children. Both are also diplomates of the American Board of Pediatric Dentistry, a distinction based upon merit and success.
As Dr. Jason says, "We're focused on the patients, the kids, more so than anything else. The whole experience is based around making the patient have a good experience. Our doctors and staff are hired and trained to always put the patients' needs first."
For more information on Doc Bresler's Cavity Busters locations throughout the Greater Philadelphia Area, visit www.cavitybusters.com
Published (and copyrighted) in Suburban Life Magazine, December, 2016.