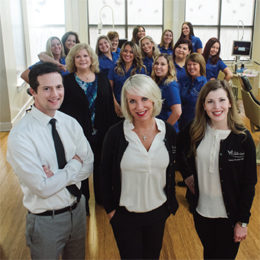 In Alignment
Comedian Phyllis Diller once said, "A smile is a curve that sets everything straight." Orthodontic specialist Cathleen George, D.M.D., truly believes and embraces this philosophy.
"Rebuilding a smile can change someone's life," says Dr. George, whose practice focuses on providing children and adults with the highest level of orthodontic care in a family friendly, comfortable, stateof- the-art facility located in Richboro. "A better smile builds confidence and self-esteem, which can lead to success in all aspects of an individual's life."
Ever since grade school, her goal was to help people.
"I originally wanted to become a physician, but I was painfully shy," recalls Dr. George. "I shared my ambitions with a guidance counselor, who said I would never be able to get through medical school and encouraged me to choose another profession. I resolved then and there to pursue my dream of becoming a doctor, no matter what the obstacles."
During high school, she worked in an orthodontist's office near her home in Long Island, N.Y., and discovered her calling.
"I worked under John Capogna, D.M.D., and was very impressed with the orthodontic process and the positive work environment he created," she says. "He treated all of his patients like family in a relaxed and friendly atmosphere and was dedicated to giving each patient a beautiful smile. When I decided to pursue the orthodontic profession, Dr. Capogna encouraged me to enroll in the University of Pennsylvania's orthodon tic program. I was accepted and thus began my journey to becoming an orthodontic specialist."
Dr. George completed her dental doctorate program at the University of Pennsylvania and continued her studies with the university for an additional two years to earn a specialist degree in orthodontics. She is board certified in orthodontics and continues to assist in the training of new orthodontists at the University of Pennsylvania.
After graduation, she decided to stay in the Philadelphia area and worked with a local orthodontist, Larry C. Smedley, D.D.S., before opening her own practice in 2004. "Dr. Smedley helped me understand the business management side of the practice and the need for education and communication with patients and parents throughout the orthodontic process," says Dr. George.
In 2009, she moved her practice into a brand new building that she personally designed with her husband. The building itself was constructed almost entirely from renewable and recyclable materials in order to be eco-friendly. The office is open and inviting, with a spacious waiting area with plenty of natural light. A 37-foot wall of windows and transparent glass partitions, each infused with natural materials such as seaweed and birch, along with a large, semicircular saltwater aquarium, creates a soothing environment for patients and their family members.
In addition to the inviting waiting area, the office features a large open operatory, semi-private operatories, private consultation rooms, two private X-ray rooms, a patient education center and a new patient consultation office.
From the moment one walks into the office, the welcoming staff and dental professionals aim to provide a pleasant experience in a soothing environment.
"Given the frequency of appointments during orthodontic care, I wanted to create a space in which parents and their children could comfortably share the appointment time," says Dr. George. "Our goal was to create a happy, fun and engaging place for kids."
Younger patients can wait in a game center featuring Wii and Xbox consoles, along with iPad stations or watch movies on a flatscreen TV while their parents relax in a separate space with oversized leather chairs, a coffee bar, complimentary Wi-Fi, and a wide selection of magazines.
The treatment process begins with a consultation including patients and their parents, and includes a tour of the office, taking photos and X-rays of the potential patient's teeth, an explanation of what's going on with their mouth and an assessment of their facial and bone structure and smile. The doctor then comes up with an individualized treatment plan designed to address the patient's specific issues.
Dr. George's team includes a staff of certified orthodontic assistants, all of whom have obtained specialized, accredited training in orthodontics. In addition, she partners with two other practitioners, Daniel Cassarella, D.M.D., and Christine Martin, D.M.D. Office hours include early mornings and evenings to accommodate parents' and patients' busy schedules.
The office utilizes state-of-the art technology, including 3-D scanners for impressions that are far more accurate than the traditional molds orthodontists previously used, digital models, advanced X-rays and charting systems, and patient/practice management solutions. Patients and their parents are a key part of the treatment process and are kept up to date on the progress of the procedures at every visit.
"Our use of new technology helps make patients feel more comfortable and sets their mind at ease," says Dr. George. "Today, there are many options for accelerating the treatment process and there are less intrusive treatments available, such as Invisalign. Smaller, lighter braces with smaller brackets and rubber bands in fun colors make braces more appealing to kids, who view them more as a rite of passage than a burden these days."
Children are also beginning orthodontic treatment much earlier than ever before. The American Association of Orthodontists recommends all children get a check up with an orthodontic specialist no later than age 7. As a proponent of early interceptive treatment, Dr. George recommends an orthodontic evaluation for a child around age 7, in order to identify any issues and prohibit more serious problems later on.
"Early screening and treatment can help avoid the need for tooth extractions, create room for crowded teeth, eliminate root or tooth damage, correct bite problems and, most importantly, improve self-esteem," she says.
Like the butterfly theme used throughout her office, Dr. George believes in the metamorphic change her patients undergo during orthodontic treatment. "I am dedicated to developing and releasing each patient's perfect smile," she says. "A smile is a lifetime investment, providing both aesthetic and health benefits, [that] boosts self-esteem and can help you realize your dreams."
This past July, Dr. George was a recipient of SmartCEO magazine's 2016 Brava Awards, which recognize female business leaders, CEOs and executives for their entrepreneurial spirit and passion for giving back to the community. She was recognized as both a leader in her business and for her philanthropic efforts. Each year, she sponsors a number of school events and fundraisers, and frequently donates a photo booth she has at her practice to local nonprofit events.
Dr. George is a five-year recipient of The Best of Bucks County, presented by the Bucks County Courier Times, and is highly respected by her dental colleagues and throughout the communities of Bucks County.
"Dr. George is truly passionate about what she does and provides her services in a professional, caring and supportive environment," says Susan Black, her office manager. "It's a pleasure to come into work every day and to see the positive effect she has had on so many patients' lives."
Cathleen George, D.M.D., P.C.
www.teethstraight.com
51 Almshouse Road
Richboro, PA 18954
215-355-5995
Published (and copyrighted) in Suburban Life Magazine, December, 2016.