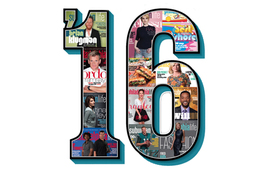 2016 Year in Review
Ushering in the new year is the best time to look back at 2016 and relish in the year's moments, changes and milestones. We've especially enjoyed bringing you the best of our area, whether it was celebrity or sports stars, up-and-coming chefs, local philanthropists and the best lawyers, doctors, dentists and more. As we welcome 2017 with open arms, take a look through the next few pages to relive our favorite moments of 2016. We hope you enjoyed them as much as we did.
MOMENTS WE CAN'T FORGET
Some of the most memorable moments—both good and bad—that continue to put the Philadelphia Area on the map.
2016 Democratic National Convention
In July, history was made when Hillary Clinton accepted the Democratic presidential nomination, becoming the first female major party nominee and it took place right here in Philadelphia at the Wells Fargo Center. In addition to Hillary Clinton, speakers included Barack and Michelle Obama, Joe Biden, Chelsea Clinton, Bill Clinton and Bernie Sanders.
Clinton and Obama Rally
As if the Democratic National Convention didn't make enough history in Philadelphia, Hillary Clinton along with her family and the Obamas rallied in front of Independence Hall along with musical performances by New Jersey natives, Bruce Springsteen and Jon Bon Jovi.
Villanova's NCAA Victory Parade
The Villanova Wildcats had a parade fit for kings after winning the NCAA basketball championship in April. Crowds lined the sidewalks to catch the parade spanning 20th and Market Streets to Dilworth Plaza featuring players and coaches.
The Rail Park
Philadelphia is getting its own High Line thanks to the beginning phase of The Rail Park, which started in Nov. It will entail of a three-mile stretch utilizing unused Reading Railroad lines, connecting 10 neighborhoods and 50 city blocks spanning Fairmount Park to Center City. The project will fulfill a vision of a public park and a green space to spur community engagement.
Nia Ali
Ali represented our City when she took home the silver medal at the 2016 Olympics in Rio de Janeiro for the 100-meter hurdles. The Germantown native also held a stake in the first all-American sweep of any women's track event.
Uber and Lyft
The ride-sharing services have became legal across the Keystone State.
ON THE RECORD
Some of this year's best quotes as told to us by local—both visiting and natives.
"I still have a lot of family in Philadelphia. I know that my roots make me who I am. ...What do I love most about Philly? That's easy to answer: everything. Philly is who I am. It is my heart and my home, and it always will be."
—Will Smith, actor
"You see it on TV and I know [the fans are] intense and they're into it but from personal experiences, everything I've had has been positive. It's been great. There's a lot of excitement around the team with a new coaching staff and all the new faces here so that's good. I'm still getting used to the intensity they'll bring on Sundays but that'll be fun. Everyone is excited so that's really cool."
—Carson Wentz, Philadelphia Eagles
"It's really, as cheesey as it is, a little bit of a fate thing; all these different things kind of have to align in order for it to happen. So I guess my advice would be: Don't give up just because it seems difficult in the beginning."
—Hayley Orrantia, singer and actress on The Goldbergs
"I remember seeing all the white towels in the stands and seeing how packed it was. Walking through the hallways down to the field [at Citizens Bank Park], they have a big picture from that game of everybody on the field celebrating. From what I've heard, there's no other place like this when you're winning. It's a pretty special place."
—Aaron Nola, Philadelphia Phillies
"Philadelphia has great readers, and the library system there is phenomenal. Some of my best memories of Philadelphia, I'm almost embarrassed to say, are centered around your cheesesteaks. I'd be so grateful if someone would bring me one."
—Jodi Picoult, bestselling novelist
"I am so lucky that I grew up on the seashore of Point Pleasant. The simple things made it special—just the air and the way it smells. It was just wonderful putting my toes in the sand and feeling the ocean breeze. I know that a lot of truly wonderful people come from Jersey."
—Kirsten Dunst, actress
"I've been to Philly, Washington D.C., and Chicago recently and it seems the cutting-edge fine dining scene is off the beaten track in isolated areas that have been forgotten about. The restaurants are contemporary without being over the top. The food is the highlight, not $6 to $7 million [designed spaces]."
— Gordon Ramsay, chef
"I came from a family that is very much about following your dreams and 'Don't make a fallback career because that's what you're going to end up doing,' but really nothing prepared me for the rejection and how tough acting was, even after four years of acting school."
—Melissa Rauch, actress on The Big Bang Theory
"I still don't expect to be the person who says, 'Let me consider my offers today.' There are a lot of real movie stars in the world. I am still thrilled that anyone calls and asks me to do these roles."
—Tina Fey, Upper Darby-born actress
"Age seems to surprise you in unexpected ways. I look at my hands and I see I have my mother's knuckles. I've got things growing that weren't there before. So I say to myself, 'Good Lord! I saw this in my grandmother and my mother. But I didn't …expect this!' Growing older can be liberating in certain ways and the characters I play can say what they feel. I love playing characters who are a bit snarky; that can be a great deal of fun."
—Blythe Danner, Philly-born actress
Published (and copyrighted) in Suburban Life Magazine, January, 2017.