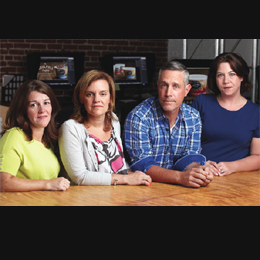 Pretty "Soulfull"
What do Philabundance, Wegmans, the Community Food Bank of New Jersey and The Food Bank of South Jersey all have in common? The Soulfull Project. Developed by four Campbell's Soup employees, the project allows communities to directly help feed the hungry with a healthy alternative—multigrain hot cereal cups—all through donation.
"For every serving of our product someone buys, we donate a serving back to our regional food bank," explains Head of Business Megan Shea. Available for purchase at select Wegmans, Chester's Fare & Square grocery store or online, The Soulfull Project's first donation of 21,000 servings to Philabundance was given this month after being in-store for only several months.
Today, the project is already expanding into additional food banks and Wegmans throughout the East Coast. What's more, they recently entered into a partnership with Philabundance Community Kitchen, a culinary arts vocational training program for low-income adults in Philadelphia.
"We're extremely grateful for the partnership and for their mission," explains Philabundance's Amanda White. "We're lucky enough to be a beneficiary and we hope they are able to be in more retails stores … we serve nine counties in the Delaware Valley so the more they get out there, the more people we can serve ultimately."
So how exactly did this team start a project that's feeding food-insecure families with just a multigrain hot cereal? We spoke with the brains behind The Soulfull Project to get a taste of their inspiration.
What inspired you and your team to start The Soulfull Project?
MEGAN SHEA: It really came from a personal place and it was about seeing within our own lives, our communities, neighbors and working in Camden, we really felt we were not able to have the type of impact we'd want to have with our neighbors and with the choices we were making. ... Before we actually took the complete business idea, model, investment as well as the product, we brought it to Campbell's and they agreed to fund it. …We decided to take it to market and make sure we delivered on the mission ... to show that you can have an impact on your community and to partner with our giving partners.
What exactly is the product?
MS: It's a hot cereal made with flavors, varieties and spices we don't normally find in our hot cereal like brown sugar pecan and blueberry almond. We leverage all whole grains and then we pull in ingredients like quinoa, chia and flax; ingredients that more of us are trying to get into our diet. All products are non-GMO and they're ready in under three minutes so we have four varieties available in single served cups, and we have family sized bags available.
How was it developed?
MS: We developed [it] with The Food Bank of South Jersey because we wanted to make sure it was a product that they wanted and would need. ...It's [made] without sugar because we know that diabetes is a really significant issue with people who are struggling with food insecurity. It's also developed so you can customize it and use it throughout the day so you can bring whole grains beyond breakfast.
What are some of its benefits?
MS: One of our founders [Maria Gamble, head of innovation] is a chef and she's been working with food banks and created recipes that anyone can use. They're using ingredients that are typically found and handed out at food pantries. It's everything from no-bake trail mix bars [to] using it as an ingredient in a meatloaf. We tried to develop it really thoughtfully to make sure it was meeting a need and a healthy breakfast is, unfortunately, one of those pain points that affects everyone regardless of income.
How important is your partnership with Philabundance?
MS: The reach and the number of people they serve in the Philadelphia area is amazing. So many of the stores that we sell our products [in] are actually based in the Philadelphia area, so we knew they would be really important. ...They've been a great partner with us. The first day we brought it to them they were really enthused about it and knew that we were starting a really new idea.
What has the response been?
MS: The response from Philadelphia and [surrounding] communities has been overwhelming. It gives us motivation every day to keep going to see how many people really want to have a positive impact on their neighbors and make really good choices for themselves in knowing that you're helping someone else. We're really grateful for that support and really look forward to continuing and building a strong relationship here.
To learn how you can help or get involved, visit TheSoulfullProject.com.
Photograph courtesy of The Soulfull Project
Published (and copyrighted) in Suburban Life Magazine, January, 2017.