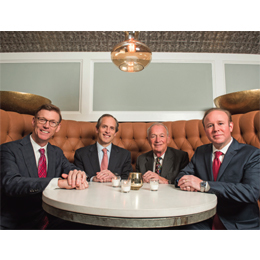 A Foundation of Service
Life is rife with maxims—those short, pithy statements expressing a general truth or rule of conduct. These include sayings such as, "You're never too old to learn," "Wish not so much to live long as to live well," and "An investment in knowledge pays the best interest."
Benjamin Franklin coined that last adage almost 300 years ago, but its meaning is as relevant today as ever: The smarter a person is, the better the decisions he or she makes. When searching for financial services, perhaps the wisest choice one can make is Karr Barth Associates of Bala Cynwyd.
Karr Barth Associates founder George Karr, 78, who retired in 1995, built his small business, which started with just four employees, into an empire. He dared to "dream the impossible dream" and was rewarded handsomely. In 2017, Karr Barth Associates celebrates its 50th year, a half-century of using its financial knowledge to help clients work toward realizing their dreams.
This amazing growth, and stability, is not without a great deal of commitment and careful planning. After all, one cannot stay in any business for 50 years without these facets and ongoing improvements. In the case of Karr Barth Associates, this growth has included the addition of many more financial professionals, including those acutely focused on investments and annuities; a large recent association with Firstrust Financial Resources in Center City and promoting Dave Fleisher to vice chairman of Karr Barth; and a host of digital enhancements to streamline and ease accessibility of all the firm's capabilities.
"I would say we have some unique abilities and strengths as a firm to be successful for so long," says Timothy Maguire, chairman of Karr Barth Associates. "First, we've had strengths and abilities to deliver on our promise to clients. We emphasize financial planning, making sure we have a strategy before making recommendations. We've also been incubators for top leaders and entrepreneurial talents fostering an environment that encourages innovation and leadership. Uniquely, we view relationships with our financial professionals as partners to build a successful practice.
"I think other firms have tried to do what we've done for 50 years, but we've actually done it. Success breeds success."
Maguire's team utilizes a comprehensive financial planning process to help individuals and business owners strive toward reaching their financial goals. Through asset accumulation, income protection, education funding, estate planning strategies and wealth preservation strategies, he helps clients prepare for their futures and helps protect their finances at each life stage.
Now Maguire, who has more than 25 years of experience in finance, manages more than 350 financial professionals and maintains a growing client practice. He works with a dedicated team of professionals and staff to serve more than 120,000 households and businesses throughout Greater Philadelphia and nationwide.
The company tag line at Karr Barth Associates—"Making a difference in the lives of others"—is more than just a reassuring mantra, and has been since Karr founded the firm in 1967. The company's involvement within the community extends far beyond merely having some of them as clients. Members of the company, who volunteer a day of service to community, have supported hundreds of local charitable and philanthropic organizations throughout the region over the years.
George Karr believes the company's community involvement gave it a better understanding of the community's needs.
"I think it helped us a great deal in that way," he says. "Being active in the community—I used to spend a day a week doing charity work when I was active—let us know what was needed out there. So, we stepped in. Our company is well known out there as givers and participators in charities, and that will continue."
More recently, Karr Barth Associates' efforts have focused on the annual Philadelphia Triathlon that benefits the cancer center at The Children's Hospital of Philadelphia having raised over $100,000 for them and donated over 300 toys during the holidays in recent years, the company's blood drives for the American Red Cross and the Boy Scouts of America.
"From the beginning, my dad, George, and then [company co-founder] Bob [Barth] were involved in serving the community. They've always had a strong bent toward community involvement, and in current times, that culture continues." According to David Karr, former co-president and managing partner of Karr Barth Associates, and current chairman of AXA Advisors, the philosophy at Karr Barth Associates is simple yet impactful: Take care of clients and those in their community.
"There's a belief that if you take care of the community you're in, they'll take care of you," Karr says. "The more you invest in them, the more you get back."
As for providing clients with the knowledge to shape their financial futures, Karr Barth Associates utilizes, among other effective strategies, an Asset-Map®. The unique tool helps organize a client's financial picture.
"The Asset-Map® shows clients who's important in their lives, and allows us to see gaps in their financial plan," Maguire says. "Then, we develop one-page Target- Maps®—like a GPS—to tell them how close they are to their goals in areas of insurance, retirement and education.
"Our clients are busy with many commitments; they often don't have the patience or time to sit through 30 or 100 pages of documents on their financial plan. The Asset-Map® makes it clearer for them."
What's their inspiration? For Maguire, and the rest of the committed members of the Karr Barth Associates team, it is providing clients with solid financial direction for the present and the future.
"At Karr Barth, I believe the differentiator is we just really want to help clients," Maguire says. "To provide them with the peace of mind that they have the necessary protection in the event of the loss of a breadwinner or a business owner at the most vulnerable times in their lives. To provide them dignity in retirement, for their money to outlive them. To let them to know they will have security."
To make a difference in the lives of others.
KARR BARTH ASSOCIATES
40 Monument Road
Bala Cynwyd, Pa. 19004
(610) 660-4000
Karr-BarthAssociates.com
Facebook.com/axaphiladelphiabranch
Published (and copyrighted) in Suburban Life Magazine, January, 2017.