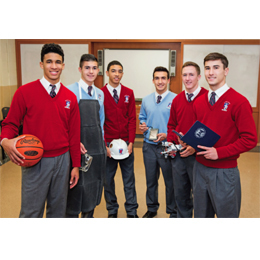 Make IT Happen
Apply yourself. Get all the education you can, but then by God, do something. Don't just stand there, make it happen.
This is as true today as when Lee Iacocca said it more than 30 years ago.
In truth, a young man prepared for the future is an educated young man. This is exactly what the faculty and staff of Father Judge High School in Philadelphia strive to achieve with their students.
"When you're here, even outside of school, you're a Salesian Gentleman," explains Brian Patrick King '97, who took over the position of President last year at the age of 36, making him the youngest President of a high school in the Archdiocese of Philadelphia. "Humble, gentle, respectful and confident—that's really what we want our boys to be."
Simply said, but eloquently executed, this philosophy extends to all that the faculty and staff of Father Judge do each day.
"It's not our job to tell kids what to be, it's our job to provide them ample opportunities to explore future careers and continued education ... to provide them the life experiences and knowledge on what it takes to achieve their desired pathway," says King.
This sentiment is echoed by Rev. James E. Dalton, OSFS '62, Principal.
"For over 62 school years, Judge has been providing education for the young men of the neighborhoods of Holmesburg, Mayfair, Torresdale, Rhawnhurst, Tacony and Lower Bucks County," says Fr. Dalton. "The Judge Mission Statement captures its place and reason as it reads, 'Located in Philadelphia, Father Judge High School respects the diversity of each student, and provides a climate of academic excellence and college preparation within a safe environment. Rooted in the spirituality of our patron Saint Francis De Sales, Father Judge High School educates the whole young man spiritually, intellectually, physically, emotionally and socially in the Catholic tradition.'"
As Dr. Robert Lockwood, Assistant Principal for Academics, says, "We offer a safe environment rooted in Salesian spirituality that develops boys into young men. We allow students to explore and stumble as they grow academically. We are rigorous in programming, but we provide the resources to help students succeed in the classroom. One such example is our Brisson Center for Academic Excellence, where students can go at any time of the day to receive academic support from teachers in any subject. Parents are making an investment in their son's future when choosing Father Judge, which is why we offer a variety of college and career preparation programs with project-based learning in areas such as STEM, construction trades, and business.
"An example of this new approach is Judge's recent partnership with the Finishing Trades Institute where the goal of the program is to provide students with learning opportunities that the construction industry has to offer. The Institute trains workers in commercial and industrial painting, glazing (glass), floor cover installation, drywall finishing, and sign and display. We ensure that their investment is worthwhile and we work every day to challenge and prepare our students for the ever changing global society."
In line with this effort to promote citizenship in a global society is Father Judge's commitment to its Model United Nations program.
The nationally recognized Model UN team was founded by the late Father John Hurley, OSFS. Now under the direction of Jeff Hylan '95, the team continues to maintain the school's tradition of success. "We have won multiple titles at the regional, national and international level," says Hylan, Moderator and Chairman of the Social Studies Department. "We are most proud of our international competition wins in New York City at the UN in the 2000s, along with our national competition win at the U.S. State Department.
Truly, Father Judge aims to educate Renaissance men of a vast array of skills and humanistic values.
"I believe that Father Judge graduates succeed because they are challenged daily with a well-rounded education that focuses on critical thinking, positive decision making, and growth whether it is academic, personal, or spiritual," says Michele Purcell, Director of Guidance and mother of two current Crusaders. "Because they are grounded in these basic but important principles, they develop the tools they need to achieve in whatever walk of life they choose."
Graduates of Father Judge also succeed because of a solid foundation in technology, a vital skill set to have in the modern world.
"The real world is not built around a bell schedule," says Gene Carboni, Chairperson of the Business/Technology Department. "Chromebooks and G Suite for Education are content creation and collaboration tools. These tools permit our students to take the learning beyond the walls of Father Judge High School. Chromebooks give our students 24/7 Internet access. These learning tools help our students prepare for post-secondary education and enable them to hone the technology skills necessary to be responsible digital citizens in an ever evolving global workplace."
The dedication displayed by all students is echoed in the student athletes at Father Judge.
"As a student-athlete at FJHS, the experience is unique," says John Dunlop, Head Soccer Coach and Faculty Member. "The bond of brotherhood promotes dedication and teamwork in all of our athletes. In addition, the student athletes learn the skills and values needed for a successful future on and off the field."
As King says, "Make IT Happen! ...and that relates back to St. Francis De Sales and his encouragement to, 'Be who you are, and be that well.'"
FATHER JUDGE HIGH SCHOOL
3301 Solly Avenue
Philadelphia, PA 19136
(215) 338-9494
FatherJudge.com
Published (and copyrighted) in Suburban Life Magazine, January, 2017.