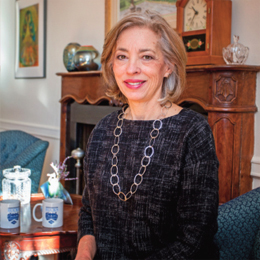 Eye on Innovation
"Equipped with his five senses, man explores the universe around him and calls the adventure science"—so said Edwin Powell Hubble, legendary 20th century cosmologist. Indeed, it is the senses that guide all scientists on their various journeys of discovery. Such sojourns can begin anywhere but at Bucks County Community College's (BCCC) Newtown campus, students of all disciplines now have a stunning new facility in which to foster scientific exploration.
Newly opened on January 12, the Science Center at BCCC offers students 43,000 square feet of learning space, two floors and ten brand new laboratories as well as adjacent spaces that support the main lab areas. Such support areas house myriad equipment, from instruments for organic chemistry to a biotech suite wherein students can work with tissue cultures.
"One of the important things to convey through this building is that we are equipped to provide any student with a very strong science education as students begin their journey," says Dr. Stephanie Shanblatt, BCCC president. "We really have been able, through this building and the purchase of new equipment, to provide students with a first-rate experience in the basic sciences."
A solid foundation in the sciences provides many Bucks students with the building blocks for fruitful future careers. Practical knowledge in areas including nursing, radiography , microbiology, biotechnology, ecology, astronomy, chemistry, environmental science, kinesiology and sports studies, engineering, neuroscience, and anatomy and physiology, just to name a few, provides a solid foundation upon which students can pursue vitally important jobs. "These are professions wherein individuals can leave college and, upon graduation, enter the workforce with very well paying jobs—and certainly high demand in this region," Dr. Shanblatt observes. "We know that many of the best jobs in the future will be those in the various STEM [Science, Technology, Engineering and Math] disciplines. One way we're preparing students is by providing a rigorous curriculum for transfer to a four-year school.
"Other programs, like biotechnology, prepare individuals to enter the workforce when they leave college," she continues. "They are highly technical, very hands-on and very applicable to what's going on in today's world."
Students attending BCCC receive a rigorous education no matter the discipline—the college offers nearly 80 degree and certificate programs—and the new Science Center will benefit all students, as all students are required to take a science course as part of their enrollment.
"We really did not have enough space to offer all the classes we wanted to offer," Dr. Shanblatt says. "All the labs were in the building that was the original classroom building, built almost 50 years ago. We knew we wanted to be able to provide students with modern, up-to-date facilities and equipment. … We've had strong and growing enrollment in our science courses, so it made it seem like an obvious need we had."
The building, which underwent two years of construction before its grand opening, features a great deal of glass and natural light. Such design decisions were made to "demystify" scientific study, which can seem nebulous at times.
"I think the Science Center will really enable students to do their best," Dr. Shanblatt says. "We all learn in environments where we feel good—it just helps with the learning process."
"When you walk in the building, you'll see what we've been saying—'science on display,'" says Lisa Angelo, interim provost and former STEM dean. "When you look in from the outside, you'll see science happening. You'll be able to see what students are doing in the laboratories and I think that will be part of the excitement."
Unique facets that came out of copious planning and discussion sessions are the collaborative spaces in the building. In these, Angelo explains, students can work with a group as large as 24 or as small as four. This will allow students to work together on projects; even the furniture is flexible and movable, she notes.
Thanks to a National Science Foundation cyberinfrastructure grant, the Science Center also has increased bandwidth capacity. This will allow large pieces of data to move freely between the Science Center and partners at other research institutions, museums, and more. One example of a project wherein such data sharing is being utilized is BCCC's monarch butterfly habitat restoration project, a joint venture of the biology, computer science, science and math departments.
Debra Geoghan, interim dean of the STEM department, says, "Moving from a 50-year-old facility to a state-of-the-art facility is a transformation that is really dramatic. This really is something that the college needed. We're excited to give students 21st-century skills and now we have the facility to help them get there."
As Dr. Shanblatt says, "Particularly in the sciences, there really is no substitute for getting in there and actually doing it."
BUCKS COUNTY COMMUNITY COLLEGE
275 Swamp Road
Newtown, Pa. 18940
(215) 968-8000
Bucks.edu
Published (and copyrighted) in Suburban Life Magazine, January, 2017.