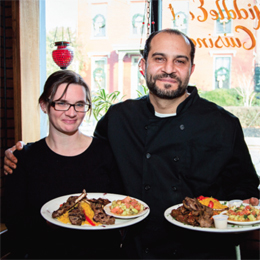 Spice of Life
One needn't buy an airline ticket in order to experience the flavors of India; in fact, guests can enjoy world-class cuisine from that part of the globe at a location just up the road in New Hope. At Tandoori Grill, exotic, bold flavors characterize each dish that comes out of the from-scratch kitchen.
"Whoever has tried it has told me we are offering very good food, and I'm very happy with that," says Karim Elsharabasi, proprietor of Tandoori Grill and Marhaba, which has a location in Lambertville and, coming in early 2017, Princeton, N.J. "People tell me it is some of the best Indian food they have ever had."
Elsharabasi, who opened his first Marhaba location in 2009, says he has been in the service industry for nearly 20 years; but his studies at university had him lined up to go down a very different path. He graduated from Mansoura University in Egypt with a degree in the sciences. It was his love of food, however, that proved a greater pull and after taking his first steps into the culinary world, he never looked back.
"Working in a kitchen is like working in a lab," he jokes. "I like the freedom of the business so I just kind of got hooked on it."
Manager Austin Slater, who has been with Tandoori Grill since its inception this past August, speaks with passion about the qualities that set the restaurant apart. When noting these details, he explains that there are numerous facets, most notably attention to nuances.
"Everything that we make has a very high standard of quality," Slater says. "You're never going to get anything out of a box, or frozen—everything is made fresh."
This truly extends to even the smallest detail, even those often overlooked by other establishments.
"Even our spices, we'll buy in bulk, then roast and grind them ourselves," he says. "You're not even getting prepackaged spices, and it really shows when you use 100 percent fresh ingredients in foods. There are subtle aromas. Fresh cracked black peppercorn versus pepper out of a container, for example—the difference is astonishing."
He explains that Tandoori Grill acquires staples such as cumin, anise stars and cardamom pods, then roasts and grinds these items in-house; "You can really tell the difference," Slater says. "It would be much easier not to do it that way, but it wouldn't be as good."
Uniquely, whereas many Indian restaurants will focus on the cuisine of just one specific region, Tandoori Grill prides itself on incorporating flavors from throughout the country. This includes northern, southern and Kashmiri dishes as well as menu items reflecting the seafood popular throughout west India.
"I have a big passion for Indian food," Elsharabasi states. "I like the cuisine a lot. It is very rich."
He goes on to share details about a sampling of best-loved dishes. One customer favorite, Elsharabasi says, is the chicken tikka masala. This savory entrée features fresh chicken roasted in the eponymous tandoori oven. This tikka masala is highlighted by a creamy sauce of onion and tomato gravy as well as heavy cream and a blend of spices.
The tandoori oven, Elsharabasi explains, is a uniquely designed Indian oven that has a special enclosure that allows heat to surround meat during roasting, so that proteins can be cooked to perfection from all sides.
Another house favorite, according to Elsharabasi, is the malai kufta, a vegetarian dish starring a lightly breaded blend of fresh vegetables, fried to a golden brown, served in a sauce of tomato, onion, nuts and coconut milk. The restaurant offers many healthy vegan and vegetarian dishes made with tofu and tempeh. Pricing is reasonable, with most entrees costing less than $20. As an added bonus, Tandoori Grill offers delivery to homes within five miles of the restaurant.
"Indian food can be scary to some people, but once they learn about it—the origins, the different and similar dishes—it's really not that bad," Slater says. "A lot of people think, 'Everything is spicy,' but that's not the case. Many dishes have a very creamy, milky texture."
Even those who aren't familiar with the various dishes they'll see on the Tandoori Grill menu can count on the seasoned and knowledgeable staff to assist in their dining experience.
"We focused on picking out servers that have worked with Indian food and have a broad knowledge of it, so when people ask, they can inform them about it," Slater says. "For example, tikka masala was actually created in England. … Little facts like that help the customer not just eat the food but also learn about the food. It's the same with the chef. The chef will often go out and talk with customers, if they have questions regarding origins of dishes or different spices. We really want people to be invested in the food and really learn about it."
The elegant décor at Tandoori Grill is also a facet not to be overlooked. Accented by detailed, hand-carved woodwork on the ceiling and throughout, the restaurant itself is a sight to behold. Warm autumnal shades of orange and red beckon guests in from the street. Once inside, visitors will also see a bevy of softly lit stained glass walls and fixtures as well as tables inlaid with shells from the sea. Even the chairs are custom-made and feature an intricate Eastern style of woodwork.
"The real reason we made it this way is that it would really pop when people walked by the space," Slater says. "The warm colors are reminiscent of turmeric, pepper—those nice Indian spices."
Above all, Elsharabasi insists the goal will remain to deliver the highest quality meals to his guests.
"I focus on delivering fresh, well-flavored dishes that, with every bite, give [guests] a special sensation," Elsharabasi says. "Your taste buds will get tickled and happy with what you're eating and that's my goal for all my dishes."
Certainly, with the assortment of house-made appetizers, soups, curries, tandoori oven entrees, desserts and more, customers will experience exactly this joy with each bite.
TANDOORI GRILL
82 South Main Street
New Hope, Pa. 18938
(215) 693-1412
NewHopeGrill.com
Published (and copyrighted) in Suburban Life Magazine, January, 2017.