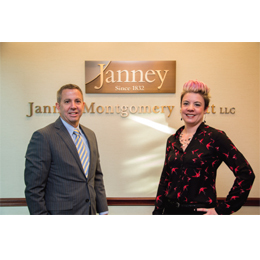 Pursuit of Happiness
For William Manchester, trust is the sole foundation of his career as a financial advisor for The Manchester Group of Janney Montgomery Scott LLC. Oftentimes, he says, new clients are initially skeptical of his determination in his pursuit of client happiness and the services he provides to them—including financial plans, college analysis and even a college savings plan set up in employee payroll.
"No one spends their time and energy to actually do the hard work," he says, adding that his work is done in the best interest of the client. "It's paid off in the long run. I'll never stop pushing to do the best for them. You have to have trustworthiness to be in this business."
This is the exact reason Manchester's clients have remained loyal over the course of his changes in firms. Now, he's brought his talents—and dependability—to Radnor.
I understand you're now in Radnor. Why is this important for your practice?
Our home base is in Philadelphia, which I've found to be an incredibly huge advantage to my clients. In years past at other firms I've worked for, the home base isn't as close as Philadelphia is to Radnor. The advantage is that representatives from our Investment Strategy Group, Wealth Management department and Fixed Income Strategy Group all sit in Philadelphia. If I ever need something, I can bring a client to the Philadelphia office and meet with the appropriate specialist. A lot of the time in today's world, everything is run by email and is sort of black and white. Being able to communicate in person allows you to pick the brain of an analyst and learn a lot. The convenience of these locations and the proximity from one another has created a hands-on, interactive experience for us and the clients. It makes a world of difference.
Why the Radnor location specifically?
It's a truly great area. The surrounding neighborhood is beautiful and I like the atmosphere in the office as well. We're in a fairly large office complex, with plenty of parking, and being in Radnor puts us right off of the main highways around Philadelphia. We have a convenient location for those traveling from Montgomery, Delaware or Chester counties, the city of Philadelphia, and specifically anywhere on the Main Line.
What's a typical day like in your shoes?
Every day is pretty different, although I do have a few consistent routines. I'm big on getting to the office early—as in 5 a.m. and making a fresh list of what needs to get done that day, a tactic I learned from a former mentor of mine. If I'm meeting with a potential new client, I'll take the entire first meeting just to listen to them, gathering information to put together the best possible plan going forward.
Any notable daily activities outside of work you're involved in?
I'm president of the Hunter Soccer Club in Glenside, which was established in 1962. There are currently 1,500 participating players.
What is one of the biggest aspects that makes you stand out as a financial advisor among others in the area?
If I was a client looking for a financial advisor, I would be looking for someone who is honest, hardworking and will look out for the best interest of me, my family and my business. Then I would take a look at the firm in regards to what it offers. As a firm, one of our biggest advantages is again the closeness to our home base. Roughly 90 percent of my clients are in the tri-state area, which is great because we can meet in Philadelphia at our home office. As I mentioned, clients have access to a number of home office specialists, from fixed income to retirement plans to overall wealth management and estate planning specialists, all of whom have the experience and knowledge necessary to help guide you through various investment decisions. If we were located further away, this wouldn't be possible.
What is one piece of advice you tell clients?
If a client is meeting with me for the first time, I always say that every single individual is going to invest differently. You can have the same birthday, same gender, same age, and same job—but there's going to be something you need to invest differently in than another client. It could be a credit card difference, no debt, school loans, getting a master's degree, owning a house, or wanting to retire in Florida. I'm in a position to help a client figure this out. Clients need to remember to hire an advisor you feel you can trust. Honesty and trust are everything.
THE MANCHESTER GROUP OF JANNEY MONTGOMERY SCOTT LLC
150 North Radnor Chester Road, Suite B100
Radnor, Pa. 19087
(610) 254-1118
WilliamTManchester.com
Janney Montgomery Scott LLC
Member: NYSE, SIPC, FINRA
Published (and copyrighted) in Suburban Life Magazine, January, 2017.