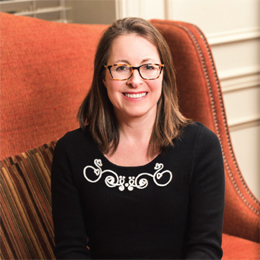 Healthy in Every Way
Maria Sophocles, M.D., FACOG, NCMP, had a vision, and it had two mutually exclusive parts. She wanted to create a clinical center of excellence in gynecology. At the same time, she wanted a practice which would be a nurturing, educating, supportive place for women to take control of their overall health and wellness.
Eight years and 7,000 patients later, Women's Healthcare of Princeton (WHP) is one of the most respected and in-demand practices on the East Coast. "Some women come to WHP for our progressive techniques and technologies," says Dr. Sophocles, "but other women simply want help with health and happiness: stress, weight, appearance, libido. We wanted to address these issues as well because they mattered so much to our patients.
"Women spend one third of their lives after menopause. They want to remain healthy, fit, and sexually vibrant. With the advent of Viagra and similar medications, more men can remain sexually active, and so women are just trying to keep up with their partners," she continues. "We use a multi-modal approach to treating sexual function, including specially compounded medications, pelvic floor therapy, sexual counseling, and of course, Mona Lisa."
Mona Lisa refers to the Mona Lisa Touch, a CO2 laser developed in Italy, where Dr. Sophocles was living at the time.
When the laser received FDA approval in November 2014, WHP was one of the first three locations in the U.S. to adopt and to utilize the technology. The laser delivers tiny "stamps" of light to vaginal tissue. It is painless, since the light penetrates only a few hundred nanometers. The vagina "heals" by making new collagen and new blood vessels. Elasticity and moisture increase and sexual comfort and bladder function improve, all without hormones or side effects.
The main use of the laser is to restore health to the vagina; but it is also used to treat overactive bladder and lichen sclerosus, a chronic and painful skin disease of the vulva. As one of only four physicians in North America credentialed to teach Mona Lisa, Dr. Sophocles enjoys teaching the technology to clinicians. This year she will travel to four continents to share research findings and clinical pearls.
Dr. Sophocles' return to the Main Line is a homecoming of sorts, since she was an OB/GYN at Paoli Hospital and Bryn Mawr Hospital 22 years ago. Not only does she have career roots in the area but family ties as well. Her father, George Sophocles, started the surgical staff at Paoli Hospital in the 1960s; her brother, Michael Sophocles, is a respected dental practitioner in Paoli; and her sister, Melani McGuire, will work as a nurse practitioner in the new Paoli office. McGuire is, Dr. Sophocles says, focused on women's health and wellness topics, including nutrition and preventative care. McGuire, with more than a decade of broad ranging experience from emergency medicine to internal medicine and medical aesthetics, will make sure patients are getting all of their non-GYN needs met. She reflects the practice's commitment to helping women take control of their health.
"Women come in for a GYN checkup but their most bothersome, most frustrating issues are sleep, weight, and stress management," McGuire says. "We want to guide and support them in making positive changes for themselves."
Another superstar nurse practitioner on WHP team is Renata Estes, a Drexel University Professor of Nursing, with years of nursing experience in women's healthcare. Estes "exudes confidence, competence, and positivity," according to Dr. Sophocles, "and possesses excellent clinical skills on a par with medical doctors." Estes provides comprehensive holistic care to women of all ages including a focus on the psycho-social factors affecting the health of many women. Her plan for further study is intimate partner violence, a problem affecting women across all socio-economic backgrounds.
The bench is deep. Other members of the WHP-Paoli team are accredited sex therapists and fellowship-trained surgeons. "We are thrilled to bring our comprehensive approach to women's wellness to the Main Line, especially in the beautiful and welcoming office on Darby Road," Dr. Sophocles says.
"Patients find us from all over the country and even other countries," says Deborah Leonard, practice manager. "One woman came from a research station in Antarctica!"
At least the women of the Main Line won't have to travel that far.
MARIA E. SOPHOCLES, M.D., FACOG, NCMP
Women's Healthcare of Princeton
PrincetonGyn.com
(609) 430-1900
30 Darby Road
Paoli, Pa. 19301
800 Bunn Drive, Suite 202
Princeton, N.J. 08540
Published (and copyrighted) in Suburban Life Magazine, January, 2017.