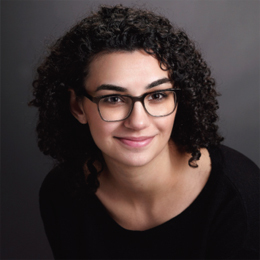 February 2017: A Seat at the Table
Growing up in a Sicilian household, some of my favorite memories are from the dinner table. It's where generations of my family came together, shared a meal starring flavors from their native Sicily, with a few influences of American dining. It's where heartfelt conversations happened, stories were shared and in my case, where my now fiancé met my entire family.
Even as a little girl, I remember sitting at the table with my grandfathers—who have both since passed—watching them twirl their spaghetti with a fork and spoon, or cutting up a Sicilian octopus spritzed with fresh lemon and letting me have the first bite.
There are other memories I have of my grandmother, who still makes her own bread and pasta. To this day, even as I watch her closely, I can never roll a perfect string of pasta like she does. As for Sundays during the summer, I watch my mother make her tomato sauce from scratch using the fresh tomatoes and basil from my father's garden.
If you couldn't guess, every Sunday was and still is, a feast. Even today, without my grandfathers, we make a point to get together and make a meal worth remembering. And while I don't have much culinary skill in my arsenal, I hope to continue this tradition of Sunday meals and, one day, perfect my pasta-making technique.
That's why this issue is particularly special to me, as it unveils our annual Golden Forks awards featuring 20 of the Greater Philadelphia Area's best restaurants starring food that's reminiscent of Sunday dinners and worth your family's reservations. We also gave our readers a voice and included their picks for the 20 best spots to wine and dine.
So go ahead, grab a fork and spoon and dig in. We hope these restaurants bring your family together for an unforgettable meal with a side of conversation that will become a lasting memory. Because like my family has taught me, nothing makes a meal without good company.
Josephine Cusumano
Editor
Published (and copyrighted) in Suburban Life Magazine, February, 2017.