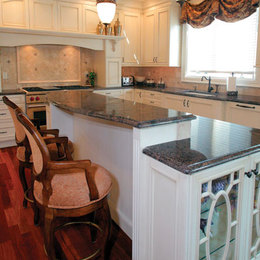 Precious Stone
Get stunning countertops from Let's Get Stone'd
When renovating your home, every detail matters. Trusting who you work with and the quality of their products and services offered cannot be understated.

Since 2001, Let's Get Stone'd has been designing and installing exquisite kitchen countertops, bathroom vanities, fireplaces and more with its vast selection of natural and man-made stone. Whether it is granite, marble or quartz, clients are assured superior customer service and exclusive craftsmanship that is second to none.
At Let's Get Stone'd, the process and dedicated service from the initial visit to finishing touches is equally as important as the final result.

"To us, we are only as good as our last kitchen," says Kirk Raysky, owner of Let's Get Stone'd in Warrington. "It is our team and well-established process that sets us apart. By educating our clients, we strengthen the relationship and keep them coming back time and time again."

The process often begins with a visit to the Let's Get Stone'd showroom, which is home to hundreds of sample squares of granite and other natural stones to admire the design from afar and finest details up close. This selection is further complemented by a library of stone catalogs to browse.

The in-house professional designer at LGS is available to guide you throughout the process, helping to find the perfect stone accent for the kitchen, bath or any area of your home.

"Just as when you try on clothing in a store, it often looks different at home," shares Jill Wolf, LGS designer. "We will provide samples so you can get a true indication of how the design fits within the room itself. Lighting, décor and other style accents can make a difference."

Beyond the showroom, LGS also has an onsite yard of large granite, marble and other stone slabs to explore. The unique nature of granite breeds variation so that no two pieces are the same. For this reason, you will always be able to see the slab before any fabrication work is done. Whether you find the choice stone design in the showroom, on the yard or within a catalog, the actual slab is delivered to the site for your final approval. This additional yet necessary step affords clients the chance to make sure the stone is just right.

Homeowner Irene Brotsky says LGS was very helpful during her search for the perfect stone for her multiple projects. She chose Indian Dakota granite for her kitchen and was thrilled when LGS was able to acquire the rare Black Marinachi granite from Brazil for her downstairs bar.

Once the design is selected and the actual slab is approved, LGS and its in-house fabricator go to work on the details. From eased or classic edges to beveled or demi-bullnose styles, the finishing touches are designed to fit the existing décor. If none of the more standard edges work, the professional fabricator can create custom edging, too.

As with all the workmanship and assistance thus far in the process, installation is also completed by LGS employees. They do not over schedule appointments and with no more than two jobs a day for each team, they are dedicated and attentive to the finest detail.

Brotsky was also happy to report that the staff and contractors with LGS were all very easy to work with. "They were very easy going, prompt and responsible," she says. "And they really know how to work with the upper-end stone."

Some clients may not be interested in natural stone. For those who may be looking for quartz, the process and personal commitment remains the same. Let's Get Stone'd is also certified to fabricate and install Caesar Stone, Cambira (made in the USA) and Q from MSI.

"We do not outsource any of our work. All our employees work directly for us," adds Raysky. "This enables us to provide excellent customer service and quality workmanship at the best available price."

At Let's Get Stone'd, clients come back over and over again. They have more than 10,000 kitchens in their work portfolio to date. LGS was also voted "Best of Bucks" for marble and granite in 2008 and 2009 for its superior quality, craftsmanship and commitment to customer satisfaction.

"Let's Get Stone'd did the kitchen counters in our shore house in Atlantic City. They also did our kitchen in our last house, and we loved their work both times," says Sherie Weller of New Hope.

Let's Get Stone'd
414 Easton Road, Warrington
215-491-7814
LGSGranite.com

Showroom hours are Mon. - Fri. 9 a.m. to 6:30 p.m., Sat. 9 a.m. to 5 p.m. and Sun. 11 a.m. to 4 p.m.

Glori Gayster is a freelance writer and marketing professional based in South Jersey.
Rob Hall is a freelance photographer from Plumsteadville.