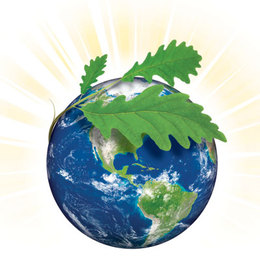 Branching Out
Aztec Solar Power expands through partnership with a European solar company
The acorn has grown into a mighty oak.

Two and a half years ago, Aztec Solar Power was a fledgling solar panel installation company based in King of Prussia that hoped to carve out a corner of the marketplace.

"Our office was my kitchen table," remembers Sharon Altman, president and CEO. "We had three employees."

Today, Aztec Solar Power has grown into the leader in residential and commercial solar applications in the Philadelphia area. The company has 54 employees, operates out of a 10,000-square-foot office in Wayne, has a warehouse with solar panels worth of total of $1 million, and it generated $3 million in business in 2009 and $50 million this year.

"It's amazing," says David Rarrick, Aztec executive vice president. "We didn't foresee this kind of growth so quickly when we started. But the demand for solar power is there.

"The type of growth our company has experienced shows that we at Aztec truly understand energy and also the needs of our customers," Rarrick says.

What began at a kitchen table fewer than three years ago has grown tremendously and continues to flourish. The latest examples of how incredibly successful Aztec Solar Power has become is evident in two of its newest ventures—the planning of a $10 million production facility and a partnership with a solar power company from Spain.

"This is exciting," Rarrick says. "When I come home after work, I turn on the news and hear how the economy is in a recessive state. But when I look at what's happening with Aztec, it's kind of hard to believe."

The manufacturing plant, to be constructed at an undisclosed site in central Pennsylvania, will produce photovoltaic (solar) panels. The venture is expected to create more than 100 jobs.

Although Aztec headquarters will remain in Wayne, the proposed facility will offer the company a fully integrated symphony of solar solutions, including a solar research center.

"We're awaiting word on a $1-million state grant that state Sen. Andrew Dinniman from Chester County is hoping to secure for our construction project," Rarrick says. "That will help. But the project will proceed even if we aren't awarded the grant."

Aztec has also partnered with Immodo Group, a solar power company from Albacete, Spain, as it looks to expand globally. There are plans to open an office in Barcelona as soon as next year.

"We've entered a relationship with Immodo for a variety of projects in the U.S.," Rarrick says. "We want to use their knowledge of solar thermal on a variety of things."

Immodo has been in business for six years in Spain and other European markets. They're now looking to grow in a U.S. market. "It's a huge opportunity for both companies," Rarrick says. "Hopefully it opens up new markets for both of us."

Aztec continues to design and install solar farms in Pennsylvania and neighboring states. The company also has contracted with several large industrial businesses in the region, as well as with a restaurant in Doylestown and a pharmacy in Harleysville, to begin installing solar power systems that will reduce their electricity costs and their dependence on fossil fuels. But the scope of their business has grown beyond their backyard.

And if good fortune continues to shine its rays upon Aztec Solar Power, Altman says there are plans to take the company public.

"The company is doing very well right now," she says. "Business is good, and we're growing stronger every day."

Like a mighty oak.

Aztec Solar Power
610-540-1400
AztecSolarPower.com

Phil Gianficaro is an award-winning writer based in Doylestown.