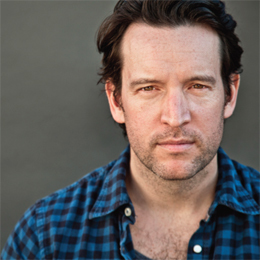 This Is Theater
There's more to John Pollono than his character on the hit NBS drama, This Is Us/In case you haven't tuned in to America's latest television phenomenon, Pollono stars as Randall's demanding boss, Tyler, and to be frank, he's not really surprised about the show's success. "I was actually a fan before I got cast," he tells Suburban Life / Philadelphia Life, citing he watched the show with his family before his role.
Yet, behind the scenes, the New England actor holds an extensive resume that includes screenwriter and playwright. His latest play, Lost Girls, recently premiered in Philadelphia at the Theatre Exile, telling the story of three generations of women in a working class family and their cycle of teenage pregnancies. "It's a drama, but has heavy doses of pitch black comedy in it," Pollono explains. "I hope [viewers] can connect with the raw messiness and emotion that this family has and maybe relate to that. Maybe feel some hope in their own struggles."
Aside from the recent renewal of This is Us, Pollono will also see his movie script for Stronger—the true story of Boston Marathon survivor Jeff Bauman portrayed by Oscar-nominated actor, Jake Gyllenhaal—come to life this fall.
In the midst of Lost Girls opening, we spoke with the triple threat to learn more about his writing process and of course, his experience on starring in This Is Us.
How did you come about the idea for Lost Girls?
John Pollono: The characters had been swimming in my head for a long time and when the parallel story structure clicked, I was ready to write. First draft came super quick, but the refinement took a long time, as it always does. These characters are so vivid in my head, they try to take over every time they open their mouths so it was a challenge to corral them into a story. What I'm most proud about Lost Girls is how effective, in my opinion, it reveals the complicated inner lives of characters that might not always get their own story.
You've mentioned it's inspired by your family, but it's not autobiographical. Can you explain?
JP: I grew up in the same neighborhood as the characters and I have some teenage moms in my family, but this isn't about them or me directly. It's just pulled from the truth of the people I know and love. It's really inspired by the tough, raw and complicated women I grew up with.
Your previous play, Small Engine Repair, also focused on teen pregnancy but from the perspective of men. What was your experience writing both?
JP: Similar in that characters in both plays love their children and are willing to do whatever they need to protect them. ...The biggest difference to me, as a writer, is that audiences seem to allow male characters to get away with harsh language and actions more readily than they do women. ...We aren't as used to female characters being the heavy in the room, unfortunately.
How has the response been surrounding Lost Girls—especially in Philadelphia?
JP: It's been great. I love how much Philly embraces theater and makes an event out of it. …[Theatre Exile put] a lot into the show and have been incredibly passionate about it. Everyone seems professional and unflinching in making sure the production is the best it can be.
How has your experience been with starring in This Is Us?
JP: Great … everyone was super cool. They work with a lot of playwrights and theater actors so they know their [stuff].
What does that add to the overall cast and show?
JP: They know how to listen! Stage actors listen—not all TV actors do. The playwrights who work on the show are fantastic. ...They just know how to make the scene pop.
What's the difference between writing a screenplay versus a play?
JP: Screenplays are like writing a recipe for a big restaurant. Plays are like cooking in your own kitchen. I love each one for different reasons. It's all dependent on the idea—some are suited more for one medium than the other.
How did you go about writing Stronger—especially since it's about a real person?
JP: I spent a lot of time with him and his family [and] got to know them. I grew up near him [in New Hampshire] so we connected immediately.
What was the most difficult part?
JP: I fell in love with the real people and felt pressure to do them justice.
Which are you more drawn to: actor, playwright and screenwriter?
JP: I like them both for different reasons. I think like a writer, but I love the rush of acting and the collaboration. I just hate auditioning.
Does one or the other help you improve on the other?
JP: [They] totally help each other. I write characters thinking how would I look at them as an actor. I know what you sink your hooks into as an actor and make sure I write that way.
Photograph by Jose Element
Published (and copyrighted) in Suburban Life Magazine, March, 2017.