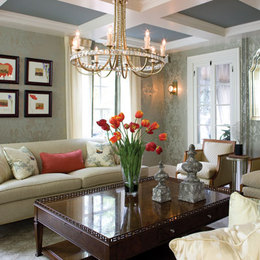 An Eye for Design
The experts at Design Home Interiors create beautiful spaces
We all want our homes to be beautifully designed, but independently achieving that may be tricky. Designing a home, or even just a room, with that wow factor is not easy to the layperson.

That's where experts come in. Experienced interior designers can quickly help homeowners weed through thousands of fabrics, textures and colors to find the perfect look that works with their personal taste and daily activities.

Mark Little, designer and co-owner of Design Home Interiors lives for that moment—when he can help someone bring their dream to reality through personal and expert design. He and the five designers at the design firm work in a 5,500-square-foot showroom fully stocked with 6,000 fabric samples and 40 American-made furniture manufacturers.

To help people get what they want, Little and his team work individually with clients.
Design Home Interiors offers in-depth design consultations and home design plans where designers will meet with clients to determine what they like, don't like, and the purpose of the room.

"Because we have designers here, we're able to sit down and listen to clients," says co-owner Jeff Hirschoff. "We're not salespeople in a showroom. We want to help people get a room they are in love with."

For the home design plans, a designer will go to the home, measure the rooms and get a feel for the function of the space. Then, in the showroom, the clients are presented with floor plans drawn to scale and storyboards that show furniture styles, fabrics and color schemes.

"Doing it yourself you can be a daunting task," Little says. "When you're sick, you go to a doctor, when you need a room designed, you should go to a designer."
A common mistake homeowners make is understanding the scale of a room, Little says. That's why the designers won't leave clients to peril in the showroom. Instead, Design Home Interiors is all about personalized service, from finding the right furniture to the small details, such as artwork and accessories.

"They see furniture in a big showroom, and it doesn't work at home, or it doesn't even get in the front door in some cases. If you scale it right, it'll look good. If it's wrong, it'll look cluttered," Little says.

The plans also provide clients with a long-term plan for the style of their home.
"We have clients who have a total budget of $10,000 to $15,0000, but they want to spend $5,000 at a time," Hirschoff says. "This allows them to add pieces slowly as it fits with their budget without piecemealing together looks."

The team also track trends, which is something any novice is too swamped to accomplish. This fall, designers are using sustainable materials, such as bamboo, and wallpaper is on its way back. Blues, and turquoise are in, as are colored leathers. Mid-century styles with clean lines are trendy, thanks to "Mad Men" and the popularity of the '60s era.

Another trend is using high-quality furniture that lasts longer, which has financial and eco-friendly benefits.

"Not only are they more comfortable and will last longer, instead of going and buying something cheap and throwing it in a landfill in three years, people want to buy quality—like solid wood, which becomes an heirloom piece to hand down to grandkids," Hirschoff says.

He also says that Design Home Interiors carries high-quality furniture from generations-old American companies that will not compromise on components or workmanship.

"With the customization, we have the ability to choose a frame, seat cushions, fabric, or choose the finish of wood pieces. You can't do that with an overseas manufacturer, so the quality is better, and you get it in about eight weeks," Hirschoff says.

Design Home Interiors
668 Bethlehem Pike,
Montgomeryville
215-361-9100
DesignHomeInteriors.org


Meet the designers and enjoy an evening of style at Fall Open House at Design Home Interiors on Thursday, Sept. 16 from 7 to 9 p.m.
The event will include cocktails and appetizers, self-guided tours of the showroom and will highlight the top five fall must-have design trends.

Another way to get insider access to trends is to fan Design Home Interiors on Facebook. Fans get updates on style, projects the designers are doing and insider tips. Visit the website to sign up for the e-mail newsletter for a chance to win a $100 gift certificate.

Molly Yun is a freelance writer based in Philadelphia.