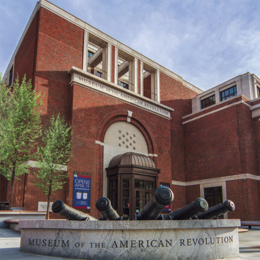 America's Museum
Philadelphia has served as America's focal point thanks to the city's rich history and on April 19, the Museum of the American Revolution will open its doors and visitors will be able to experience both Philadelphia's and our nation's humble beginnings all in one place.
It will include original artifacts—some of which have never been in a museum before—interactive exhibits and theaters fit for all ages showcasing America's journey starting in the 1760s through the creation of a new nation. Suburban Life / Philadelphia Life recently spoke with Chief Historian and Director of Curatorial Affairs Dr. Philip Mead, to learn more about the Museum ahead of its grand opening.
What would you say is the purpose of this new museum?
To create a launching point for people to organize their experience of the great Revolutionary sites in Philadelphia and in the nation. The story of the American Revolution is often told on a local scale, at least in public history, and it can be a challenge to link all of these different sites and moments together. Until this year, there has never been a national museum of the American Revolution … [and] we feel that there's been a strong need for a museum that tells that story on an national scope. … We're a visitor center for the museum we all live in here in Philadelphia.
What can visitors expect to see in the exhibits?
We have about 32,000 square feet of exhibits and theater space—5,000 square feet of that is temporary exhibits. [They] cover a story of the American Revolution. … We are a museum with a lot of attention to the Revolutionary War, but we are not strictly a war museum. The Revolutionary War was eight years long from 1775 to 1783 and our scope is 1760 to 1790, with an attention to the continuing revolutionary ideas.
What's the crown jewel of the museum?
It's very hard to beat George Washington's office and sleeping tent from the Revolutionary War. [It's] a piece of cloth that was Washington's home for the majority of the Revolutionary War, [it] was one of the few private spaces where Washington could be himself. [He] was a very guarded man … and this was the veil, if you like, behind which he could relax or express his anxiety about the impossible odds they faced. The tent has so much significance—not just to Washington, but to generations of Americans. ... It's kind of a metaphor in its fragility for our fragile republic. Seeing it and learning about the many generations that have protected and stewarded that tent and that republic, is a very emotional experience.
Of all the cities, why Philadelphia?
Philadelphia was as close to anything like a capital Americans had during the Revolutionary War. … Even during the Revolution, [it was] a place where representatives from all States gathered to work out the meaning of the American Revolution they were undertaking, so it's fitting. It's a place now for people to come and think about and discuss that meaning today. I also think because of the wealth of the historical landscape here in Philadelphia and all the wonderful buildings of this museum we live in. There are a lot of people coming here already who want to learn this story and so we bring the story to them. So it's kind of the opposite of "If you build it, they will come." They came, so we built it.
Opens April 19, 10 a.m.-5 p.m., Museum of the American Revolution, 101 S. Third St., Philadelphia, see admission pricing online, AmRevMuseum.org
Photo courtesy of the Museum of the American Revolution
Published (and copyrighted) in Suburban Life Magazine, April, 2017.