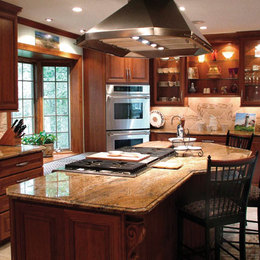 Make It Your Own
Doma Kitchen & Bath designers work with you to create a beautiful remodel
What is it about remodeling your home that motivates you? Is it the quality of the product, the customer service or the beauty of the design? You can get all of these in one place at Doma Kitchen & Bath Showroom at Wallcovering Ltd. in Bridgeport.

Whether you are a creative person with a good eye for color and design, or whether you need some help with the process, Doma is a full-service design house with a 10,000-square-foot showroom, a staff of talented designers and more options than you can imagine for remodeling your home.

"Customers come to us because they know they can count on us to help them create useful, livable, beautiful and unique living spaces," says owner Stuart Nelson.

New At Doma

This year, Wallcovering Ltd. introduced the Doma Kitchen & Bath Showroom so that customers could see examples of what their remodel might look like.

"There are so many components to a remodel, that customers were asking to see the granite, tile, wall coverings, faucets, and more to help them visualize what their own home would look like," says Nelson.

It could also include an entertainment wall with a bar and cabinet space, he adds.
"After coming to the showroom to see what the possibilities were, we were convinced Doma was the right remodeling designer for us," says one couple.

Designing – An Example

Imagine you are considering a remodel of your hall bathroom. If you come to Doma's showroom, you will discover that bathrooms aren't what they used to be. There are many choices for sinks, including amazing vessels with elaborate Roman faucets.
You could create a look that comes straight out of Italy, with new granite countertops, tile backsplashes, colorful window treatments and dazzling mirrors to match.

Or, if you prefer a more country theme, then you can choose an undermount sink in a subtle vanity top of honed marble.

"No matter what our customers are working on, we like to help them find their creative side," Nelson says. "There is no right or wrong when it comes to decorating your home. It is very individual, and we pride ourselves on working with our customers to make them feel comfortable giving us suggestions."

In addition, the talented design staff doesn't just draw plans and order materials; If you like, they will find the right contractor to do the installation and work with you and your contractor throughout the project to make sure the room you've been dreaming of becomes reality in your home.

The Process

Doma uses a three-step process when it comes to designing your remodel.
Phase I is to meet with the designers who will answer all your questions about your remodel, from design to install. You are welcome to take a look at a portfolio and see examples of previous work, both online and in the showroom.

Once you've decided to purchase supply materials from Doma, then Phase II involves the designers coming to your house to measure and draw the plans at no charge.
This could also include measuring other rooms in the house as well.

"No room exists in a vacuum and every home has a flow and a rhythm to it," Nelson explains. "It is impossible to design a functional and attractive living space without taking into account the space around it."

Phase III is the reveal where you will actually get to "see" the designs created for you in a concept drawing. In all cases, the designers work one-on-one with the customer to be sure you are satisfied.

3 Dekalb Pike, Bridgeport
610-272-0100
WallcoveringLtd.com

Hours: Mon – Sat: 10 a.m. – 5 p.m., Wed: 10 a.m. – 9 p.m.

Jeannine Fielding is a freelance writer from Bucks County.