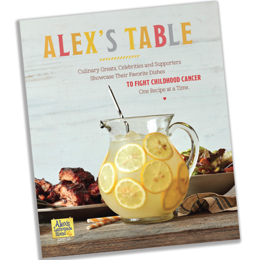 A Great Mission
A lot of good has come from the late Alexandra Scott's determination to sell lemonade to raise funds to find a cure for childhood cancer. Just after her death in 2004 at the age of eight, her infamous lemonade stand turned into a foundation, thanks to her parents Liz and Jay Scott, her family and the encouragement from supporters. Today, Alex's Lemonade Stand Foundation has raised over $140 million, helping fund research and offering support to childhood cancer families.
Locally, Marc Vetri and Jeff Benjamin were inspired by Alex's mission and in 2006, hosted The Great Chefs Event—with its 12th annual event taking place on June 20—which now benefits both the Foundation and Vetri Community Partnership. The event, in fact, has even spurred on additional iterations, hosted by fellow renowned chefs across the country including Los Angeles, Chicago and New York City to further aid Alex's Lemonade Stand. What's more, it inspired a new cookbook, Alex's Table, featuring recipes from world-renowned chefs, researchers and childhood cancer families alike.
Suburban Life/Philadelphia Life recently spoke with Liz Scott about the Great Chefs Event, the Foundation's accomplishments and how the Greater Philadelphia Area rallied behind her family.
SL/PL: How did The Great Chefs Event come about?
Liz Scott: [Marc and Jeff] hosted a dinner at Vetri on what would have been [Alex's] 10th birthday and they donated a generous portion of the sales to Alex's Lemonade Stand, but [Jeff] said that was just the beginning. Shortly after, he wanted to do this food event and talked about [bringing] Philly chefs together and [putting on] an event and people would pay to come and walk through. The first year was at The Restaurant School [and] we kind of knew it was something special. … People came in, they met the chefs and talked to them about what they were doing, there was great wine and we made money the first year. … It's really because of Jeff and Marc's vision that this is something that people would be really interested in coming to.
Did you ever imagine Alex's Lemonade Stand would become what it is today?
Definitely not. When Alex said she wanted to have a lemonade stand to raise money, I thought it was cute and sweet, I just didn't think it would raise very much money. I told her it would raise $5 or $10 dollars, so you can imagine that I'm pretty shocked to see that we've raised over $140 million. I think what surprised me the most was just the way other people responded and how generous they were—not just coming to her stand, but sending donations and then some people having their own events and their own stands, just giving their time and talent to keep it going. It's really just beyond anything I ever could have imagined or hoped for.
Locally, how has this community helped?
It's hard to even answer that because I feel like [when] we moved here in 2001 [from Connecticut], my fear when she wanted to set up a lemonade stand here, not knowing anybody because our family and lifetime friends were up there, was that it would be really had to raise as much money because we didn't have all those people that we knew. But the opposite happened. People just embraced it and offered to help and after she passed, it was people from the Philly area, people we knew, acquaintances, friends and supporters, who really encouraged us to start a nonprofit and to grow it. I feel like it almost couldn't have happened anywhere else and, I'm sure it probably could have, but there was something special about being here and the community just coming together and supporting it. Even when we have [Alex's Lemonade Days] in June, just going around the city and all around the area, and seeing how many people are supporting, is probably why I think that it's pretty special.
For more information or to purchase The Great Chefs Event tickets, visit AlexsLemonade.org and VetriCommunity.org.
Published (and copyrighted) in Suburban Life Magazine, May, 2017.