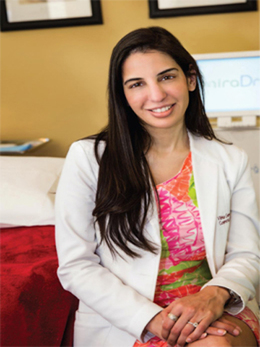 No Sweat
Aging brings countless changes, but between the latest advancements in technology and Drs. Gambhir passion for easing the aging process for patients, there are many ways to age gracefully.
"Our goal is to make patients age elegantly," says Dr. Anshul Gambhir. "As patients feel more youthful through the aging process, we want their face and bodies to match. Aging is inevitable— we want our patients to age gracefully, softly and elegantly. We want everyone guessing why our patients look and feel so good."
Both Drs. Gambhir customize an anti-aging recipe for each of their patients. Some of their FDA approved services include Botox, laser skin resurfacing, Sculptra, Thermage, topical growth factors, CoolSculpting and a variety of dermal fillers including Voluma and Vollure. "These days antiaging is like cooking," he explains. "We have 20 wonderful ingredients around us. Too much off any one ingredient can ruin the recipe. We ensure the ingredients work synergistically to provide a stunning, elegant, and natural result."
It's no surprise Gambhir Cosmetic Medicine, established in 2005, is currently the largest provider of non-surgical cosmetic in the Philadelphia area and ranks 12th in the United States according to Allergan, the manufacturer of Botox and Juvéderm.
"We've had amazing success thanks to our staff and patients," explains Dr. Gambir. "Our patients and staff are what make this practice amazing. Seeing our patients regain their youth and the smiles on their face is an awesome feeling." Additionally, Dr. Gambhir is excited to offer the latest unique approach in aesthetic medicine—miraDry, a revolutionary breakthrough that eliminates up to 85 percent of sweat and odor from the underarms.
Whether it's a hot and humid day, nervousness about a job interview or presentation, or just a regular day, it's hard to avoid underarm sweat, odor and embarrassing sweat stains. Dealing with these things can be bothersome and disruptive to one's busy personal and professional lives. Thanks to miraDry, there's a way to eliminate underarm sweat and odor without ever having to buy deodorant again.
Dr. Gambhir is one of the first doctors in the area to perform this non-invasive FDA-cleared treatment that frees patients from a lifetime of bothersome underarm sweat. "miraDry is the first and only non-invasive treatment that can permanently eliminate your underarm sweat and odor," says Dr. Gambhir. "miraDry adds a new dimension to our aesthetic practice and is the perfect addition to really allow patients to feel great about themselves every day, regardless of age. miraDry is a gift for those with regular sweat and a blessing for those whose sweat disrupts their daily lives."
He calls it "an organic approach" with no harmful chemicals involved. After the underarm is numbed, energy targets the sweat and odor glands and eliminates them in as little as one treatment. Luckily for patients, this procedure requires no follow-up visits and has outstanding results, which Dr. Gambhir notes are "fantastic" and immediate. Despite a mild soreness, patients can resume normal activities as soon as the following day with sweat stains a thing of the past.
"There's no waiting period for the nresults," Dr. Gambhir says. "It's a lifelong gift that starts giving the same day; the results are instant. Patients are back to work the next day with minimal swelling for seven to 10 days."
Dr. Gambhir's patients have included those with excessive sweating, also known as hyperhidrosis, and those who don't want to sweat so much. "It's really for anyone who sweats and is seeking to minimize it—[this is] not just for excessive sweating," he adds. "Our patients include executives to actors, to stay at home moms and dads."
In addition to restoring patient's selfesteem and comfort, Dr. Gambhir calls this procedure "a lifestyle decision," making life—and social interaction—less stressful.
"It's about simplifying life … it's one less thing you need to remember," he says. "[People] don't have to get up and [think about] wearing deodorant. They can run off to the beach and don't have to worry about sticky armpits."
Dr. Gambhir speaks from experience, as he and his wife, Dr. Vibha Gambhir, had the treatment completed and the results he says were amazing. Upon returning from vacation, where neither packed deodorant, he nor his wife returned with sweat-stained clothing— a true testament to the procedure's success.
"I just spent a weekend in hot, sticky Savannah, Ga., and had minimal odor and not a drop of sweat," he explains. "On a day to day basis there is no odor or sweat for me, no chemicals in my underarms and my clothing is stain-free."
Dr. Gambhir also sees the non-surgical cosmetics he offers as an "extension of exercise, nutrition and wardrobe choices for both men and women."
"Non-surgical cosmetics are a lifestyle choice to enhance the way we live," Dr. Gambhir explains. "Botox, fillers, lasers and procedures like miraDry have and are increasingly becoming an extension of basic self-maintenance."
"The process of aging is not a one size fits all," he continues. "We all prefer to age differently; our goal is to offer expert advice that is in line with the patient's own comfort level with the aging process. We are the experts in antiaging and our patients are the experts in themselves."


Gambhir Cosmetic Medicine
668 W. Lincoln Highway
Exton, Pa.
491 Allendale Road, Suite 208
King of Prussia, Pa.
(610) 518-SKIN (7546)
DrGambhir.com
Published (and copyrighted) in Suburban Life Magazine, June, 2017.