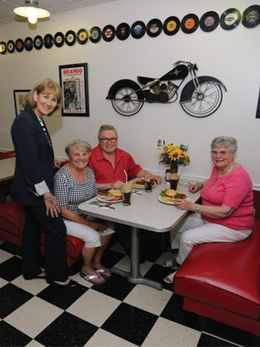 Independent Living at its Finest
Walking onto the campus of Arbour Square of Harleysville is somewhat similar to stepping foot onto a prominent college campus; only instead of finding young students milling about, you'll find seniors enjoying every aspect of the sprawling 22-acre grounds.
Main Street is the hub of this 55-andover community and where you'll find a neighborhood pub, beauty salon, health and wellness center, 50s café and a general store. The property also boasts a movie theater, fitness center, library, computer lab, billiards room, art studio and 276 apartments. The warmth, love and social interaction are key elements to life here, and it's evident whether residents are enjoying musical performances or the sound of dueling pianos. It truly is a community of folks who enjoy not only life, but each other's company.
"I like the fact that there are people around all the time," says 78-year-old resident Dot Weiss. "It's a wonderful place to be."
"This is a creation of senior living at its best," says Mimi Kehan, campus executive director at Arbour Square. "We want ou residents to have an experience where every day they are loving life here."
In addition to the salon, wellness center and pub on Main Street, Harleysville Bank and Rann's Pharmacy serve the residents, as well as The 50's Café and Garden Terrace Dining Room, where meals are served for lunch and dinner.
"The 50's Café is like you're stepping back in time with a jukebox and adorable black and white checker box tile floors," Kehan says. "Like Happy Days, the café is a gathering spot where residents will be enjoying their continental breakfast, drinking coffee, reading a newspaper and enjoying WiFi access."
"I've met a lot of wonderful people and enjoy the socializing part, and you never eat by yourself," Weiss adds. There are also an abundance of activities, from arts, continuing education, movie screenings, social gatherings and speaker programs, to indoor and outdoor recreation, trips, organized clubs and fitness classes such as yoga, tai chi and meditation. Five to eight activities are planned each day and feature a variety to cater to different interests.
"It's an active lifestyle as soon as residents move in," Kehan says. "We have bus trips to restaurants, outings to the theater, cooking and a game room that includes bingo, bridge, poker, rummy, Scrabble and Mahjong. There is an outside community garden where vegetables are planted and are given to residents who choose to cook in their apartment or they are used in a culinary meal. The most important thing is they choose to do what they do, when they want to do it."
It's independent living at its finest, designed for seniors who seek a carefree lifestyle without the stress of maintaining their own home.
"I don't have to cook, I don't have to clean and I don't have to do the dishes," 82-year-old resident John Kosempel says with a laugh. "Having a house meant lawn work, yard work, snow removal and [taking out] trash; I don't have to worry about any of that here."
"Over 92 percent of our residents and families recommend living here—we can't make that up," Kehan says. "Everyone is happy. We hear it constantly from our residents, that it's a different feeling here than other places."
There are a variety of apartment styles to chose from—studio, studio deluxe, one bedroom, one bedroom deluxe and two bedroom, each with at least one bathroom. Every kitchen is equipped with a refrigerator, range, sink and storage cabinets, and the spacious living rooms have beautiful views of the landscaped gardens. Other features include wall-to-wall carpet, individually controlled heating and cooling and stateof- the-art medical alert call system and fire alarm systems.
"The community is managed by a team of professionals, including live-in managers 24 hours a day, and there are daily check-ins acknowledging each resident," Kehan explains. "The emergency alert system in each room allows our live-in managers to be at their apartment within five minutes to make sure they are OK in the event of an emergency." One of the more unique aspects about Arbour Square of Harleysville is, unlike many other independent living communities, there is no down payment when a resident decides to move in.
"There is no buy-in," Kehan explains. "Some retirement communities have parameters, but here, their apartment is their home. They can age here gracefully and live here independently for as long as they choose to. … Most want to stay here as long as they can."
The monthly fee covers just about everything—rent, including utilities, three meals per day, housekeeping, maintenance, transportation to medical appointments, group outings and all social activities. "To make it easier for seniors, we have medical practices that see residents who don't drive," Kehan says. "We also have vans that take people to medical appointments [off-site] and a podiatrist, physical
therapist and speech therapist are on-site for those who need ongoing services. A case manager also helps them as they are aging and need additional services." Arbour Square also fully engages with the community of Harleysville, hosting gatherings such as community bingo, an annual car show, caroling during the holidays, a pet parade on Halloween for children and pets, and various events with local police, EMS and fire companies.
"There are internal and external activities as we give back to the community, and we do a lot of community outreach because the residents want to give back," Kehan says.
Kehan says another calling card of Arbour Square is the relationships and interactions employees have with the residents on a daily basis, and they love their job. "We have passion serving the seniors and our employees love the residents," she says.
"Mimi is always smiling and always positive," Weiss says. "The staff is fantastic, very helpful and they make you feel good." It's no surprise Arbour Square has been voted one of the Top Work Places in 2017 for the second year in a row and Best of Senior Living, based on reviews by residents. These accolades are a true testament to the care and attention residents receive in this special community.
"We treat everyone with respect and dignity and try to touch the hearts of seniors who live here," Kehan says. "It's a wonderful feeling to make them feel special each and every day."
Kosempel agrees. "Every day is a wonderful day at Arbour Square."
Arbour Square of Harleysville
695 Main St.
Harleysville, Pa.
(215) 660-3922
ArbourSquare.com
Published (and copyrighted) in Suburban Life Magazine, June, 2017.