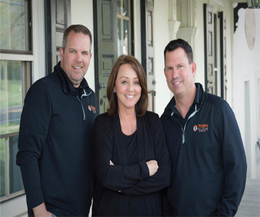 Buying, Building and Beyond
When selling a home, looking for a new home or finding a location to build a custom home, having trustworthy professionals and experts in their field to help buyers and sellers during the process from beginning to end is of utmost importance. Brad Bauernshub, Chris Pinto and Terry Nardone, partners of Triumph Building Group are highlyrespected professionals with over 20 years of experience in the new home building industry. Each partner has a specialty within the industry thereby creating the perfect blend of competence which is passed along to their clients.
"The three of us understand the transition from one specialty or one part of the business to another," Bauernshub says. "From selecting a location and home design, working through the selection of design and interior finishes, the construction and building process to financing the new home project. We each understand the entire process and our roles within creating a seamless and pleasant client experience."
"Often, home builders or national home builders aren't providing all services under one roof," Pinto says. "With a lot of national home builders, you cannot customize the home you're purchasing. We can suit our client's needs and are able to be custom and be as flexible as our client needs us to be, in order to bring their new home dreams to a reality. We can assist with selling a client's departure residence and with finding the perfect property to build their new home. We will work hand in hand with them to guide them through finding the financing needed to build their home. Our focus is on making the entire process of building their new home as stress-free as it can be."
The coordination of the various professionals involved with the overall process by Triumph Building Group allows for a more efficient experience, leaves less room for error, builds trust with their clients and creates a more positive experience and lasting relationship.
"It's very important because a home is one of, if not the largest purchase they will make in their lives," Pinto adds. "The fact they are dealing with one company who will spearhead the project and provide the guidance and expertise that the typical homebuyer just doesn't have is extremely important. Each step of the process is guided by us so there is less stress on the client as they work through the process.
That process can include determining a location and finding the ideal lot in the neighborhood the client desires. Triumph Building Group also helps clients with setting a realistic budget to work with and to work through home designs which may include customizing a home based on their needs, goals and lifestyle.
"We can begin the process by showing a client floor plans from our inhouse plan library," Nardone adds. "These plans can be modified to better meet their needs, or we can work with them and one of our preferred architects to customize and design the home of their dreams. We recognize that a home and its location is not a 'one size fits all' and if a home or location isn't exactly what a client is looking for, we can work with them to find the perfect fit and blend to allow them to build their dream home."
Triumph Building Group's newest community is Towering Oaks at Yardley, an ideally located cul-de-sac of seven custom and semi-custom single family homes in the bucolic setting of Bucks County. Home sizes range from 3,500 square feet to just over 4,300 square feet on three-fourths of an acre up to 1.8 acres located in the highly sought after Pennsbury School District. Preconstruction pricing starts at $798,990. Towering Oaks is conveniently located and just minutes from major roadways making this community perfect for commuters.
"It's a great location," Bauernshub says. "It's close to Interstate 95, Scudder Falls Bridge and provides easy access into New Jersey. You can be in Philadelphia in 30 minutes, and it's just a short ride into Newtown and Yardley Boroughs where residents can enjoy main streets with dining and shopping."
The Buckingham model home at Towering Oaks, now under construction, features a craftsman style exterior with a beautiful front porch, stone work and tremendous attention to detail. This home features a conservatory for grand living and entertaining along with a grand main staircase, an open floor plan, a gourmet kitchen and an abundance of interior appointments. They include hardwood floors, recessed lighting, an oversized, free-standing master bath soaking tub and a nine-foot finished basement including an area way with direct access to the rear yard.
"The included features in our homes are in many cases, those that would otherwise be considered upgrades within a base home package," Nardone says. "Our focus was to offer a very well-appointed home as part of our base home offering and we are confident our homebuyers will feel the same way especially as they shop around and visit other home builders in the area."
Providing the highest level of customer service and satisfaction is of utmost importance to Triumph Building Group. "Our goal is to have a happy and satisfied customer and from that, the ability to gain referrals." Pinto says. "We want a happy homebuyer forever."
Nick Della Vecchia is one of those customers. Triumph Building Group has been working with Della Vecchia every step of the way on the construction of his family's 8,500 square foot dream home since June 2016, from the initial consultation and design process, to breaking ground on the property in January 2017.
"Chris was very personable from our first meeting where we were able to see the type of home he's capable of building and the finishes he's added to the home and from that, you can tell it's a higher caliber home," he says. "There's nothing like that around the area."
Della Vecchia says they constantly communicate and Pinto keeps him updated with every little detail, "down to the tile, layout and grout line sizes. "He's very detail-oriented, gets everything organized and we've built trust where I don't have to check anything," he says. "He's been great."
"When we build a home for a client, we want to have a relationship where we can stop by 10 years later and see them and for them to be happy to see us," Pinto says. "We have customers that over the years have called us to ask us to come over and see something they have done to their home. That isn't something you can pay for, you have to earn it. Relationships are what you build with people—that's the key to our business."
Triumph Building Group
2324 Second Street Pike
Suite 20
Newtown, Pa.
(267) 394-0284
TriumphBG.com
Published (and copyrighted) in Suburban Life Magazine, June, 2017.