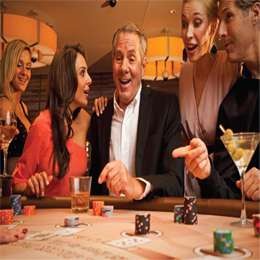 Staycation With All the Perks
Sandy beaches, private cabanas, a pool and a tiki bar sound like amenities of a resort you'd find at the Jersey Shore, but it's only a short drive away at Valley Beach Poolside Club at the Valley Forge Casino Resort.
"Valley Beach has everything to offer and more than the Shore without the drive and traffic," says Michael Gartner, vice president of strategic development. "It's a true resort destination with a tiki bar, sand beach and poolside cocktails to escape the daily routine and traffic to the Jersey Shore," he says.
Instead of spending time in traffic trying to get to a vacation, make it a staycation at Valley Forge Casino Resort and Valley Beach Poolside Club. For the 2017 season, membership is no longer required and $20 day passes are available.
"With all the traffic, it takes twice the amount of time to get to the Shore and other Shore points during the summer months," says Gina Mancino, vice president of casino marketing. "Valley Forge Casino Resort's location is convenient and there's less drive time. If you live in the area, you can get here quickly and spend more time having fun instead of spending time on the road. We're a full resort, with food, nightlife, entertainment and of course, a beautiful pool."
"Staycation is a getaway," adds Lani Baird, director of sales. "When you're here, you can get away from the ordinary and experience something extraordinary."
Over 20,000 square feet make up Valley Beach Poolside Club, which underwent renovations and additions this summer, including a new tiki bar, new food and drink menus, a new entertainment line-up with a DJ on Friday nights and various bands on Saturday nights. Del Valle Taco Truck will also be there all summer long.
"Our Executive Chef created an excellent menu," Mancino says. "Everything is made to order, from tacos and taquitos, to taco salads and nachos."
Some of the new entertainment is reggae nights starting June 18th and continuing every Sunday, and dive-in movie nights with poolside movies under the stars every Thursday starting June 22. Some of the movies scheduled are classics including Jaws, Star Wars and Grease, some of which tie into the live entertainment at Valley Forge Music Fair, including the Bacon Brothers performing live the day after showing Footloose. "With the addition of the Del Valle [Taco Truck], the tiki bar and all new entertainment programming, we are the place to be midweek or weekend," Gartner says."
We are a resort destination," Mancino adds. "It's rare you would find a resort that has all the amenities we offer under one roof, and it's better than the beach. If you get too hot and don't want to be in the sun, you can go inside to the casino in the air conditioning. There are a lot of options here which makes us the choice." Total upgrades for the pool area cost an estimated $170,000, including the bathrooms and hallway connecting the casino and hotel to the pool.
"After swimming, guests can change and refresh themselves before heading to dinner at one of our restaurants," Mancino says.
Valley Forge Casino Resort also underwent an extensive $6 million renovation of its entire Casino Tower. Upgrades included new carpeting, drapery, custom artwork, as well as updated bathrooms, lobby and elevators.
"The rooms have a beautiful, rejuvenated, modern and contemporary décor," Baird says. Casino Tower now has two Super Suites, 40 suites and 116 standard rooms. The Super Suites feature a 1,400-square-foot living and entertainment area and two fully-appointed king guest rooms. All come with high-end finishes and amenities. Additional features include a master bath with glass shower, rain shower heads, double sinks, subway tiled walls and floors, and a kitchen with full-length walnut cabinets and Carrera marble tops, ice makers, dishwasher and a Carrera marble communal table at bar height with stool seating.
The suites have 490 square feet of space that features an individual bedroom with a separate living and dining area.
"There are walnut and Carrera marble finishes throughout the space, the seating area has an L-shaped pull-out couch, a kitchenette with a mini-bar and a café table for dining," Baird says.
The standard rooms have the same elegant interior finishes, including refinished furniture featuring chocolate wood tone to match the dark wood décor and Carrera marble countertop. "The rooms are a wonderful, exciting addition to the property," Baird adds. They are certainly in line with the guest experience we provide. We want everyone coming here to feel relaxed, refreshed and to enjoy themselves."
After a day relaxing by the pool and freshening up in the updated hotel room, take advantage of the plethora of other nightlife entertainment and high-end restaurants Valley Forge Casino Resort has to offer.
"Come for a weekend, dine in a different restaurant every evening, relax poolside and enjoy a great cocktail at
Valley Beach, go to the casino and take a chance on our slots or live table games," Baird says. "Weekends feature lots of options for live entertainment. Great staples like our comedy club Friday and dueling pianos on Saturday are complimented by our frequent music fairs, live bands and more."
VALLEY FORGE CASINO RESORT
1160 1st Ave.| King of Prussia, Pa.
(610) 768-3252 | VFCasino.com
Published (and copyrighted) in
Suburban Life Magazine
, June, 2017.