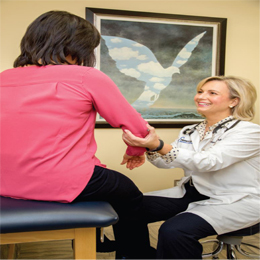 A Higher Level of Care
If you experience chronic low back or neck pain, according to the North American Spine Society, you're among 80 percent of Americans. And if you happen to be one of the unlucky few to have persistent or worsening symptoms, it may be time to seek help. Who better to turn to, than the experts at Princeton Brain and Spine?

The Team
More than just the doctors, however, make this practice great. It's the team. At Princeton Brain and Spine, Nurse Practitioners (NPs) and Physician Assistants (PAs) collaborate with the physicians to strengthen and enhance the patient experience and to fill in the gaps that modern assembly line medicine has created. The NPs and PAs work in tandem with each doctor and to provide a collaborative team approach for patients. Leading medicine by example, the practice was an early adopter in the nation to utilize NPs and PAs extensively.

"In the office, we use our years of experience to evaluate, triage and treat patients," says Nurse Practitioner Toni Luongo. "In combination, the nurse practitioners and physician assistants have more than 100 years of experience working in Neurosurgery and related areas. With this experience, we're a valuable resource to patients and our doctors."

The collaborative team of doctors, nurse practitioners and physician assistants allows each member to focus on their role in serving the patient without distractions.
For instance, while a surgeon is performing an operation, other members of the team can field phone calls and perform routine
medical exams and post-op checks for screening in the office. Also NPs can perform more complete and thorough medical exams so that the surgeon can administer a more focused system evaluation. The nurse practitioners and physician assistants provide immediate help when needed and when a doctor is unavailable. This, Luongo says, allows patient issues to be addressed in a timely manner. Also the PAs focus their care more on inpatient medical issues such as medication adjustments, imaging orders and discharges to get patients home sooner as well as assisting the surgeons in surgery.

"Having NPs and PAs on the patient care team allows patients access to an experienced, licensed professional during times when the doctors need to focus on surgery," she says. "In the office setting, we take the lead with new patients by interviewing them to obtain a detailed and thorough history and examination and present this to the physicians."

According to Lourdes Santoni, one of the practice's nurse practitioners, NPs and PAs have the prescriptive authority to diagnose, treat, manage and refer patients to other providers if needed. She also mentions that most of the practitioners have advanced training and degrees, in her case a doctorate.

"The role of the nurse practitioner is autonomous," she states. "They're an integral part of the Neurosurgical team as their expertise includes the ability to advocate and identify patient needs. A skilled and experienced nurse practitioner is invaluable to a busy neurosurgical practice."

Their integration goes well beyond identifying current patient needs, according to Luongo. Both nurse practitioners and physician assistants also play an important role for patients already established within the practice, by re-evaluating how the patient has responded to a specific treatment plan, and with prescribing any necessary follow-up medication, treatments, imaging or physical therapy.

"We are highly trained professionals that provide patients access to quicker, more efficient care rather than having to wait for an appointment with a doctor. Sometimes we'll pick up a disease process that is not related that needs attention. For instance, a surgeon may step in to a room to see a patient with sciatica and do a focused exam, but the NP picked up early hypertension or a suspicious mole in the more comprehensive medical evaluation. This is better more thorough care." she says. Nurse practitioners and physician assistants are also available by telephone for patient communication.

Nurse practitioners and physician assistants pursue continuing professional education and training. Just recently, Santoni
completed the Safra Scholars Program sponsored by the Parkinson's Foundation and UPenn. Next month, she will also be providing medical support as a volunteer, caring for Pilgrims on a trip to Lourdes, France. "Without the support of my physicians, I would never have been able to pursue my interests in medicine outside of the practice. Opportunities like mine make me a better caregiver. Princeton Brain and Spine is a pioneer in promoting unique staff experiences in medicine. Here, the care is extended to the physical, emotional and spiritual realms," she says.

Technology and Innovation
Princeton Brain and Spine incorporates technology accelerators trending in health care in order to streamline and improve patient care. "We utilize teleradiology so that a provider in an office or hospital can review medical imaging suchn as MRIs and CT scans remotely," Luongo states.

Video conferencing is also beneficial for the practice's monthly teaching rounds, allowing the ability for doctors, nurse practitioners and physician assistants to teleconference and view images from remote locations. This facilitates the ability to discuss and execute treatment plans in a coordinated timely fashion. Luongo says this allows sharing of knowledge and increases her team's skill in reviewing images.

"The practice also utilizes medical scribes and a telemedicine interface for better patient connections," she adds. "It allows the providers to have eye-toeye contact with patients and focus on key elements of the patient's concerns rather than have their nose buried in a laptop computer while obtaining a patient's history."

"Living a debilitated and painful life day in and day out must be very difficult," the Practice's nearly 10-year veteran PA Kevin Trolene says. "Although we favor conservative therapy for most, often times surgical treatment of significant spinal stenosis and disc herniations can get patients better faster. We help patients live a more pain-free life. I love being an important part of the hospital inpatient and surgical team. As an assistant with Drs. Shah and McLaughlin for almost a decade, I know how to best assist our doctors as they perform technically difficult procedures. I am proud to help make surgeries go smoother because of my surgical assistant skills."

"We want patients to know that we empathize that this can be an overwhelming experience," Luongo states. "The little things can make a huge difference. By providing a warm atmosphere with trained professionals who can serve the patient in a comprehensive and collaborative way, we can reduce a patient's anxiety, make them feel like they matter, and deliver superior care."
Princeton Brain and Spine
PrincetonBrainAndSpine.com
Published (and copyrighted) in
Suburban Life Magazine
, June, 2017.