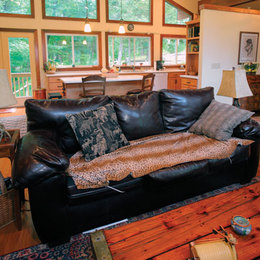 Great Room
King Builders works closely with customers on custom projects
Many people would be surprised to learn that there is no wrong time to start a home improvement project. From interior renovations on kitchens, bathrooms and basements to custom homes and major additions, King Builders works year round to complete any project their customers can dream of.

Fall is the time of year that people look inside their homes at their worn in kitchens, outdated bathrooms and ho-hum basements and wish they could become stand-out elements in the home.

With King Builders, a family-run contractor based in Ottsville, you can have the beautiful room custom designed and built by the professionals King Builders contracts. For your kitchen, whether you're looking for a more modern, sleek design or a warm, welcoming traditional style, a renovation to this most-used room in the house will improve your home's value and create a special place for the family to gather.

Best of all, the friendly relationship King Builders establishes with customers makes the entire process more pleasant. Everyone hears about construction nightmares—contractors who are too slow, who leave a mess, or who are simply difficult. Sometimes it can seem impossible to find a contractor with whom you can have a professional, or even amicable, relationship.

"We have a tendency to become friends with our customers," says owner Thomas King. "It's something I'm very proud of." Some customers continue to send e-mails and check in with the company long after their project is completed.

At King Builders, the 30-year-old business prides itself on its relationship with its customers, delivering fast, quality service to customers. After all, 80 percent of its business comes from referrals.

So what is it about King Builders that makes customers either come back or refer their friends and family? Maybe it's the years of experience, or the A+ rating with the Better Business Bureau.

Perhaps it's their flexibility with customers. "We understand that things change," King says. "Our jobs evolve while we're doing them."

King says the company can work with customers who already have a firm idea for their project as well as those who are looking for an inspiration from the pros.
"Sometimes the customer presents the plan, sometimes not," says King. "We have draftsmen at our fingertips; we have architects are our fingertips. Whatever the job will require."

The customer and company always work together to design an addition or renovation that will be functional and beautiful.

And King Builder's 100-percent satisfaction rating prove that they wont rest until their customers are thrilled with the look of their home.

Al and Barb Funke of Upper Black Eddy recently had a great room addition built onto their house. "It looks like a chalet," Al says. "All glass on two sides, with an enclosed kitchen and dining area."

The project, he says, worked out beautifully. "King Builders was helpful in every way imaginable."

He adds that he would absolutely recommend the company to others.
King Builders specializes in custom building and design projects, but can also provide roofs, decks and siding. And although 70 percent of business is residential, they also do commercial work.

Tom King's close relationship with his customers has led King Builders to some very interesting jobs, including a recent commercial project of a home for special needs adults in Tinicum.

King Builders was awarded the bid for the 7,000-square-foot job in part because they had completed a job for someone already connected to the home.

"We're creating a home for these 25 men," says King. "Even though it's our business, deep down, it's a special feeling to provide this home for these gentlemen."

King Builders
825 Haas Court, Ottsville
AmericanCraftsmen.biz, KingBuilders.biz
1-800-850-KING or 215-795-0890
See a video catalog at vouchvideo.com/profile/kingbuilders

Rob Hall is a freelance photographer from Plumsteadville.