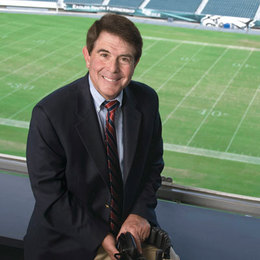 Goooood Ol' Boy
Merrill Reese is more than the voice of the Eagles—he's their memory
Looking back at the past 30 years of Eagles football, there is nary a moment of play that Merrill Reese doesn't recall with crystal clarity.

From the big moments, like the NFC championship win against the Cowboys in 1981, to the small victories—like "Groundhog Day" in 1995, when again facing the seemingly unstoppable Cowboys, the Eagles tackled Emmitt Smith for no gain on 3rd and 1 and then 4th and 1—Reese is a walking, talking encyclopedia of Philadelphia football.

During our conversation two weeks before the Eagles' first regular season game, he tosses out specific plays, games and weather conditions without a moment's hesitation to reach deep into his memory. The Dec. 31, 1988 "Fog Bowl" playoff game at Soldier Field in Chicago, the Nov. 12, 1980 "Body Bag Game" when both the Redskins' starting and backup quarterbacks were sent out with injuries, the Nov. 19, 1978 "Miracle of the Meadowlands" when cornerback Herman Edwards recovered the Giants' unexpected fumble to score the winning touchdown.

"All of these games I remember as if they were yesterday," Reese says. "There are very few moments that people could bring up that I wouldn't remember."

The Philadelphia native has been the play-by-play broadcaster for the team since 1977, so he was bound to rack up a few memories.

Although his life during the season is all about the Eagles, he is always able to make time for life outside of football as well, especially during the off-season. He's an avid golfer and plays with his wife and friends at Blue Bell Country Club at every opportunity, as well as in numerous charity tournaments. He remains very close with his two children—Nolan, a film editor in Hollywood, and Ida, a graphic designer in New York City, who both graduated from Germantown Academy.

He also lends his time and efforts to several charitable organizations, serving as the celebrity chairperson of the Terri Lynne Lokoff Child Care Foundation, which provides non-denominational child daycare centers, and as the honorary chairperson of the Bucks County March of Dimes.

He is also a managing partner, vice president and general manager of WBCB radio in Levittown, which broadcasts the Eagles, the Phillies, local high school football games and special talk shows with people like former Flyer Bill Clement and former Phillie Greg "The Bull" Luzinski.

Reese recently documented his knowledge and memories in a book called Sportscasting: Turning Your Passion Into a Profession. He started writing the book after the end of the football season two years ago to fill up his free time.

"I'm so busy during the football season, between running back and forth between the station and jumping on planes with the Eagles and getting ready to broadcast games, that all of a sudden there's this big void in my life after the season," explains Reese, who now lives in Blue Bell with his wife, Cindy, who teaches in the Hatboro-Horsham School District.

In addition to putting on paper his own experiences as the voice of the Eagles, he also took the opportunity to hear from his colleagues who broadcast Philly's other major sports games. The result is a compilation of instructional tips about the business of sportscasting and truly poignant career stories.

"One of the really wonderful days was an afternoon I spent with Harry Kalas talking about baseball broadcasting, which turned out to be about a month before he passed away," Reese says. "To speak with Harry on a snowy afternoon in February for about four hours about his life and his ideas about baseball and broadcasting was something I will never forget."

He also interviewed Marc Zumoff, the voice of the 76ers, and Jim Jackson, the voice of the Flyers, as well as Beasley Reece, Bill Campbell and Dan Baker.

"I learned something from everybody I spoke with," Reese says. "For instance, I learned from Jim Jackson that because of the angle he has, he actually has to focus on the shoulder number of a hockey player. He doesn't get a front or back view to see the big numbers. I learned that Dan Baker, in addition to announcing the next batter coming up to the plate, has also had to deal with some announcements that were designed for crowd control during some very tense moments."

A lesson he took away from his conversation with Kalas was actually one that the beloved baseball broadcaster learned from his former partner, Richie Ashburn.

"Harry talked about the fact that a baseball broadcast should not be overly chatty—that there's a certain rhythm to it," Reese recalls. "There should be moments where you just hear the crowd and nothing else. That Richie Ashburn once said that silence can be golden, rather than feeling that you have to fill every available space of air with chatter."

Kalas' passing last spring reminded us all about the connection sports fans throughout the region feel with the voices on the radio, something that is both moving and humbling for sportscasters everywhere.

"It's because we represent the fans," Reese says. "We're there communicating what they would like to be there seeing or feeling."

More often than not, sports fans will marvel over the great fortune that sportscasters have to get paid to talk about sports. And Reese doesn't take that fortuity lightly.

"I love my job more every single year," he says. "I think [the best part is] the opportunity to see people perform under pressure, to see great athletes, to describe moments which can be memorable—some of which people speak about for the rest of their lives—and the fact that I can add to the enjoyment of a sports fan's life.

"If I can do something to bring fans into that stadium and put them at that event, and transmit my passion and allow them to feel the excitement of the truly electric moments, that's something that I find very fulfilling."

But beyond simply the thrill of sharing the game with the fans, the Temple University graduate and former Naval officer also counts it as a blessing that he does the broadcasts for his hometown team.

"It's amazing the way that my career evolved that I ended up broadcasting the games of the team that I grew up loving," he says. "Out of 32 play-by-play men in the National Football League, I would bet that fewer than five of us are broadcasting the games in the city of our birth."

And as much as the game is a lifestyle for the players and coaches, the same goes for Reese. Preparing for a broadcast is nearly as grueling as the players preparing to play the game.

"I'm at practice. I talk to the players. I speak with the coaches," Reese explains. "I memorize the uniform numbers every week. I go through and assemble notes on everything that has occurred up until that point. I look at game tape so that I can recognize the various formations that the opponent is using. It's all consuming. It's a way of life."

Now, with the Eagles' home opener just days away, Reese is consumed with football once again and hopeful that the young team can stay healthy and enter December in playoff contention.

"And that's all you can really ask," he says. "I think Kevin Kolb is ready to take over as a starting quarterback. It's not a rookie year, it's his fourth year, and I think he can be effective right away."

He is also impressed with the No. 1 draft pick Brandon Graham, saying that he thinks he can make an immediate impact at his position.

So as Reese is absorbed into another season with the NFL team he knows inside and out, he looks forward to more moments to go into the history books.

"It's an amazing feeling when I leave the house or the hotel to broadcast a game knowing that there may be something that happens in the next three or four hours that I have never broadcast before," he says. "There's something that happens every year."

And he'll remember them all for years to come.