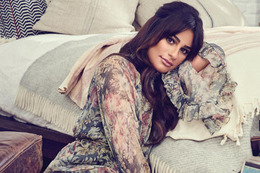 Dream Chaser
August 2017
From the moment that Lea Michele went on her first audition, at the tender age of 8, she set her sights on a big career in the performing arts and never looked back.
Today, the 30-year-old "Jersey Girl" is proud of how far she has come and is truly humble about her success on Broadway, television, music and beyond.
The star of the former smash hit Fox show Glee strongly believes that the acceptance she received from her parents, as well as the relentless drive and tenacity they showed her by example, is what got her here: a continuous rising star, who is making her indelible mark on the world stage.
Not taking her accomplishments for granted, she believes it is vitally important to give back and serve as a role model, especially for young girls who may not have the support and encouragement that Michele has received throughout her journey, knowing her career path was a major key to her success.
"For me it was about working so hard; I never slacked off," Michele says. "I was really blessed to know what I loved doing from a very young age and being able to do it. It's one of the greatest gifts I've ever been given."
The only child of teenage sweethearts Edith, a nurse, and Marc, a former deli owner who later went into real estate, Lea Michele Sarfati has "warm childhood memories" of her youth growing up in the northern part of the state in Tenafly.
"I'm very proud to say where I'm from. I am a true East Coast girl, even though I now live in Hollywood," she says. "Anytime I see anyone from home, I love to reminisce."
Her happy early life included memorable trips to the Shore and to see family in The Hamptons. "All of that is so much a part of my life, and so is my very happy childhood."
But this hard-working Broadway and television actress, recording artist and concert performer has come a long, long way since then. In the late spring, she kicked off a six-city "Intimate Evening North American Tour" at the Kimmel Center's Merriam Theater in Philadelphia before heading overseas to London.
Her second album, Places, featuring her uplifting single "Love is Alive," was released by Columbia Records on April 28. She first performed the new music during three sold-out January shows, and the spring tour was a result of the demand from her many devoted fans.
"I am very appreciative of my fans, who have supported me for so long, and are behind me now in this new phase of my being a solo artist and working on my music," Michele says. "I have some pretty incredible, diehard fans who have been with me for many years, every step of the way."
And despite her rise to stardom, Michele is still humbled by the company she now keeps.
"I went to the 2017 Oscars and was invited to Elton John's after party. It was such a privilege to be there," she recalls. "I was around so many legends; people I have looked up to for so long. In so many ways I am still a fan of everyone in the industry who I admire. Sometimes, it's just so surreal."
In her best-selling 2014 memoir, Brunette Ambition, Michele fondly recalls that growing up she saw that "nobody on the popular TV shows," looked like her. But her mother's love for Broadway musicals, including Funny Girl and West Side Story, allowed the budding singer to see herself reflected in the leading ladies—Barbra Streisand and Natalie Wood. "Once I realized I could sing, Natalie and Barbra spoke to me even more: I wanted to do what they did," Michele says.
As her remarkable career story begins, a then 8-year-old Michele went with a childhood friend to an open casting call for an up-and-coming musical. After a spur-of-the moment decision to audition, she was offered the role. Two weeks later, she was starring on Broadway—the first of her many life-altering roles there.
The child prodigy made her debut on Broadway in 1995 as a replacement for young Cosette in Les Misérables. Shortly after, she was cast in Ragtime and also appeared in the Broadway revival of Fiddler on the Roof.
When Michele was only 14, she landed the role of Wendla Bergmann in the Broadway version of Spring Awakening, for which she was nominated for an Outstanding Actress Drama Desk Award.
Her Broadway career would last until age 23. "I sort of assumed that's what I would do with my whole life, and I was really happy with that, because appearing on Broadway is incredible, and I would love to go back," she says. "But, I honestly never thought I would be on television because I was always told that I was too ethnic looking."
So how did she persevere during the inevitable bumps in the road? "I think a lot of it is ingrained in who I am, but more than anything, the support from my parents was priceless."
When she was in high school, her dad sold his deli and got into real estate to make more money for the family. "My father is one of those guys who will always go after what he wants and would never think to passively stand around and wait for the opportunity to knock," says Michele.
In late 2008, that persistence she learned from her parents paid off. She mustered up the confidence to audition for the role of Rachel Berry on Glee, and a TV star was born.
High school students and their parents around the nation loved Michele and her co-stars in the musical comedy show about a group of ambitious and talented young adults—who initially are seen as misfits—but they find their strength, acceptance and, ultimately, their voice.
The show ran from 2009 to 2015, and Michele received many awards for her performance, including the 2009 Satellite Award for best actress in a series, comedy or musical, in addition to Golden Globe and Emmy Award nominations.
Glee certainly changed Michele's life, and earned her a devoted following around the world. "My life changed very quickly because of Glee and I think what it's really taught me is to never limit yourself," she explains. "I couldn't have even dreamed that all of this would be possible, so it just goes to show you that you have no idea what life has in store for you, or what's around the corner."
While the show ended in March 2015, the series continues to be a favorite on Netflix. She also starred with Jamie Lee Curtis for two seasons on Fox's Scream Queens.
"I was always working so I was never the girl who went to all the parties. Being a performer requires a lot of sacrifices, and you have to be willing to make those. I never gave up and I always worked hard."
She was also taught by her parents to give back. She says she wants to use her celebrity to improve the lives of others, both to animals she dearly loves, and to help young girls achieve their goals.
For the past several years, Michele has been involved in a nonprofit mentoring organization, Step Up, which empowers girls and gives them the opportunity to fulfill their potential. The program hopes to expand to Philadelphia in the future.
Michele has been involved as a mentor for the teen girls in L.A., helping them explore what it means to dream big and envision their career possibilities. She was honored with the 2016 "Inspiration Award," given to those who inspire girls and women.
"I do as much as I can," Michele says, "with the platform that I've been given."
"When we at Step Up ask our girls to name an inspiring woman, Lea Michele always comes to mind," said Jenni Luke, the organization's CEO. "Lea's participation as a Step Up mentor helps to emphasize our message to the girls to hone their confidence on their way to fulfilling their personal and professional aspirations."
While Michele's years at Tenafly High School were "truly awesome" and did not include the heartache Rachel Berry endured on Glee, she believes that anyone can follow her lead by putting their entire heart and soul into pursuing their dreams.
For Michele it's also about ignoring the critics and never giving up or doubting yourself. "My overall life lesson," she says, "is dream big; because if you work really hard, you keep a good head on your shoulders, and you believe in yourself, you can really accomplish the moon."
Published (and copyrighted) in Suburban Life Magazine, August, 2017.
.
.
.