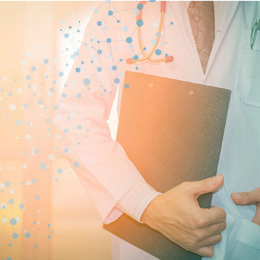 Medicine's Finest
August 2017
You can never anticipate when an illness, injury or a life-saving surgery will happen, but what you can foresee is which doctor will be the best to care for you or your loved ones. We're lucky enough to live in an area that holds some of the best physicians spanning all medical fields—from critical care, family medicine, pediatrics, dermatology to neurosurgery— who are all trained to aid any ailment.
So when it came time to cull a list of some of the Greater Philadelphia Area's top-notch doctors, it happened in a heartbeat. Thanks to our best source in the matter, our readers voted on who they felt were the best healers around town.
The results are found in our 2017 Top Physicians, featuring over 200 physicians from over 30 disciplines who are all trained and ready to take on any crisis, injury or affliction. With the best in your corner, your health will always come first.
ADDICTION MEDICINE
Dr. William Stanley
Summit Behavioral Health
Multiple area locations
(844) 643-3869
AESTHETIC MEDICINE
Dr. Earl Bryant
Physician Transformations
Newtown Square
(484) 685-0480
Dr. Glenn A. DeBias
The Institute for Laser and Aesthetic Medicine
Doylestown and
King of Prussia
(215) 230-1804
Dr. Anshul V. Gambhir
Dr. Vibha Gambhir
Couture
Exton, King of Prussia
(610) 518-7546
Dr. Norbertus C. Robben
Mind Your Skin LLC
Havertown
(610) 924-0800
Dr. Allan Wulc
Abington Hospital— Jefferson Health
Abington
(610) 828-8880
ALLERGY AND IMMUNOLOGY
Dr. Mark A. Posner
Einstein Healthcare Network
Multiple area locations
(800) 346-7834
AUDIOLOGY
Dr. Gail B. Brenner
Hearing Technology Associates LLC
Bala Cynwyd
(610) 747-1100
Philadelphia
(215) 413-0800
Dr. Kathy Landau Goodman
Main Line Audiology Consultants P.C.
Multiple area locations
(888) 344-0818
Dr. Lynda Wayne
Cadence Hearing Services
Langhorne
(215) 860-3154
BREAST SURGERY
Dr. Lisa Jablon
Dr. Jennifer Simmons
Einstein Healthcare Network
Multiple area locations
(800) 346-7834
CARDIOLOGY
Dr. Susan C. Brozena
Dr. Maren E. Jeffery
Dr. Frank Silvestry
Penn Cardiac Care at Radnor
Radnor
(800) 789-7366
Dr. Jonathan Cox
Dr. Jeffrey Fierstein
Dr. Fania Samuels
Aria—Jefferson Health
Multiple area locations
(877) 808-2742
Dr. Ronald H. Fields
Dr. George P. Heyrich
St. Mary Medical Center
Langhorne | (215) 710-2000
Dr. Vincent M. Figueredo
Einstein Healthcare Network
Multiple area locations
(800) 346-7834
Dr. David L. Smith
Dr. Robert M. Sangrigoli
Doylestown Hospital
(215) 345-2200
Dr. Howard Weitz
Jefferson Health
Philadelphia
(800) 533-3669
CRITICAL CARE MEDICINE
Dr. Earl D. King
Fox Chase Cancer Center
Philadelphia
(888) 369-2427
Dr. Michael L. Lippmann
Einstein Medical Center
Philadelphia
(215) 456-6950
DERMATOLOGY
Dr. George Cotsarelis
Penn Medicine at Radnor
Radnor | (610) 902-2400
ENDOCRINOLOGY,
DIABETES & METABOLISM
Dr. Mariele C. Briones
Dr. Christopher Bruno
Dr. Neema Chokshi
Dr. Matthew S. Kane
Endocrinology Associates of Coatesville
Multiple area locations
GatewayDoctors.com
Dr. Arthur Chernoff
Einstein Healthcare Network
Multiple area locations
(800) 346-7834
FAMILY MEDICINE
Dr. Brian R. Boucher
Dr. Geoffrey M. Burgess
Dr. Marianne Nikas
Dr. Gene F. Uhler
Dr. Alpa Vadher
Colonial Family Practice
Multiple area locations
GatewayDoctors.com
Dr. Jeremy D. Close
Jefferson Comprehensive Concussion Center
Philadelphia
(800) 599-9663
Dr. Kevin Melnick
Einstein Healthcare Network
Multiple area locations
(800) 346-7834
Dr. Charles C. Whitney
St. Mary Medical Center
Langhorne | (215) 710-2000
GASTROENTEROLOGY
Dr. Joseph R. DeAntonio
Capital Health/Lawrence Gastroenterology
Lawrenceville, N.J.
(609) 882-2185
Dr. David L. Jaffe
Penn Medicine Radnor
Radnor
(610) 902-1500
Dr. David Kastenberg
Jefferson Health
Philadelphia
(800) 533-3669
Dr. Jason N. Rogart
Capital Health Center for Digestive Health
Pennington, N.J.
(609) 537-5000
Dr. Jeffrey L. Tokar
Dr. David S. Weinberg
Fox Chase Cancer Center
Philadelphia
(215) 214-1475
GERIATRIC MEDICINE
Dr. Andrew B. Rosenzweig
Einstein Healthcare Network
Multiple area locations
(800) 346-7834
GYNECOLOGIC ONCOLOGY
Dr. Mark S. Shahin
Abington Hospital— Jefferson Health
Abington
(215) 885-0220
INTERNAL MEDICINE
Dr. Anthony Bazzan
Marcus Institute of Integrative Health
Villanova
(610) 630-8600
Dr. Margot Boigon
Abington Hospital— Jefferson Health
Abington
(215) 481-4811
Dr. Mark J. Capkin
Dr. Joel D. Pomerantz
Einstein Healthcare Network
Multiple area locations
(800) 346-7834
Dr. Thomas R. Comerci
Lankenau Medical Center
Wynnewood
(484) 476-6421
Dr. Jennifer Cowan
Dr. Janine Kyrillos
Jefferson Health
Philadelphia
(800) 533-3669
Dr. Henry T. Ling
Lankenau Hospital
Wynnewood
(610) 642-6990
Dr. Andrew J. Norton
Bryn Mawr Hospital
Bryn Mawr
(484) 476-6421
Dr. Nadja Peter
St. Christopher's Hospital for Children
Philadelphia
(888) 247-4737
Dr. Miriam Rosado
Aria—Jefferson Health
Yardley
(215) 493-0100
INTERVENTIONAL RADIOLOGY
Dr. James McGuckin
Vascular Access Centers Philadelphia
(215) 240-6007
Dr. Mike Watts
Vascular Access Centers
King of Prussia
(484) 808-5220
MEDICAL ONCOLOGY
Dr. William J. Tester
Einstein Healthcare Network
Multiple area locations
(800) 346-7834
NEUROLOGY
Dr. Kimberly A. Atkinson
Jefferson Comprehensive Concussion Center
Philadelphia
(800) 599-9663
Dr. Jon Glass
Thomas Jefferson University Hospital
Philadelphia
(800) 533-3669
Dr. Stephen M. Gollomp
Main Line Health
Wynnewood
(610) 642-5371
Dr. David Lynch
Dr. Ana Recober
Children's Hospital of Philadelphia
Philadelphia
(800) 879-2467
Dr. Paul Shneidman
Aria—Jefferson Health
Philadelphia
(215) 612-4844
Dr. Michael R. Sperling
Dr. William B. Young
Jefferson Health
Philadelphia
(800) 533-3669
NEUROPSYCHOLOGY
Dr. Jennifer A. Tinker
Jefferson Comprehensive Concussion Center
Philadelphia
(800) 599-9663
NEUROSURGERY
Dr. Lee Buono
Capital Health
Institute for Neurosciences
Pennington, N.J.
(609) 537-7300
Dr. Grant Cooper
Dr. Ana Bracilouic
Dr. Marco Funiciello
Dr. Zinovy Meyler
Princeton Joint & Spine Center
Princeton, N.J.
(609) 454-0760
Dr. Seth S. Joseffer
Dr. Mark L. McLaughlin
Dr. Nirav K. Shah
Dr. Matthew Tormenti
Princeton Brain & Spine
Multiple area locations
PrincetonBrainAndSpine.com
Dr. Kenneth M. Liebman
Capital Health/ Global Neurosciences Institute
Lawrenceville, N.J.
(888) 604-6387
OBSTETRICS AND GYNECOLOGY
Dr. Amy Abouzied
Aria—Jefferson Health
Langhorne
(215) 757-5737
Dr. Jean Fitzgerald
Dr. Carolyn Ianieri
Doylestown Women's Health Center
Doylestown
(215) 340-2229
Dr. Jay D. Goldberg
Dr. Claire Robinson
Einstein Healthcare Network
Multiple area locations
(800) 346-7834
Dr. Clarisa R. Gracia
Dr. Steven J. Sondheimer
Penn Fertility Care
Philadelphia
(800) 789-7366
Dr. Nancey Hahn
Dr. Jennifer C. Gilbert
Dr. Mark E. Chasteney
Dr. Alexander P. Anthopoulos
Paoli Hospital
Paoli
(610) 889-9950
Dr. Parviz Hanjani
Abington Hospital— Jefferson Health
Abington
(215) 885-0220
Dr. Ann L. Honebrink
Dr. Patricia A. Lokey
Dr. Lisa Rosen
Dr. Ann L. Steiner
Penn Health for Women Radnor
(610) 902-2500
Dr. Mark P. Johnson
Children's Hospital of Philadelphia
Philadelphia
(215) 590-2178
Dr. Cheung K. Kim
Dr. Carlene Quashie
Einstein Healthcare Network
Multiple area locations
(800) 346-7834
Dr. Mark D. Kuhn III
Capital Health/The Center for Women's Health
Langhorne
(215) 750-6611
Dr. Stephen C. Rubin
Fox Chase Cancer Center
Philadelphia
(888) 369-2427
Dr. Maria E. Sophocles
Women's Healthcare
of Princeton
Princeton, N.J.
(609) 430-1900
Dr. Joel I. Sorosky
Abington Hospital— Jefferson Health
Abington
(215) 885-0220
OCULOPLASTIC SURGERY
Dr. John J.W. Lee
Bryn Mawr Facial Aesthetics Center
Bryn Mawr
(610) 789-6701
ONCOLOGY
Dr. John Abraham
Dr. Michael Bartel
Dr. Cynthia Bergman
Fox Chase Cancer Center
Philadelphia
(888) 369-2427
Dr. Matthew Carabasi
Dr. Neal Flomenberg
Jefferson Health
Philadelphia
(800) 533-3669
Dr. Lorraine Dougherty
Dr. James L. Spears
Doylestown Hospital
(215) 345-2200
Dr. Nicos Nicolaou
Urologic Consultants of Southeastern Pennsylvania
Multiple area locations
(610) 667-3020
Dr. Allan E. Terzian
Aria—Jefferson Health
Philadelphia
(215) 612-5250
OPHTHALMOLOGY
Dr. Michael A. Aronsky
Dr. Carol J. Hoffman
Kremer Eye Center
Multiple area locations
(800) 694-3937
Dr. Sanjay Kamat
Bucks Eye Specialists
Yardley | (215) 493-7330
Dr. Ann Murchison
Jefferson Comprehensive
Concussion Center
Philadelphia
(800) 599-9663
ORTHOPEDIC SURGERY
Dr. Jeffrey S. Abrams
Dr. Jon W. Ark
Dr. Richard E. Fleming
Dr. Steven R. Gecha
Dr. W. Thomas Gutowski III
Dr. David Lamb
Princeton Orthopaedic Associates
Princeton, N.J.
(609) 924-8131
Dr. D. Greg Anderson
Dr. Matthew S. Austin
Dr. Christopher M. Aland
Dr. William V. Arnold
Dr. Robert W. Frederick
Dr. Sommer Hammoud
Dr. Michael F. Harrer
Dr. Alan Hilibrand
Dr. J. Gabriel Horneff, III
Dr. William J. Hozack
Dr. Asif M. Ilyas
Dr. Christopher Kepler
Dr. Jess H. Lonner
Dr. Surena Namdari
Dr. Michael Rivlin
Dr. Rachel Shakked
Dr. Alexander R. Vaccaro
Dr. Gerald R. Williams, Jr.
Rothman Institute
Multiple area locations
(800) 321-9999
Dr. Richard A. Cautilli Jr.
St. Mary Medical Center
Langhorne
(215) 710-2000
Dr. Scott A. Rushton
Lankenau Medical Center
Wynnewood
(610) 642-3005
Dr. Douglas Sutton
Dr. Mark Desmond
Aria— 3B Orthopaedics
Multiple locations
1-888-ORTHO3B
Dr. Lawrence Wells
Children's Hospital of Philadelphia
Philadelphia
(215) 590-1527
OTOLARYNGOLOGY
Dr. Maurtis Boon
Dr. David Cognetti
Dr. Kyle Fisher
Dr. William Keane
Dr. Howard Krein
Dr. Brian McGettigan
Dr. Stanley Pelosi
Dr. David Rosen
Dr. Marc Rosen
Dr. Joseph Spiegel
Jefferson Health
Philadelphia
(800) 533-3669
Dr. Alexander C. Keszeli
Dr. Adam J. Mariotti
Dr. Michael A. Picariello
Dr. Joseph L. Smith II
Ear Nose & Throat Associates of Chester County
Exton
(610) 363-2532
Dr. Kenneth B. Briskin
Dr. John M. Feehery
Dr. Steven W. Fischer
Dr. William S. Gartner Jr.
Dr. Mark A. Ginsburg
Dr. Joel R. Perloff
Providence ENT
Multiple area
locations
(610) 874-5366
PEDIATRICS
Dr. Hal C. Byck
Dr. George A. Datto III
Dr. Judith A. Turow
Nemours Children's Health System
Wilmington, Del.
(800) 416-4441
Dr. Gerald Margiotti
Dr. Barry Kroll
Margiotti & Kroll Pediatrics, PC
Newtown
(215) 968-5800
Dr. Francis X. McNesby
Dr. Renee Turchi
St. Christopher's Hospital for Children
Philadelphia
(215) 427-8363
Dr. William Garth McNett
Nemours Children's Clinic
Philadelphia
(215) 861-8800
Dr. David Rubin
Dr. Richard M. Rutstein
Dr. Kathleen M. Zsolway
Children's Hospital of Philadelphia
Philadelphia
(215) 590-2178
Dr. Judith A. Turow
Nemours DuPont Pediatrics
Villanova
(484) 381-4010
PEDIATRICS/ DERMATOLOGY
Dr. Roslyn T. Varki
Nemours Children's Health System
Wilmington, Del.
(800) 416-4441
Dr. Albert C. Yan
Children's Hospital of Philadelphia
Philadelphia
(800) 879-2467
PEDIATRICS/ ORTHOPAEDIC SURGERY
Dr. William G. Mackenize
Nemours Children's Health System
Wilmington, Del.
(800) 416-4441
PHYSICAL MEDICINE
AND REHABILITATION
Dr. Dennis J. Bonner
St. Mary Medical Center
Langhorne
(215) 710-2000
Dr. Kristopher Feeko
Dr. Tulasi Gude
Dr. Kimerly G. Heckert
Dr. Michael Mallow
Jefferson Comprehensive Concussion Center
Philadelphia
(800) 599-9663
PLASTIC AND
RECONSTRUCTIVE
SURGERY
Dr. Steven L. Davis
Davis Cosmetic Plastic Surgery
Philadelphia and
Cherry Hill, N.J.
(856) 424-1700
Dr. Ivy DeRosa
Dr. Michael Shafran
Dr. Robert J. Skalicky
Bucks County Plastic
Surgery/Rinklefree Centers
Newtown
(215) 702-8600
Dr. Jonathan Pontell
Aesthetic Facial Plastic
Surgery Center Inc.
Wayne
(610) 688-7100
Dr. Christian Subbio
Subbio Plastic Surgery & Medical Spa
Newtown Square
(610) 356-6100
Dr. Neal Stoddard Topham
Jeanes Hospital/ Temple Health
Philadelphia
(215) 728-2662
Dr. Gary A. Tuma
Capital Health/ Plastic Surgery Associates of New Jersey
Pennington, N.J.
(609) 537-7000
REPRODUCTIVE MEDICINE/INFERTILITY
Dr. Larry I. Barmat
Dr. Jennifer L. Nichols
Dr. Jay S. Schinfeld
Dr. Michael I. Sobel
Dr. Stephen G. Somkuti
Abington Hospital— Jefferson Health
Abington
(215) 887-2010
Dr. Leo F. Doherty
Dr. Jason M. Franasiak
Dr. Daniel J. Kaser
Dr. Thomas A. Molinaro
Dr. Marie D. Werner
Dr. Melissa Yih
Reproductive Medicine Associates of N.J.
Multiple area locations
(973) 656-2089
Dr. Isaac E. Sasson
Shady Grove Fertility
Chesterbrook
(610) 981-6000
Dr. George S. Taliadouro
s Delaware Valley Institute of Fertility & Genetics
Multiple area locations
StartFertility.com
RHEUMATOLOGY
Dr. Lawrence Brent
Einstein Healthcare Network
Multiple area locations
(800) 346-7834
SEXUAL MEDICINE/
MALE INFERTILITY/
HORMONE
Dr. Paul Gittens
Philadelphia Center for Sexual Medicin
e Bala Cynwyd
(610) 668-8300
SPORTS MEDICINE
Dr. Robert Franks
Dr. Stephen A. Stache
Jefferson Comprehensive Concussion Center
Philadelphia
(800) 599-9663
SURGERY
Dr. Marshall Z. Schwartz
St. Christopher's Hospital for Children
Philadelphia
(215) 427-5000
UROGYNECOLOGY
Dr. Vincent R. Lucente
Dr. Miles Murphy
Dr. Sonya N. Ephraim
Abington Hospital— Jefferson Health
North Wales
(610) 435-9575
UROLOGY
Dr. Laurence Belkoff
Dr. Lee Blastein
Dr. Philip Ginsberg
Dr. Samuel Manfrey
Dr. Brian Rosenthal
Dr. Tia Shellato
Urologic Consultants of Southeastern Pennsylvania
Multiple area locations
(610) 667-3020
Dr. David Y. T. Chen
Dr. Richard E. Greenberg
Dr. Robert G. Uzzo
Fox Chase Cancer Center
Philadelphia
(215) 728-2570
Dr. Paul Gittens
Philadelphia Center for Sexual Medicine
Bala Cynwyd
(610) 668-8300
Dr. Jamison S. Jaffe
St. Mary Medical Center
Langhorne
(215) 710-2000
VASCULAR SURGERY
Dr. Charles L. Dietzek
Vein & Vascular Institute
Multiple area locations
(856) 344-3111
Dr. Michael S. Weingarten
Drexel University College of Medicine
Philadelphia
(215) 762-4005