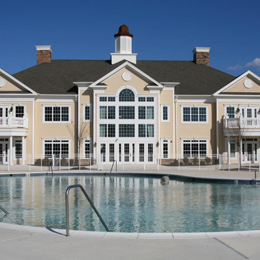 Never Too Old
Senior Living
There is no time like the present to start thinking about the future—especially when it comes to senior living options. As most seniors enter retirement, many are looking into continuing care retirement communities (CCRC) as they start the next phase of their lives. Luckily, the Greater Philadelphia Area is replete with these stateof- the-art communities geared towards making the most out of retirement, while offering exceptional medical care.
Yet, many seniors are skeptical thanks to common myths that are associated with these types of communities. In fact, it tends to scare off many seniors from making any decisions about their future, running the risk of having fewer options available to them. Suburban Life / Philadelphia Life spoke with several senior living organizations to learn what seniors should consider and most importantly, which myths can be quashed so seniors can start planning ahead.
The Time is Now
For some seniors, they are reluctant to move into a retirement community to the point where it takes a medical event or life situation for seniors and their families to consider living options for care, but even then, it can be too late.
"The biggest thing is don't wait for a health crisis to occur when your options become limited," explains Acts Retirement- Life Communities' Corporate Director of Communications, Michael Smith. "It's never too early to plan for the future and a lot of places such as CCRCs, you must be able to live independently as a requirement so you don't want to wait too long. You want to do all of the planning before a situation were to occur."
While most of these independent living or life plan communities are open for anyone 62 and older, some experts say seniors can start their research as late as their 70s— dependent on the type of care they're looking for. "This is less about age and more about not waiting until there is a crisis situation," says Juniper Communities' Vice President of Sales and Marketing, Cindy Longfellow. "Do your homework first, so that you are ready when the want or need arises."
While seniors should start considering their options sooner rather than later, it doesn't necessarily mean they have to move in right away. "Review senior living options several years before making a move," advises Waverly Heights' Vice President of Marketing and Resident Relations, Janet Thompson. "Most communities have a modest, refundable waiting list deposit and will provide as much information and as many visits as you like and many communities have high occupancy. Getting your name on a list early will help you to be offered the accommodation you prefer."
White Horse Village's Vice President of Marketing & Public Relations, Dottie Mallon, shares the sentiment adding, "People shouldn't wait till they need to a move to a community because then it's really too late. They need to make this decision, embrace it and look at it as they're starting a whole new phase of their life.
"The younger you are when you move to these communities, the more time you have to enjoy all the amenities and services that occur," she says. "We're in the part of the country where the consumer is very fortunate to have [all of this] right at their fingertips. If they wait till the point where they need care, they're not taking advantage of everything that these communities have."
What's more, seniors who are looking into these communities are making a decision to become residents—therefore it doesn't rest solely on their family members. "It's always encouraged to involve family members with the decision to move to a senior living community, however, it is important to begin this process early so that the decision is completely yours," says Willow Valley Communities' Marketing and Public Relations Coordinator, Maureen Leader.
"This decision really has to be made by the potential resident," echoes Pamela McDonnell, Director of Community Relations at Juniper Village at Bucks County. "I think support from family members is crucial. … This is a big decision, but what we hear from current residents all the time is they wished they had done this sooner."
Considering the Options
All experts agree seniors should consider the activities they want to enjoy and in what setting, the type of care available and, of course, costs.
"They should consider the reputation and longevity of the owner/operator ... the environment and setting—is it comfortable for them?," says Longfellow. "Do they prefer a grand resort-type setting or a small boutique environment? And of course, price and type of life plan is a critical consideration. No one wants to have multiple transitions because they are running low on funds so doing your research up front makes sense.
"Plus, the very important consideration of 'on-site services,'" Longfellow adds. "How much care and service is offered on-site? Will the family member have the comfort and convenience of knowing that the majority of care can be provided at the community, in their family member's home?"
While most life plan communities offer various housing on campus, they cater to every level of care a person might require. From personal or memory care, skilled nursing and rehabilitation, a senior will be covered no matter their needs. As far as lifestyle goes, these types of communities also offer an array of options for residents, whether it be health and fitness amenities, activities, clubs, social events, dining experiences— all without the worry of home maintenance, meal preparation or transportation. "[These are] very important because research shows when seniors are physically and socially active, they maintain health and independence longer," explains Smith.
Quashing the Myths
Experts prove some of the common myths surrounding senior living wrong. "Many people mistakenly believe they can't afford living in this type of community and we always encourage people to compare the typical expense associated with their house with all of the services provided in our type of a community. What they often find is the cost of living in a community setting is about the same or often even less than their current home and with many, many more advantages."
—Michael Smith, Acts Retirement-Life Communities
"The worst myth about senior living is that [it's] only for those who can't live or do anymore and this could not be further from the truth. We are even changing the conversation and not talking about 'senior living' but about 'choices in living.' It is all about staying active, maintaining social connections, doing good work (volunteering, helping your neighbors) and enjoy life. This is true at any age."
—Cindy Longfellow,
Juniper Communities
"Some people feel they will give up their independence to live in a community. Just the opposite is true. The peace of mind and sense of security one feels as a member of a community provides greater time to enjoy the things in life really worth enjoying."
—Janet Thompson, Waverly Heights
"You don't move to these communities as a last stage in life—you move to these communities to start a new stage in life and to live your life to the fullest. It's not 'the old folks' home!' It's like a college campus for older adults or even a cruise ship."
—Dottie Mallon, White Horse Village
"When someone is retired from 'paid' work, they are by no means retired from life. The phase of life after raising and supporting a family can be a wonderful time of doing the things that you have always loved and also finding new passions to explore and enjoy. Also, many people will say, 'I'm too young to move to a senior living community.' However, when people move to our community, they will always say, 'I should have moved much sooner.'"
—Maureen Leader,
Willow Valley Communities
RESOURCE GUIDE
Acts Retirement-Life Communities
Multiple locations | (215) 661-8330
ActsRetirement.org
Attleboro Village
Langhorne | (215) 750-7575
AttleboroVillage.com
AARP Pennsylvania
Philadelphia | (267) 825-9928
AARP.org
Bayada Nurses and Home Health Care
Multiple locations
Bayada.com
Juniper Village
Bensalem | (215) 741-3030
JuniperCommunities.com
Visiting Angels
Doylestown | (215) 345-9600
VisitingAngels.com
Waverly Heights
Gladwyne | (610) 645-8600
WaverlyHeightsLTD.org
White Horse Village
Newtown Square | (610) 558-5000
WhiteHorseVillage.org
Willow Valley Communities
Willow Street | (866) 834-1798
WillowValleyCommunities.org
Published (and copyrighted) in Suburban Life Magazine, August, 2017.
.
.
.