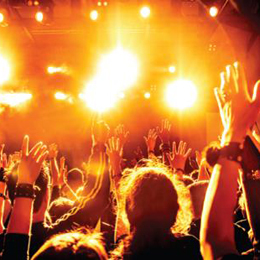 Culture
September 2017
DATEBOOK
Frontiers: A Tribute to the Music of Journey
Sept 22
GO ON A MUSICAL ADVENTURE WITH THE FRONTIERS — a Journey cover band—as they will be playing their greatest hits including "Don't Stop Believin," "Any Way You Want It," "Send Her My Love" and more. What's more, the performance will take place at the New Hope Winery, right in their 250-seat event center, where Journey fans can take advantage of the neighboring restaurant and bar. 8-10 p.m, New Hope Winery, 6123 Lower York Road, New Hope, NewHopeWinery.com, $30
PHILLY'S CHEESESTEAK & FOOD FEST
Sept. 23
Bring your friends, family and appetite for a day full of Philly's best food. With over 40 vendors taking over Citizens Bank Park, you can choose from cheesesteaks, water ice, hoagies and more—or maybe one of everything. There will also be carnival games for kids, live music, craft beer garden and special appearances by the Phillie Phanatic and Cheesy the Cheesesteak. 12:30-5 p.m., Citizens Bank Park, One Citizens Bank Way, Philadelphia, CheesesteakFest.com, $20-$65
2017 AUDI FEASTIVAL
Sept. 28
The Feastival is back for its 8th consecutive year with live performances and over 75 participating Philadelphia restaurants and bars, including La Peg, Laurel and Vernick. This year will celebrate the "Year of the Beard" as it will be hosted by 2017 James Beard Winners Michael Solomonov and Stephen Starr, plus former Top Chef winner, Nicholas Elmi. 7-10 p.m., FringeArts, 140 N. Columbus Blvd., Philadelphia, PhillyFeastival.TicketLeap.com, $300-$450
PUMPKINFEST
Oct. 6-31
It's that time of year again and Shady Brook Farm has the hayrides ready to go for their annual PumpkinFest. Guests can either take a walk through the haunted barn and experience an alien invasion, or if things get too scary, the hayrides are the perfect way to pick pumpkins. There's also a corn maze, moon bounce and more for the whole family to enjoy. Times vary, Shady Brook Farm, 931 Stony Hill Road, Yardley, ShadyBrookFarm.com, see pricing online
15TH ANNUAL WEST CHESTER CHILI COOK-OFF
Oct. 8
Things are heating up on the streets of West Chester as over 70 chili teams will be taking over the town streets, cooking up their hot chili in order to win the $1,000 prize. Along with the cook-off, there will also be a kid's zone, which will include games, rides, face painting and more. All money raised from the event will benefit the Rotary Club of West Chester. 10:30 a.m.-3:30 p.m., Gay Street, West Chester, WestChesterChiliCookOff.com, see pricing online
HIT OR MISS
Hit
A 5-year-old Philadelphia boy—originally from Houston—recently set up a lemonade and sweet tea stand to raise money for victims of Hurricane Harvey.
Sgt. Judah Strange was welcomed home with a parade in his hometown of Royersford after spending five years on active duty in Japan and Hawaii.
The Chester County's Clerk of Courts is collecting school supplies—crayons, backpacks and notebooks and more— for its Domestic Violence Center.
The Pennsylvania Department of Agriculture recently added more municipalities—including Salford, Skippack, Collegeville, Green Lane, Schwenksville, Souderton and Trappe— to the spotted lanternfly quarantine in order to limit the spread lanternflies.
A Neshaminy High School bus driver was recently charged with a DUI while a driving a school vehicle under the influence this past May.
Temple University is mourning the loss of slain student, 22-year-old Jenna Burleigh.
Miss
SIDEBAR: Dreaming Big
For 12 years, Broadway Dreams has, for the lack of a better phrase, made Broadway dreams come true. In fact, it continues to do so as the international nonprofit wrapped up its signature weeklong intensive program in Philadelphia's Kimmel Center for the Performing Arts this past August, which culminated with a dynamic performance directed by Broadway professionals, including 2013 Tony Award winner for Best Actor in a Musical, Kinky Boots' Billy Porter.
What's more, Broadway Dreams participants have gone on to the Great White Way to perform in a slew of ticket-selling shows—including artists from the Greater Philadelphia Area. They include Gaby Bradbury, who starred in Annie, Jordan Andre, who is part of national tours for Dirty Dancing and Beautiful: The Carole King Musical and Brett Gray, who starred in Radio City Christmas Spectacular and will appear in NBC's newest show, Rise, from the likes of Hamilton producer Jeffrey Seller.
Suburban Life / Philadelphia Life spoke with Executive Director and Co-Founder, Annette Tanner, an acclaimed Broadway casting director, prior to the completion of Philly's weeklong program to learn more about the nonprofit and most importantly, how it's helping performers of all ages dream big.
Tell me a little about Broadway Dreams and how it works?
Twelve years ago, there was not a lot of arts education for musical theater outside of New York. What Broadway Dreams does is we work with current Broadway directors, choreographers and performers who have a desire to help the next generations of artists find their place and we act as a bridge for wherever they are in their career today to wherever they need to go next. We come into Philadelphia, we audition by video or live audition and then we have our cast, they come in front of our creative team and then we [base] the show on the talent we see in the room. Each weeklong is completely different [and] is geared towards the individual talents of the student body we have and finding ways to pair them with all their mentors. We work on classes throughout the week [and] at the same time, rehearsing and we put together a show in just six days and that show is fully costumed and orchestrated. … When we started 12 years ago, we had big dreams of finding a way for those students that love musical theater that could attend and get the highest caliber of arts education regardless of whether they could pay for it.
Is this only in Philadelphia?
No, we have 10 partner cities. … We've been in Philadelphia for nine years and we've had 11,000 students go through the program. Our biggest weeklong in the country—well world because we went international two years ago and we now do programming in Russia, Brazil Sweden and New Zealand— is here in Philadelphia. It's the only one that all the colleges come to. We also have four different agencies and casting directors from New York that come down [to] see the show and the students and we've had enormous success. In fact, this year alone, we've had 41 students book professional jobs either Broadway, off-Broadway, international tours, national tours, TV or film—18 of the 41 are from Philly or they attended the Philly program.
Aside from the weeklong performance, what else does Broadway Dreams provide?
We also partner with some of the top colleges in the U.S. … we do what we call Broadway Dreams University. It is sort of a crash course on the college audition process—not necessary going to school, though each of the colleges spend about 10 minutes describing what makes their program unique and the different degrees that are available.
How have the participants reacted to Broadway Dreams?
A lot of schools don't have huge musical theater programs and there are these kids who sometimes feel like they're outcasts and here they aren't. … These kids do this because they cannot imagine doing anything else. It's the one thing that they've loved their whole life and the only time they feel really whole, so we really try to create opportunities for them, ability for them to network and have an advantage over all those other kids. We encourage collaboration within the students ... we bring in composers and writers so they learn how to structure and write a play, how to write the song, we bring in composers [to] talk about music, we have costume designers come in and talk about fashion and costume design so it's almost like a career center of sorts. If musical theater is what you love, we allow them to see there are a myriad of opportunities of other areas they can work in this field and still have that love and passion be fulfilled and be a part of it without being on the stage.
For more information on Broadway Dreams, its programming, scholarships and more, visit BroadwayDreams.org.
GO FIGURE
38,000
Square footage of H&M's new store location opening at Fashion District Philadelphia in the fall of 2018.
3
Total Philadelphia medical schools— Drexel University, Thomas Jefferson University's Kimmel Medical College and Temple University's Katz School of Medicine—on U.S. News & World Report's top 10 list of schools that received the most applications for the school year starting in fall 2016.
18
Total Penn State fraternity brothers who were charged with the February hazing death of Timothy Piazza, a sophomore.
39
Ranking of Immaculata University for best college in Pennsylvania and the 582nd best college in the nation by Forbes.
$94.9 million
Estimated amount of of economic impact the 2017 NFL Draft generated for the city of Philadelphia, according to the NFL Draft Event Impact Report.
15
Number of zip codes in Montgomery County alone that made the top 50 list of most expensive zip codes in the state of Pennsylvania, according to a study by PropertyShark.com.
150
Number of new, full-time jobs created by SAP America Inc. in Newton Square, where the company's headquarters is located.
DID YOU HEAR?
"I am deeply humbled and honored that the Flyers are going to retire my jersey. … I am so thankful to the entire organization for this incredible recognition. I look forward to sharing this moment with my family, friends, teammates, and of course Flyers fans, who mean so much to me."

—Former Philadelphia Flyer, Eric Lindros, on the news that the organization will be retiring his No. 88 jersey during a pregame ceremony on Jan. 18 at the Wells Fargo Center.
Published (and copyrighted) in Suburban Life Magazine, August, 2017.
.
.
.