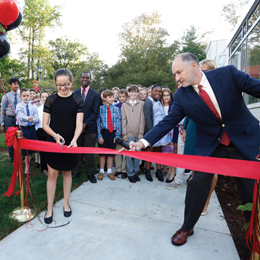 Committed to Growth
The Hun School of Princeton
photography by: ALISON DUNLAP AND TOM GRIMES
The world has changed many times over since 1914, when Princeton University professor Dr. John Gale Hun opened the doors to The Hun School. The Princeton-based day and boarding collegepreparatory school has not only changed with the times, but it has also blazed a path for others to follow.
The Hun School has always empowered students to thrive by nurturing their character, providing focused mentorship and vigorous yet joyful academics. As the hunger for technology has grown, however, and as all corners of the world have grown increasingly connected, the school has invested in new tools and spaces to reinforce the school's educational approach: student centered, hands-on and globally-minded.
Perhaps the best example of this is a new middle school building, which opened at the start of the 2017 academic year. The 19,000-square-feet, three-story building features classrooms measuring 80 percent to 100 percent larger than previous middle school rooms. These classrooms not only have more space for educational activities, but also cutting-edge technology designed to help students solve problems, collaborate and let their creativity run freely. Headmaster Jonathan Brougham expects the new building to add value for middle school students, of course, but also for the entire campus.
"Middle school students have a unique advantage at Hun," says Brougham, adding that middle school enrollment is at an alltime high of nearly 110 students. "They have their small, intimate environment in their own building, but they're also part of a larger campus with older students, some of whom are here 24 hours. They truly get the best of both worlds."
We spoke with Brougham to learn more about Hun's campus expansion, in-classroom technology and other innovations that students— and parents of prospective students— should expect to see on campus now and in the years ahead.
Why was there a need for a new middle school building?
The original building we had our middle school students in was constructed in the '70s, and our teaching and technology has evolved since. We believe middle school students learn best when they're active in the classroom and have the ability to have that hands-on experience by being able to move around in big groups, smaller groups and working on projects. To do all of that, you need a larger classroom. What we've done is we've created a set of bigger and brighter classroom spaces for the students—and at the same time, we've added updated technology in each classroom, which we're quite excited about.
What kinds of classroom innovations has Hun incorporated into the new middle school?
Each classroom now has an Apple TV and is completely outfitted with wireless technology. In addition, the mathematics classrooms have whiteboard desks where students can actually scribble and problem solve directly on the desk with marker. The desks also move up and down, so students can adjust the desk for standing position so they can get up and move around, if desired.
We have also added a new robotics lab, because robotics has become a rather popular activity among middle school students. … It's really interesting to see them build and program these robots to perform smaller tasks, and then take them to competitions. The room itself is another larger and more state-of-the-art project work area, which we didn't necessarily have before. There are now two beautiful science labs equipped with everything a student needs for labbased science classes, because we believe science should be taught through a practical lab experience. And, there is a large multipurpose room with a spring floor for dance.
The Hun School implemented an iPad program a few years ago. Would you say the program has been a beneficial addition to the curriculum?
The iPad program came in about four years ago in both schools—upper and middle— and we believed it would serve as a learning tool for every student to have on hand. Kids are technologically adept these days; they use the iPads for research, note taking and making presentations for the Apple TV. It's amazing to watch the students grow and be able to have in-depth communication with one another through electronics.
At Hun, we use iPads because we believe they eliminate the barrier to technology in the classroom, and we also provide enhanced content through iBooks, iTunes U and educational apps. For instance, iBooks can offer videos and other interactive tools that are built right in, and they also decrease student expenses; the iBook textbooks are available to students at a fraction of the cost of a printed textbook. iTunes U is this virtual library of tools for teachers, where teachers can build classes and lessons. We are careful to keep our students' technology usage in balance. At the end of the day, we want the students to be conducting faceto- face conversations with one another.
Aside from technology, you've mentioned Hun integrates the Harkness Method in its classrooms. Why is this method so important, and how were the classroom spaces designed around this methodology?
The Harkness Method employs a large, oval table, where every student has a seat. All students are required to conduct themselves in an adult-like manner, with a discussion under the guidance of the teacher, but not necessarily led by the teacher. The teachers kick off the discussion with a topic, but the students are encouraged to keep the discussion going among themselves, building on each other's comments and insights. This method, which is similar to a meeting in a workplace setting, develops skills on a number of levels. It's unusual to find this method used in a middle school, which is one of the ways I believe Hun stands out.
How will the new middle school building enhance Hun's curriculum and long-standing traditions, both now and into the future?
We have been and continue to be firmly committed to a curriculum that's lively and requires the students to be actively engaged in developing skills rather than being passive receptacles for knowledge. The building frees us to do this in a much more creative way, because teachers can use the additional space to have the kids move around in different ways, and they can use the technology in the building to its fullest for teambuilding activities and lesson planning.
Middle school is where we begin the Hun experience. For us, our students and their parents, it's important that it's a successful time. Middle school prepares these students for high school and beyond, by developing the skills, confidence and collaborative approaches that are going to help them throughout their life. We think this building is going to be a great tool for that.
The Hun School of Princeton
176 Edgerstoune Road
Princeton, N.J.
(609) 921-7600
HunSchool.org
Published (and copyrighted) in Suburban Life Magazine, October, 2017.
.
.
.