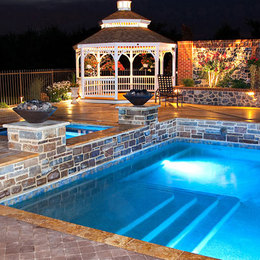 Backyard Beauty
Travertine hardscaping from StoneWorks Wholesaling
A few years ago, Randie Wynn and Raymond Carota set out to buy a bar. After they found an establishment to purchase, one of the first things they did was buy some stone to remodel the building.

But when they sat down to work out the details of the sale with the three brothers who owned the place, one of the brothers wouldn't sell.

Carota and Wynn were left with no bar and a supply of stone they didn't need. The supplier who sold them the stone wouldn't give them a refund, but he did say he could offer them another material as an exchange.

They accepted a supply of pavers made of travertine, which they believed they could sell to some landscaping contractors they knew.

The landscapers not only bought the pavers, they asked for more. And StoneWorks Wholesaling was born.

Besides operating on a wholesale basis, StoneWorks has a new retail outlet, StoneWorks Creations. StoneWorks Creations is the retail end of the business, providing the company's products to homeowners and landscapers. Both businesses are located in Worcester in the rear of the Worcester Trade Center on Valley Forge Road.

StoneWorks counts some of the Philadelphia area's most prominent pool builders among its customers. The company's travertine pavers, pool coping and stair treads now grace the backyards of many homes, not only in the Philadelphia area, but also up and down the East Coast. StoneWorks has participated in home and garden shows on both coasts, as well as hardscaping and builder shows.

Travertine, also called travertine marble or travertine limestone, is useful for patios, pool decks and other areas. It is extremely durable, having been used in buildings for the past 2,000 years—since the time of the Romans. The material was actually formed 50 million years ago, withstanding any possible damage from the elements for all those years makes it very likely that it will last in your backyard.

"Travertine is great if you have young children, because it doesn't get hot," says Wynn. "Kids don't like to keep their shoes on."

"The more popular pavers that people use are man-made and contain metals in the material, and when these pavers are exposed to direct sunlight, they get very, very hot," explains Carota. "They are also more prone to fade after a few years. Our natural stone is cut out of the earth. It stays cool in direct sunlight and is less likely to fade over time when treated properly."

Travertine is available in many color varieties, from light and earthy cream to rusty brown and red, with different patterns caused by the natural veining of the stone. Unlike concrete, the stone doesn't expand or contract with weather conditions, and is less likely to splinter. And besides being cool to the touch, travertine has a natural non-slip surface, another benefit for families with children.

And natural stone is eco-friendly because the stones are reusable; they can be removed and laid again easily.

StoneWorks specializes in importing travertine and other natural stone from Turkey, Italy and Jerusalem. Blocks from mountainsides are sliced into slabs and refined to give the natural colors a mirror-like depth and smooth surface, or left slightly rough to enhance the natural texture.

StoneWorks strives to choose the best type and quality of stone in the industry. It employs quality control personnel at factories and international ports to carefully inspect shipments to ensure that only the finest grades of natural stone are accepted. The factories use the latest techniques and technology in machinery, ensuring proper sizing and calibration of all the products.

Travertine and limestone can be used for a variety of commercial and residential purposes, including driveways and sidewalks in addition to patios and pool decks. And they can be used to construct columns, balustrades and outdoor fireplaces. StoneWorks also offers products such as fountains for ponds.

StoneWorks brings its travertine and other products indoors as well, offering a variety of tiles for kitchens and bathrooms, including ceramic and bluestone. Whether you want a travertine backsplash, granite countertop, a ceramic floor or all that and more, StoneWorks can provide it.

If you're interested in products for either exterior or interior work, call Randie or Raymond, and they can either direct you to your local stoneyard or have you come into StoneWorks Creations. The company works with builders, contractors, architects and designers.

StoneWorks Creations offers installation by hardscapers and landscapers and can provide installers for interior products as well, not only for tile but additional products such as hardwood floors.

Whether you want a magnificent outdoor space or a remodeled kitchen or bathroom with an elegant look, StoneWorks can be the solution.

"We can do any job, from 200 square feet to 100,000 square feet," says Wynn.

Stoneworks Creations
1741 Valley Forge Road, Suite K, Worcester
610-584-6081
StoneWorksWholesaling.com

Cindy Spielvogel is a professional writer based in Newtown.