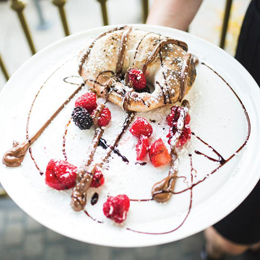 Just Desserts
Crave
Every year, when the calendar turns from November to December, the whiff of cookies, cakes and other baked goods fills kitchens across the nation. Americans love, love, love their sweets—and we're no different. Whether you're craving a slice of double-chocolate cake, a banana-custard pie or a bacon-topped doughnut, you'll find it within an hour's drive of your front door. Here are 10 of our go-to spots when it comes time to scratch that sugary itch.
Caruso Brick Oven Trattoria, SOUDERTON
Caruso's has everything you possibly want in a cozy Italian BYOB: excellent oven-baked pizzas; perfect gnocchi; and, for the purposes of this story, some wonderful house-made desserts. We swear by the caramel budino—rich and creamy custard resting on a bed of oh-so-sweet caramel— along with a demitasse of espresso.
CarusoBrickOven.com
Casa Toro, DOYLESTOWN
It's a relative newcomer to Doylestown, but Casa Toro has quickly made an impression. Sure, its menu abounds with some terrific traditional Mexican dishes: tacos, burritos, guacamole with house-made tortilla chips— you name it. But for us, the highlight comes at the meal's end, when the flan reaches the table. This custardy delight has hints of coffee and caramel—not too heavy, not too sweet. If you haven't yet been to Casa Toro, just head down Swamp Road and look for the statue of the big bull out front. His name is Jefe.
CasaToroMexican.com
Choolaah Indian BBQ, KING OF PRUSSIA
If you missed the news, Choolaah is a fastcasual spot new to the sprawling retail-andrestaurant destination known as King of Prussia Town Square. Choolaah's bread and butter: tandoori-cooked chicken, paneer cheese cubes and Indian-inspired street snacks, with some terrifically airy naan. But it's a delicacy of Swiss origin that has us going back to the well. You might find it strange to see a chocolate truffle on a menu of traditional Indian dishes, but don't overthink it. Just savor each fudge-like bite. At only $1 apiece, we won't blame you for savoring more than one.
Choolaah.com
Danish Bakers, ROCKLEDGE
Everyone has a favorite bakery they consider their "go to" for cookies, cakes and other fresh baked goods. This one's ours, unapologetically. Whether you're craving a fruit-filled Danish pastry, old-school buttercake or jimmy-topped butter cookies, you'll find something to satisfy your sweet tooth at this family-owned hotspot.
DanishBakers.com
Federal Donuts, PHILADELPHIA
Was there any chance these guys wouldn't make the list? While our neck of the woods has more than its fair share of bake shops where you can get a perfectly fine bear claw or cruller, Federal Donuts' highly addictive creations are almost too good for superlatives. We hear the doughnuts pair pretty well with an order of Federal's other signature dish (fried chicken, duh). See you in line.
FederalDonuts.com
Franklin Fountain, PHILADELPHIA
If you haven't been to this Old City sensation, what are you waiting for? December seems like a fine time to indulge in this old-timey soda shop's hot fudge sundae, but you can't go wrong here. You might think it odd to hear us suggest a cup or cone of ice cream as a wintertime treat, but Franklin Fountain's from-scratch ice creams are one step away from a religious experience. Our favorite flavor: peach … no, coconut … no peanut butter. And the oldschool vanilla bean? It's anything but "vanilla."
FranklinFountain.com
The Inn at Barley Sheaf Farm, BUCKINGHAM
The Inn at Barley Sheaf Farm doesn't just serve dinner; it delivers an experience. The inn has been ranked among the most romantic restaurants in the country, and Chef Josh Homacki serves up a menu rife with dishes that will linger in your memory. He also makes some darned-good ice cream. Choose from an array of memorable flavors, including salted caramel, candied bacon and blueberry sorbet. Can't stay for dinner? Stop in and pick up a pint to take with you.
BarleySheaf.com
MidiCi: The Neapolitan Pizza Co., KING OF PRUSSIA
Yes, it's technically a chain, but MidiCi has created a fast-casual dining atmosphere that would be tough to replicate. Step right up and order the Neapolitan-style pizza of your choice. It'll cook in less than 90 seconds in the 1,000-degree oven, and you can enjoy each slice beneath the branches of "Isabella," a two-year-old olive tree sprouting in the middle of the restaurant. Save room for MidiCi's signature dessert, a calzone stuffed with Nutella and berry compote, served with shaved coconut, balsamic reduction and—what else?—a drizzle of Nutella hazelnut spread.
MyMidiCi.com
Ristorante San Marco, AMBLER
If you're making a short list of towns with the most vibrant restaurant scenes, Ambler would be near the top. Although it has plenty of new restaurants worth your time (with more to come), a few of Ambler's best restaurants—Ristorante San Marco comes to mind—have been attracting the "in crowd" for years, and making plenty of new fans, too. San Marco serves up some of the region's finest Italian-inspired seafood, so it's easy to leave here with a full belly, but save a sliver of space for some terrific desserts of the cannoli, crème brulee and tiramisu sort.
SanMarcoPa.com
Skippack Sweet Spot, SKIPPACK
The words "sweet spot" are on the door, so whatever you're looking for, you'll find it at this Skippack gem. There's a seemingly endless assortment of gourmet chocolates and other sweets bearing the names of the world's finest candy makers, as well as homemade specialties. Whether you're looking to make a special occasion even more special (stocking stuffers, perhaps) or, you know, it's a day ending in Y, stop into this one-of-a-kind shop to stock up on sweet treats—and say hello to Rachel and company.
GottaHitTheSweetSpot.com
Published (and copyrighted) in Suburban Life Magazine, December, 2017.