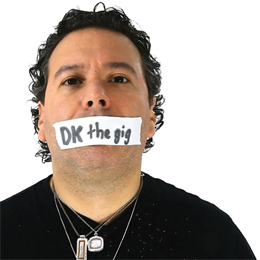 The Entertainer
Sidebar
Darren Keith always had a gift for making people laugh, always thought about putting that gift to good use. Even so, he spent most of his adult life ignoring the voice in his head, the one nagging, nagging, nagging him to "Just go for it," "Take the chance" and "Buy the ticket, take the ride." Now that he's no longer ignoring the voice, he may reap considerable dividends.
"I've been a professional musician since I was 15," says Keith, a native of Northeast Philadelphia who now lives in Ardmore. "I had thought that maybe one day I'd do something with my sense of humor and my writing ability. I had done a lot of things I was really proud of, but there was this thing that always ate away at me."
Then "something happened" that convinced him to stop waiting. (He'd rather not say what, exactly, though he insists it was nothing tragic.) He wrote a script and went about producing a pilot of a TV show to showcase his knack for comedy. Although he had no idea how or where to begin, his efforts bore fruit: DK the gig, the germ of a comedy series about a 40-something-year-old musician who performs at a restaurant every weekend, playing on a stage far too small for his outsized ego.
In the pilot he brought to life, Keith plays the lead role, DK, with straight-faced disillusionment. The comedy is smart, dark and sometimes irreverent, in some ways reminiscent of HBO's Curb Your Enthusiasm. (Go to DKtheGig.com for a taste.) Although he's spent his career as a session drummer and "singer-songwriter from time to time," Keith insists the series is not autobiographical.
"I'm nothing like the character," he says. "I would act like that sometimes around friends, just to be funny, and people would encourage me to show this very abrasive and witty part of me, but it's fictitious. In some weird way, it's a part of me, but not a real version of me. It's a costume you get to wear sometimes, but only with people who are in on the joke."
DK the gig has evolved from a personal dare, something Keith did just to prove he could, into the makings of a full-fledged digital series with the involvement of some heavy hitters— including cinematographer Barry Markowitz, who worked on iconic Hollywood films such as Crazy Heart, Sling Blade and The Apostle. In addition, a cast of veteran actors and Philadelphia-area musicians have committed to the project. First, however, Keith needs to figure out how to pay for it.
"It's a weird position to be in," he says. "I basically have everything you could ask for: Barry Markowitz; a really good script; a great cast list with all these great actors; some terrific musicians—all this stuff on par with the shows you see on Amazon or Netflix or HBO. … The only thing in the negative column is the budget."
To help, he's started a crowdfunding campaign through Indiegogo to raise a minimum of $30,000 to cover the production costs for the four episodes of Season One. With the funding secured, then it's time to film; he's got his eye on locations in Manayunk and along the Main Line.
"I live here, and it's important for me to keep it here," Keith says. "I've lived all over the place— L.A., New York, Austin, Branson, Mo.—and I'm never leaving again."
Published (and copyrighted) in Suburban Life Magazine, December, 2017.