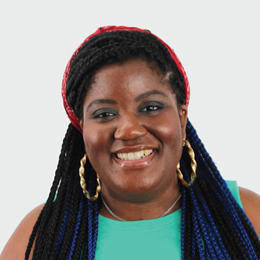 Mystery Solved
Spotlight
FOR EVEN A FAINTLY CURIOUS INDIVIDUAL, the world outside our front door generates more questions than answers—the whys, wheres and hows of daily life. Leave it to Danielle Bainbridge to solve some of these mysteries, both large and small.
Bainbridge hosts Origin of Everything, a newly created digital series produced by Kornhaber Brown for PBS Digital Studios. (Check it out on WHYY.org.) Of the first season's 22 episodes, some of the topics covered so far include: the history of the hash tag, as made famous by Twitter; the cultural emergence of Godzilla and giant super-robots in post-World War II Japan; and the "myth of the savage cannibal," which, according to Bainbridge's research, was fabricated by Christopher Columbus as a way to justify the Spanish enslavement of Caribbean peoples.
Originally from Westchester County, N.Y., Bainbridge came to Philadelphia to study English and theater arts at the University of Pennsylvania. She's now in her sixth and final year at Yale University in New Haven, Conn., where she's working toward her doctorate. She took a few minutes away from her studies, as well as her time researching, writing and hosting her show, to talk about the essential ingredients that go into a good Origin episode, her fondness for Philly's performing- arts culture and her next move.
How did Origin of Everything come to be?
I was in my fifth year at Yale when I received a call, letting me know the producers of the show were looking to do a history show for the [PBS] digital platform, featuring someone who's focused on history. After I got the call, I decided I was interested and sent in some background information on myself. I then went through several interviews and a screen test. On my birthday, I was in a lecture and trying to focus, and that's when an email popped up telling me I got the show. It was a great birthday gift.
With a name like Origin of Everything, there's a lot of ground to cover. How do you whittle down the field and decide which topics to pursue?
On a weekly basis, I'll get together with the producers and graphic designers, and we'll go through different ideas. If there's one I'm strongly for, I'll start researching—I do all the research and writing— and start sending in drafts. I'll then hear from the execs, "This isn't very clear" or "Can you adjust these things?" … It's really collaborative. The best episodes are the ones that resonate with me. The one on cannibalism is a good example, because I had already done some research on the topic. We air the episodes much later than when we shoot them, so by the time that particular episode came out, it was around Columbus Day. It was good planning, because it sparked that conversation.
Do you have fond memories of your time in Philadelphia?
When I was looking for colleges, I loved Philadelphia, and I loved the University of Pennsylvania. Undergrad was an exciting time for me, one of those unusual phases of life. My first two weeks there, I felt like Macaulay Culkin [in Home Alone], because everyone's away from their parents and everyone is so free. I loved being able to explore the city. I grew up in a suburban area, so it was a big change. [Philadelphia] had such a great arts scene, and I always found it to be an open, welcoming place.
The best part of being in Philadelphia was the theater scene. I majored in theater in college and, being from New York, I always associated the city with theater. It's always something I thought I wouldn't see anyplace else. For a student, theater in Philadelphia was very affordable, sort of a DIY attitude; maybe it was a play in a church basement, but I think I saw something new every weekend. There's an interactive spirit, very engaging. New York is such a massive city, and Philly had a more communal feel. I used to go to shows at the Arden and the Wilma; those two will always stand out for me.
I also spent a lot of time doing work for LIFT in West Philly. I did job counseling, helped different community members and was just out working in the community. Outside of the arts scene, this experience is crucial to my memory of Philly. The city was filled with warm, generous people who were willing to help people who needed it.
What's next for you?
We've got the rest of the first season to produce. I love the interactive aspects of the show, like responding to Facebook messaging; even if people disagree with me, it's a good conversation. In the future, I see more interaction, more platforms. Outside of that, I'm finishing my Ph.D.
The biggest thing for me [is] I'm a creative writer—nonfiction, fiction and drama—and I read a lot. Beyond that, it's simple stuff: spending time with friends and family; cooking, because I love to cook; and trying to find answers to some of history's big questions.
Published (and copyrighted) in Suburban Life Magazine, December, 2017.