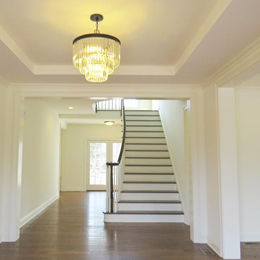 No Place Like Home
Fox Brook at Montgomery
When Parul Jalona and her family were hunting for a new home, they had certain "musts" in mind; a spacious floorplan, charming aesthetics and proximity to good schools were at the top of the list. So when they learned of a single-family home at Fox Brook at Montgomery, in Montgomery Township N.J., they knew their search had ended.
"Honestly, we were looking at the Montgomery Township School District, and among the newer homes in the area, this was one of the best options," Jalona says. "We loved the open floorplan and pretty much zeroed in on this house because it was a newer property and had everything we were looking for in a home. The school district is also one of the best, which was a huge deciding factor for our family."
Nestled between two of New Jersey's most desirable towns, Somerville to the north and Princeton to the south, Fox Brook at Montgomery provides prospective homeowners with a luxurious lifestyle that would be difficult to replicate elsewhere. Buyers can choose from one of five expansive floorplans, ideal for everything from entertaining guests to raising a family, and the location offers accessibility to some of the region's finest restaurants and other lifestyle amenities.
Fox Brook comes from Country Classics, a locally based builder that has earned a sterling reputation by satisfying homeowners for nearly three decades. Country Classics has owned the land for nearly 20 years, according to Vice President of Operations Amy Wood; the company was simply waiting for the right opportunity to implement its expansion plan.
"There was a lot of work that went into developing Fox Brook, and currently there is a lot of building going on around the area," she says. "Montgomery schools were also on the rise and have earned a superior rating in the state. The builders just wanted to wait for the right time to start building."
Make It Your Own
Since establishing its Hillsborough community in 1988, Country Classics hasn't altered its approach to building boast-worthy homes of unsurpassed quality. But one thing that has evolved with the recent addition of Fox Brook: Homes now feature luxury upgrades such as three-car garages, paved driveways, stainlesssteel appliances, underground public utilities, security systems and granite countertops, to name a few. Wood says homeowners can add on to these amenities to further customize homes to their individualized needs.
"There's a variety of options to choose from, such as princess suites, Jack and Jill bathrooms, freestanding tubs in the master bathroom, guest suites, expanded family rooms, different shades of granite; we have more options than I've ever seen at other communities," Wood states. "Homeowners can even have finished basements if they choose, or a laundry room upstairs if you prefer it not to be downstairs. Whatever house you choose, you can make it your own."
Just ask Jalona. When her family went about tailoring their new home in Fox Brook, they had a mental image of what they wanted the home to look like. Even so, the finished product turned out even better than she had imagined.
"I was very particular about having an in-law suite on the ground floor, and a large one at that—not just a small room that could only fit a bed," she says. "Ours is roomy and comes with a nice sitting area, and that was a big seller. I also loved the kitchen from the moment I saw it. Our kitchen comes with a pantry and a butler's pantry, and had everything that I was really insistent on having in a house. The tall bedrooms on both floors are an added bonus, too.
"Everything we needed, this house had."
Only a few opportunities remain in the Fox Brook community, including one at 18 Twin Brook Drive. Wood describes this home as ideal for homeowners who like to host family gatherings. That should come as no surprise, considering the square footage: five generously sized bedrooms, three full bathrooms, two half-bathrooms and ample kitchen and living space, for starters.
"The home is incredibly spacious and bright and is equipped with all of those upgrades," Wood says. "The price was recently reduced as well, and it's an amazing value for one of our most expansive homes."
Flooded with natural light and facing the northern side of the community, 18 Twin Brook Drive boasts immaculate oak hardwood on the first and second floors, with two powder rooms on the first floor alone. It also has a full bathroom in the first-floor guest suite.
It's also perfect for families who enjoy spending their time in the kitchen. Fully equipped to suit the modern-day chef, the kitchen comes equipped with a butler's pantry located between the kitchen and dining room, a wine rack, beverage cooler, an additional sink and dishwasher and a deluxe island. In other words, it's perfect for preparing home-cooked meals and hosting events both large and small.
"This house is geared towards any family, but the floorplan is a little more modern," Wood says. "It's great for the family that wants an open feel, where the family room and kitchen blend together. It has many features that are trending right now in interior and home design."
Wood notes that, like all homes in the Fox Brook community, 18 Twin Brook Drive includes Andersen 400 Series windows and comes with a 10-year protection warranty. These are only a few of the amenities that truly distinguish Fox Brook from other desirable communities.
"Of the remaining opportunities available, we still have one lot remaining to build from the ground up and our quick-delivery home at 18 Twin Brook Drive," Wood says. "By choosing our quick-delivery home—18 Twin Brook Drive—you can move in as soon as four weeks."
Homeowners such as Jalona offer plenty of superlatives when describing their experiences at Fox Brook. While choosing a home tends to be among life's toughest and most stressful decisions, Jalona says moving her family to Fox Brook was a simple one.
"It was a very easy and smooth process moving here," she adds. "The community, the school, and the homes are absolutely wonderful. I wish we had moved here sooner."
FOX BROOK AT MONTGOMERY
Twin Brook Drive | Belle Mead, N.J.
(609) 454-5829 |Country-Classics.com