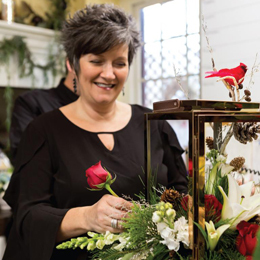 In Blossom
Whitford Flowers & Gifts
photography by NINA LEA PHOTOGRAPHY
Some traditions change over time, while others remain the same from one year to the next. The gifting of flowers— either to symbolize the celebration of a wedding or some other lifechanging event, to memorialize a departed loved one, or "just because"—has stood the test of time. And there's a good reason why: The right floral arrangement can evoke intense emotion, and few people understand the impact they can have than Marjie Versagli.
Versagli has had a passion for all things floral since she was a small child, gardening alongside her grandfather. Now, as the owner of Whitford Flowers & Gifts, she and her team create one-of-a-kind floral arrangements for any occasion, all from their home base in a true Chester County icon, the Zook House in Exton. From the shutter-lined windows and stone walls dating back to 1750, among other bygone touches, the spacious Zook House brims with historic charm ideal for serving the unique needs of Whitford Flowers' ever-blossoming clientele.
"I worked for Malvern Flowers & Gifts with the past three owners, and in 2013, my husband Robert and I decided it was time to purchase the business," Versagli says. "In May of 2017, we consolidated and moved over to our sister store, Whitford Flowers & Gifts. There was more space to offer six rooms of flowers and gifts and, more importantly, the ability to serve the customer better."
The decision was an easy one for Versagli. The Zook House's spacious interior and rich history fit the business' aesthetic perfectly. Today, the business is a full-service florist, offering local and worldwide delivery, who has gained stellar reputations across the United States and Europe.
Just ask Jennifer Gallagher, one of Versagli's most recent brides, who requested Whitford's services for her "big day" in Dublin, Ireland. The process of finding the right flowers and creating memorable arrangements for the wedding required Versagli and her team, including Store Manager Ray Stuetz, Customer Service Representative Juliette Turturro and a handful of part-time designers, to truly go above and beyond.
"Jennifer Gallagher was a very easygoing bride, and she knows the kind of work we provide to our clientele," Versagli says. "We had actually ordered the flowers from a wholesale house in Northern Ireland but couldn't take our rental car up there, so we were faced with this situation of where to go next."
Versagli and her team found a local market located "on a little back road," where they were able to order all of the flowers for the wedding. Then, when it came time to make the actual arrangements, they had to get creative.
"In the townhouse we rented, we made and designed all of the flowers and arrangements out of this tiny bathroom , while using the bathtub as our bucket of water," Versagli recalls. "When the flowers arrived from Holland, what I found to be amazing is that the market did not make us pay until all of our flowers were in and to us. There was a certain trust factor there that was absolutely amazing."
Thanks to the team's inventiveness and flexibility, Gallagher's wedding went beautifully, complemented by the rustic, vintage-looking floral masterpieces fit for royalty— in the literal sense.
"The wedding ceremony and reception both took place in this breathtaking castle," Versagli describes. "We created the centerpieces for the long banquet table, created the bouquets for the bride and maid of honor, and for the stairs, we intertwined tulle, rocks, succulents and added lanterns for accent. We also used fairy lights hanging down, and decorated the lowered chandelier."
Although weddings are one of the most enjoyable facets of the floral business, Versagli says they are just one of Whitford Flowers' many areas of expertise. In fact, she says creating arrangements for funerals are some of her favorite projects. Similar to the abundance of customizable options presented to celebrate the unity of marriage, she can tailor floral memorial arrangements to reflect the personality and lifestyle of a dearly departed loved one.
"One woman's passion was going to Hawaii, so we made her a full-length lei out of orchids directly flown in from Hawaii," she says. "There was another gentleman who had passed who loved golf, so we took his golf bags and embellished them with flowers. We also had another man who hunted, and with the antlers from past hunting trips, took them and integrated them into the arrangements.
"Whatever their part in life was, we try to incorporate that into their arrangements to honor them," she continues. "It's the last thing you do for that person, and we try to make every funeral truly reflect their life."
Signature Style
When asked to describe the Whitford Flowers' signature style, Versagli says the store has adopted an organic, picked-from-thegarden feel rather than traditional, compact arrangements. In addition, she distinguishes each arrangement with a shortbread cookie— shaped like a hummingbird, the company logo—baked by Loraine Houston of Blake's Mother's Cookies.
"On a regular week, we put out up to 500 pieces, and each one of these arrangements includes one of these cookies," Versagli says. "We sell the cookies in store, too."
Other items sold in store include an expansive selection of gifts perfect for accompanying a bouquet of flowers or on their own. This includes everything from lotions, housewares and decorations, to recycled aluminum napkin holders and hand-crafted jewelry created by some of the area's most talented artists.
If it seems as if Whitford Flowers goes the extra mile to serve the community, that's because it does. Although each thoughtfully crafted arrangement makes a statement all by itself, it's Whitford Flowers' superior customer service that ultimately wins the hearts of customers—and keeping them coming back for years to follow.
"We're willing to do whatever it is the customer needs us to do, whether it be coming out and meeting the family for the funeral, meeting a bride at 9 p.m. at night because she works late hours, or going in on a Sunday to finish our work," Versagli says. "Altogether, we have 75 years of experience, and we will continue providing customer service that will do whatever it is needed to make a moment special."
WHITFORD FLOWERS & GIFTS
MALVERN FLOWERS & GIFTS
400 Exton Square Parkway
Exton, Pa.
(610)363-6550 or
(610) 647-9311
WhitfordFlowers.com