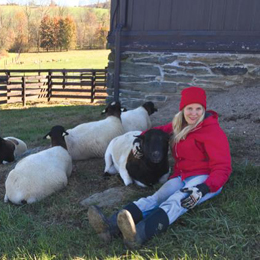 An Advocate for Elder Rights
Debra Speyer
photography by JODY ROBINSON
Perhaps an aging parent or their loved ones has lost money as a result of being taken advantage of or put into unsuitable investments by a stock brokerage firm or an investment advisor. Or maybe Mom and Dad can no longer safely take care of themselves at home or want to plan for their future and need an elder law attorney or a strategy for their estates. These kinds of stressful situations often leave the elderly, and their adult children, with questions—and, worse, no idea how to attain the peace of mind they so desperately seek.
People struggling through such scenarios should look no further than Debra G. Speyer, Esq., principal at Speyer Law, a 25-year-old law practice with local offices in Bala Cynwyd and Philadelphia, as well as Florida. Taking care of and helping people, especially seniors, has been Speyer's passion since she was a young girl. She vividly remembers working with the seniors when she was a Girl Scout and the experience gave her a whole new perspective on life from their point of view.
"Growing up, I always tried to be an advocate for seniors," Speyer says. "[As Girl Scouts], we used to go to senior centers and nursing homes. After hearing their stories and seeing their situation, I developed a passion for it at six years old."
Helping Victims
Speyer's motivation to help the elderly community only intensified as she matured. She's now a highly regarded attorney who specializes in elder law, estate planning for seniors and all ages, and brokerage firm negligence and fraud, as well as elder fraud, which Speyer says is one of the fastest-growing industries in the country.
"Seniors are scammed in excess of $36 billion a year—yes billion," she explains. "It is the crime of the 21st century. Sometimes they are lonely, they have family far away and they have people that just take advantage of them. What I'm seeing a significant amount of now is elderly women and men whose spouses have died and now there's somebody a third their age befriending them, telling them they want to marry them and basically with the goal of being added to their bank accounts and devastating them so the senior has nothing left. The intention is not about love; it's about going to their victim and moving on."
In addition to helping victims of scams, Speyer represents all ages of people whose assets have been placed in inappropriate investments and, as a result, lost an excessive amount of money.
"It may be a situation that a person should be in a moderate or conservative portfolio and instead was put into an aggressive portfolio, or high commission investments," she says. "They can be put in a whole array of investments that may have been a good moneymaker for the brokerage firm, but not what the individual should have been in."
Besides her J.D., Speyer has a bachelor's degree in accounting and a master's in finance and was an accountant prior to going to law school. She says all her degrees come in handy when it comes to attempting to reclaim her client's money due to stockbroker negligence or putting together a strategy for elder law or estate planning.
"I use my law, accounting and finance skills on a daily basis, especially handling investment advisor or brokerage firm negligence matters because there's a lot of number crunching," she says. "A lot of lawyers don't like dealing with numbers, but I love it. When looking at any type of law situation for a client, I'm also putting on my accounting and finance hat so I can give people a broad view of their whole situation."
Specific Plans of Action
Speyer says some people meet with her to discuss their paths forward before a problem arises. Many times, however, prospective clients are already in crisis mode. Even so, she says this is where she truly excels.
"It could be a situation where a family member, such as a mother or father, had a stroke and they aren't making rational decisions," she explains. "They may have provided their children with a power of attorney at an earlier time but may now need a guardianship because the parent can still go into their bank account and remove funds, but with a guardianship they cannot. This way, their finances are safeguarded so the person can live their lives out with dignity."
"Basically, we put together a strategy so people can live the rest of their lives safely and have the documents and plan of action they need in place—whether it is a will, trust, living will, powers of attorney, guardianship estate plan, medicaid planning, etc." she continues. "There are a lot of options, and it's very focused on the individual. I don't believe in cookie cutter approaches; I listen to what the client has to say and put together a plan of action based on their specific needs."
Considering Speyer's dedication and personal attention to her clients, it's no surprise she has her name on lists highlighting the top professionals in her field such as Super Lawyers, and has a ten star rating on AVVO. (She has been named a Suburban Life Top Attorney every year since 2010.) In addition, she has won the "Women Making History" award from the National Association of Women Business Owners and has been listed as being one of the five "Women to Watch" on the East Coast by Arrive Magazine for her work defending the rights of defrauded senior citizens. Speyer has been an adjunct law professor at Drexel University and has appeared as a legal expert on CNBC, CNN, NBC and Wall Street Journal Radio and quoted by more than 250 magazines and newspapers for her expertise.
When she's not helping people and educating the masses, her other passion is taking care of her cattle at her 200-acre, solar-powered farm in Maryland.
"I became interested in farming when I was growing up spending part of my summers on a Mennonite farm, and I raise grass-fed cattle and sheep, which are sold for breeding stock for other farms," she says. "The farm is in a conservation land trust so the land can be preserved for future generations. I am a strong proponent of sustainable agriculture and animal welfare, and I'm involved with organizations that support that mission."
Whether it is people or animals, Speyer says striving to help as much as she can has become her purpose in life.
"I think what sets me apart from other lawyers is that I am so passionate about what I do," she says. "I start my day at 5 a.m., and I'm so thrilled to be up helping people. It's very rewarding, taking on the fight of my clients or doing whatever I need to do to help them make sure their lives are better."
SPEYER LAW
Two Bala Plaza |Suite 300 |Bala Cynwyd, Pa. |(610) 949-9555
1515 Market Street |Suite 1200 |Philadelphia, Pa. |(215) 238-1980
SpeyerLaw.com
Published (and copyrighted) in Suburban Life Magazine, December, 2017.
.
.
.