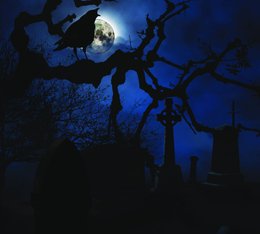 Sites with Spirit
A pre-Halloween look at some of the area's most haunted places
As a region known for its historic sites, Colonial-era graveyards and hundreds of centuries-old buildings, the Philadelphia area in particular is among America's most haunted destinations. Amid tales of phantom hitchhikers stalking the Main Line, American Indian chiefs roaming ancient burial sites and ghostly patrons frequenting taverns and eateries, Southeast Pennsylvania seems quite unwilling to give up its ghosts to history.
With Halloween quickly approaching, get in the spirit by touring some of the most haunted sites in the area with Laurie Hull, director and founding member of Tri-County Paranormal Research and author of Brandywine Valley Ghosts and Philly's Main Line Haunts.
Fort Mifflin, Philadelphia
Fort Mifflin was commissioned in 1771 and served as a centerpiece for the British invasion of Philadelphia in the Revolutionary War. The fort would later serve as a military garrison in the War of 1812 and a Confederate prison in the Civil War. Today, the fort still maintains 14 restored historic structures constructed from 1778 to 1875 … as well as some of the ghostly soldiers and prisoners who haunt its grounds.
A "screaming woman" has been heard countless times in proximity to the fort, sometimes even drawing police attention to the scene. Although many stories attribute the screams to the ghost of Elizabeth Pratt, an officer's wife who died of typhoid fever, grief-stricken by the death of her children, Laurie Hull has a different opinion.
"It is the most bloodcurdling, awful scream I've ever heard; it sounds like someone being tortured to death," she says. "We had discovered that there were several murders during the 1970s, and bodies were later discovered in Tinicum Swamp, which is right on the edge of the fort. Some of the women who disappeared during the time of the murders were never found, so we believe this might be the ghost of a lost murder victim."
Bryn Mawr College, Bryn Mawr
Bryn Mawr College was founded in 1885, and was the first higher-education institution to offer graduate degrees, including doctorates, to women. Much of Bryn Mawr College's success as an institution has been attributed to the leadership of Martha Carey Thomas, who joined the faculty as dean in 1885, later serving as president of the college. Many believe Thomas continues to visit the college, albeit in a slightly unusual capacity.
"Many people don't know this, but Thomas' ashes are actually scattered in 'The Cloisters' of the Thomas Library, which is where her presence seems the strongest," says Hull. "I myself have actually felt the presence of three women, and there was an undercurrent—a kind of whispering—of a group of women talking back and forth as if they were discussing something or debating an academic topic."
Other lingering residents of the campus seem far less inspiring or wholesome. Merion Hall, one of the dormitories on campus, is said to house the ghost of a girl named Lillian, whom people have witnessed screaming as she runs down the third-floor hallway. Versions of the story vary, but most sources point to a young woman in 1903, allegedly the victim of a tragic mental breakdown.
In several versions of the story, Lillian comes to believe she has contracted leprosy and decides to lock herself in the bathroom, douse herself in kerosene and light herself on fire.
"She was taken to a hospital where she died a few hours later," says Hull. "Her glowing ghost can be seen on the third floor of the dormitory where she is said to open doors and cause problems with electronic equipment. When I was at Bryn Mawr, on a tour of the college, I distinctly felt someone watching me from the window of the third-floor bathroom."
Harriton House, Bryn Mawr
Many ghost stories about the Harriton House surround a witch named Tuggy, an African slave who tried to kill her owner through voodoo curses, but sources suggest this legend is not true. Instead, it seems that the haunting of Harriton originates from a "forgotten founding father" whose lack of recognition, both before and after his death, made his spirit restless.
Charles Thomson is hard to find in any history book or Google search. Yet, as the first and only secretary to the Continental Congresses, he was so highly ranked that he stands to the right of John Hancock in the painting of the Declaration of Independence seen on the $2 bill. Among his best-known accomplishments is the design of the Great Seal of the United States, which continues to be used on all official U.S. documents and can be found on the reverse side of the $1 bill.
After political rivals voted him out of office, Thomson resigned to a quiet life at the Harriton House where he lived out his days. But it appears his spirit may have had second thoughts.
"While I was in the living room with the guide at the Harriton House, I could hear a rustling noise—as if someone were hurriedly or angrily going through a bunch of papers," says Hull. "I asked the guide if she thought Thomson had been happy with his life, as I was receiving a strong impression that he felt cheated out of his accomplishments."
Hull continues, "The guide told me that she believed Thomson was bitter over his secretary position being eliminated, a resentment that he always carried with him. Then, there was more rustling from the living room, but when I looked there was nothing that I could see as the source of the noise. I immediately felt a strong chill and got the sense that I was being watched."
Bob Stott is a freelance writer based in Norristown.