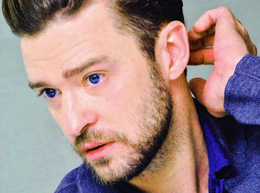 Justin Time
Fresh off his electric performance at the Super Bowl Halftime Show, the larger-than-life Justin Timberlake returns in full force, with a new album and a tour that will bring him back to Philadelphia.
Justin Timberlake has it going on.
Over the years fans have watched him transform from a Mouseketeer with The Mickey Mouse Club to a member of boy band sensation N' SYNC to a mega pop star as a solo artist to an actor making his mark in Holl ywood. A triple threat if there ever was one, Timberlake is seemingly as comfortable singing and dancing on the stage as he is sharing the silver screen with some of Ho llywood's biggest names, most recently alongside Kate Winslet in Woody Allen's Wonder Wheel.
With a new album, Man of the Woods, and a coinciding tour that includes a June 2 stop at the Wells Fargo Center, Timberlake has been busy. With so much on his plate, Timberlake took a breath to speak to us about the Super Bowl, life at home with wife and actress Jessica Biel and their young son Silas, his acting career, as well as the changes sonically that he took with his new album.
On finding his way in the acting world...
Acting is still a relatively new experience for me and I want to get better and better with each job. And to have already had the honor of working with David Fincher, The Coens [Joel and Ethan Coen], now Woody [Allen], I'm ruined [laughs]. Working with the masters.
Not afraid to fail...
I resolutely fear complacency—that is like creative death. I always want to be inspi red and inspired by the people I work with. But I can honestly say I'm not afraid of failure. You can't be afraid to fail; you'll never achieve greatness, and I'm talking about personal greatness within, if you're afraid to make that jump. And I think my entire career is based on that. I try to set the bar higher each time I approach anything.
Also, failure and success have altered meanings for me: It's not about the sales or the box office or critical acclaim; it's about knowing that I took that risk and gambled and got whatever I needed to get out of it. A lot of the time, it's like, I didn't know I could do that, I was pretty convinced I couldn't but I did it.
It was a big risk at the time, but I'd already taken a huge risk when I went solo, so I was used to it. I had a lot of people telling me I was crazy because I had a really good thing going [with N' SYNC]. But I didn't worry about it then, and I didn't worry about moving into acting. It w as my decision; I wanted to try it for a long time, something I've always wanted to do. And I had conviction in my efforts.
I'm more comfortable now in my acting abilities than I was, and less critical. I think with something like The Social Network, where I'm working with Fincher, I was a little intimidated, slightly out of my comfort zone, but I don't have that feeling now.
The differences between singing and acting...
Acting and music, for me, are at opposite ends of the spectrum. So different and very connected in many ways. Music, I like to think I'm very collaborative in my music, collaborative with artists, collaborative with my band when I'm on tour.
Acting, I feel like you're out there on your own, looking out for you and no one else. Yes, you're working with someone else, an ensemble, a whole cast, but it's you for you; it can be alienating. And I think that makes me very self-critical, probably more self-critical than I would be in my music. Possibly because I've worked longer on my music than my acting career.
Defining success...
It's changed for me over the last few year s. My family is success to me. That amazing little person [his son Silas] in my life and my amazing wife [Jessica Biel]. That's success. Nothing else matters.
On the new album...
It's deeply personal, and I've found a lot of inspiration in my wife and son, but also I've retraced back to my roots a little. It's got so much of where I came from in Memphis—it's wild, southern American music with a modern twist.
Obviously the last record had a lot of mass market appeal, and while I would never want to lose that, because that is a wonderful thing. This time there is more of what's really inside me instead of what I know is popular, or writing for some sort of different purpose.
That came out right from the very start, and when recording the album I was caught up in a kind of whirlwind of creativity. I found it was very easy to get lost in that, and at times I felt I had to rein it in a bit. Of course, I can't say how it will be received, but I do know that in the studio the response was great, so I have to trust that to an extent. Particularly the first single, "Filthy," which started out as something and then evolved into this kind of force of nature. It's exciting, and what's exciting for me is it's a record from the heart, and very much represents where I am right here, right now.
Juggling a busy career with fatherhood...
Sure, becoming a father did change the way I work, I mean how could it not? It also brings up a lot of stuff about your own childhood, and you really just re-evaluate everything. I think "Can't Stop the Feeling" was really written for my son because I wanted to bring my world to him. And watching him jump about trying to sing along is just such an amazing feeling.
Fatherhood has changed me—it changes everything. The way you look at the world changes, how you look at work, yeah, it changes you completely. Nothing new there, I think it's the same for every first-time parent.
On the possibility his son would follow in his footsteps...
Having gone through [the entertainment industry], I have an insight into the good and the not so good, which is good and not so good to have that perspective. But you know, if he was determined and wanting it, I'm pretty equipped to give him some advice. [But my wife] is 100 percent right. It's a rough road.
The entertainment industry is tough but his career path's not something either of us are losing any sleep over just yet. We're just getting over actually losing sleep, so you pick your battles [laughs].
Image courtesy of Shutterstock.com
Published (and copyrighted) in Suburban Life Magazine, March 2018.
.
.
.