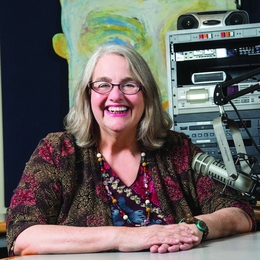 Child's Play
Kathy O'Connell, as host of WXPN'S Kids Corner, has spent the past 30 years educating, entertaining and inspiring young listeners.
Kathy O'Connell remembers the call from a man named Mark Fuerst, who at the time was the general manager of a small radio station in Philadelphia. She had just been relieved of her duties as host of Kids America, a nationally syndicated children's radio program that had been cancelled, and Fuerst was offering her a job. The only hitch: She'd have to move south, from her native New York to Philadelphia.
"I had never been on unemployment in my life," she recalls, "so I said, 'Sure, I'll give Philly a year.'"
My, how time flies.
On Jan. 5, 1988, O'Connell became host of Kids Corner, the hour-long daily call-in radio show just for kids, heard on 88.5 WXPNFM. Robert Drake came on board as the show's producer the very next day. Together, they have been educating, entertaining and inspiring children, ages 6 to 13 (and their parents, too), throughout the Greater Philadelphia Area for more than 30 years. That means some of the kids who grew up listening to Kids Corner now have kids of their own.
During each episode of the award-winning show, which airs Monday through Thursday, from 7 p.m. to 8 p.m., O'Connell plays music kids might enjoy and interacts with guests who help listeners make sense of the world— everything from books and technology to nature and astronomy. O'Connell shines brightest when she leans into the microphone and starts talking with listeners. She wants to know what they think, what they're reading, what they're excited about—fun and innocent, to a degree, but never childish or saccharine. In an age when many talk shows have become overtly combative, it's a refreshing alternative.
"Having a kids' talk show is the most wonderful thing in the world," she says. "It's not 'I hate you and you hate me and here's why you're wrong.' No, it's actually kids talking about cultural things and their feelings and experiences. It's simultaneously a throwback to more traditional public radio and at the same time what the future of talk radio could be."
The Kids Corner "brand" has since evolved to include in-person events, including the Kids Corner Music Festival and the WXPN-produced KindieComm, a biennial national gathering of "kindie" (independent kids' music) artists. The next KindieComm will be held at World Café Live, which is in the same building as the WXPN studio, on April 20 and 21, followed by the Kids Corner 30th Anniversary Concert on April 22.
We caught up with O'Connell at the studio just before she got behind the mike for a recent live show. She shared her perspective on Kids Corner's longevity, how she views her role as the host of a kids' talk show and, of course, her fascination with the man she credits for inspiring her to pursue a career in kids' entertainment, the late comedian Soupy Sales. Here's what she had to say.
On her seemingly natural ability to connect with children …
"I learned how to speak to kids from Soupy Sales—both from him talking to me through the TV, talking to me like I was a person, and from talking to Soupy in real life. The first time I turn on the TV and Soupy Sales is there, it's probably September 1964, and this off-camera voice says, 'Wait, Mr. Sales, watch what you say. Don't you know the walls have ears?' And the camera pans to a wall covered with these little rubber ears, and I'm hysterical. I'm 12 years old, so it hit me right. He made me laugh, but not in a cartoon kind of way, and not in a talking-down-to-me kind of way. He was so much fun and talked directly to me through the TV. Once I started hanging out in front of Soupy's studio and got involved with this gang of kids who loved Soupy as much as I did, he was always 'on' and he was never inappropriate, and that stuck with me."
On talking her listeners through pivotal moments in U.S. history …
"I've been on the air for everything from the Challenger [explosion] to 9/11. Kids know that grownups don't have all the answers, and grownups try to pretend that they have all the answers sometimes. You can only use the tools you have. On Kids Corner, [in the aftermath of the Sept. 11, 2001 terrorist attacks], I had a nurse on the show, named Mimi Mahon, and we still didn't know how many had died. The main thing is to let kids know you can't always predict what's going to happen, but also to let them know, 'We'll be here for you … and answer any questions, and just be a presence for you.' That's as far as you really can go. There are horror stories in the news, stories about sexual abuse, things you don't want to face as a parent or as an adult, but having this safe space—this radio show to talk about it—hopefully it inspires talking within your own home."
On her kinship with Robert Drake, her longtime producer …
"WXPN is the happiest place on earth, and I have never worked at such a great place in all my life, and they will take me out of here in a body bag, whether they like it or not. However, it was not always completely smooth sailing, and part of that was trying to get a staff for [Kids Corner], which was truly an experiment. A kids' show is not a regular thing on radio stations, and WXPN did make a commitment to the show and to me. They didn't really commit to anybody else, and I think they thought, Oh, she'll just come here and do it all by herself. Well, I'm great on the microphone, but the other 23 hours of the day, I'm going to need some help. I beat Robert here by one day, and he just showed up. We connected right away with each other. They were putting me up in hotels, and there was one day he walked me to the Sheraton, and I said, 'I think I just found my best friend.' I think Robert and I figured, "We're in this together.' If everything in life is a game of Survivor, then we became an alliance very early, and we have stuck to our alliance."
On the current political climate …
"I feel very strongly that if you share with kids what it means to b e an American—a responsible adult, a responsible citizen, a responsible human being—then they're going to make the right decision. I ha ve to cling to that hope. "Starting the day after Election Day 2016, I now end every [episode of] Kids Corner with 'Please be kind to each other.' All the yelling is going to end eventually. … As a communicator, my job can be to say, 'Go to the Constitution Center and learn about the U.S. Constitution. See how it lives in your life every day. Learn about Black History Month. I know you're going to try to do a r eport about Martin Luther King and Rosa Parks, but here's a bunch of other people you can learn about for the rest of the 28 days of the month.'
"Sometimes I get complaints. There's a song I played called 'I Wear Pink,' from a male singer named Hullaballoo, and it's about how he grew up with sisters and played with dolls his whole life. Truly, it is the most innocuous song … and I got the most venomous letter about it. So there's that. I try to stay a lot more noncommittal than I may feel deep inside, because that's not my job. My role her e is to help, to hope that kids can become the best people they can be, armed with whatever information, whatever tools I can share with them.
"I know this whole evolution has gone on, both with the show and the world around us, but to me it's just been me and a microphone for 30 years."
Photography by Jeff Anderson
Published (and copyrighted) in Suburban Life Magazine, March 2018.
.
.
.