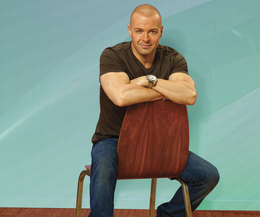 Whoa! It's Joey Lawrence
The Jenkintown native is bringing the classic sitcom back to TV
Mention Joey Lawrence's name to anyone who was a teenager in the 1990s, and you'll get the same response: "Whoa!" His Blossom character's instantly recognizable catchphrase rose to fame almost as quickly as the Abington Friends grad himself. But there's a new word that comes to mind after speaking with the 34-year-old actor: Go!
Lawrence has worked non-stop after competing and finishing in third on ABC's Dancing With the Stars in 2006 (and subsequently going on three national tours with the show), singing on Broadway in Chicago in 2007 and starring in a string of made-for-TV movies, he now stars opposite his good friend, former co-star and fellow child actor, Melissa Joan Hart in the new ABC Family sitcom, Melissa & Joey.
It's a wonder how Lawrence still found the time to marry and have two young daughters—and keep up with his hometown sports teams.
Tell me a little about the new show.
It's been going good. We premiered to huge numbers and hopefully we can keep it going. It's tough to launch a successful comedy on cable, and we've been very lucky to have success with it so far. It's a romantic comedy—it's kind of a throwback. It's a little edgy. It's that classic Bruce Willis-Cybill Shepherd type of relationship, a lot of banter back and forth. The two leads are at odds with each other—sort of a love to hate, hate to love thing.
Your show is that 30-minute sitcom format that seemed to have disappeared from television, but is making a comeback now. Why do you think it still works?
I don't know. I think everything comes and goes in cycles. I don't really think the fans ever gave up on it. I think it's more the industry thought they might be able to replace [sitcoms] with reality. But I think that what they're realizing is that reality is not going to replace this, and that's why I think it's starting to make a comeback. And we're lucky that we're on cable because it's an edgy show. Yeah, families can watch it, but it's definitely for 16 and up.
You and Melissa made a successful ABC Family original movie, My Fake Fiancé. Did the idea for your show come from the success of that and the chemistry between you two?
Yep. It came from that. We got to thinking that maybe this would be fun to do in a half-hour format, and we got to developing it, and a year and a half later, here we are.
Why are your characters' names the same as your real names?
That was a network decision, a marketing decision. We weren't really into it initially, but they came to us and said, "We think if you do that it could really work the way it did with Seinfeld and Roseanne and Cosby." So we said all right, we'll give it a shot.
You've played "Joey" several times, like on Blossom, Gimme a Break and Brotherly Love (also starring the younger Lawrence brothers, Matthew and Andrew).
It's so weird. Every time I've done that, it's been a fairly successful show. Joey on Gimme a Break, that character's name was Joey. On Blossom, they changed it to Joey when I got the part. I don't know why—I don't have any say over that. And with Brotherly Love, we figured since it was the three of us to just keep it that way—Joe, Matt and Andy.
You began a singing career when you were younger, and did some singing on Broadway. Is that something you plan to continue to pursue?
I'm working on a brand new record, believe it or not. I started working with Matthew Girard and we hit it off, and it is almost done. It'll be out next year. It's awesome, dude. It's a great pop record, and I'm really excited about it. There was no way I would do it again if I didn't really like it.
Any artists right now you'd love to collaborate with?
I think it'd be kind of cool to work with Ne-Yo or Justin [Timberlake]. I think it'd be cool to work with Katy Perry. It sort of fits in with all that stuff that's out there, but it has my own vibe to it.
Any fond memories from growing up in Jenkintown?
I have uncles who live in Bucks County, and I have a lot of friends back there. I went to Abington Friends, and I miss it. I really do. I don't get back as much as I'd like. We used to go the Shakey's in Jenkintown and to the old movie theater. We used to go to Baederwood Shopping Center and just walk around. It was so much fun. I have such great memories.
What were you like in high school?
We were sports guys. I came from a great group of friends—I mean, there were a couple of us that were a little rowdy, but we never really got into trouble. Threw some stink bombs into open windows—that was about the worst of it. I was not the drama guy. I played sports.
Are you still a Philly sports fan?
Go Eagles! I'm excited about Kevin Kolb. I think DeSean [Jackson] thinks it's a great idea and he actually likes Kevin Kolb better. I'm so glad they got rid of [Donovan] McNabb because he could never win anyway.