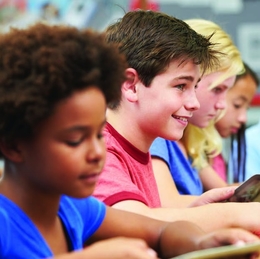 Anything's Possible
Schools geared toward children with learning differences prepare students for a life rich with possibilities.
"My son has trouble keeping up." "My daughter is in the second grade, and she still doesn't know her ABCs." "I fear my child's grades will prevent them from getting into a decent college." "I worry my son won't have a good career."
Quotes like these may be familiar to the parents of a child who has a learning difference— dyslexia, dyscalculia, ADHD or auditory processing disorder, for example. The classrooms of "mainstream" schools often don't have the time or tools needed to help these students learn in a way that suits their specific needs. As a result, students can languish, falling behind and sometimes getting designated "difficult," "lazy" or even somehow "less intelligent" than their peers.
This couldn't be further from the truth, according to Kirk Smothers, who has spent the past 25 years working with students in mainstream schools, as well as those who learn differently.
"These are kids who have sometimes been made to feel as though they are not as smart, because things are harder for them for a reason," says Smothers, head of school for Delaware Valley Friends School, a Paoli-based school for students who learn differently. He says that when these students have the benefit of being led by skilled teachers who truly make the effort and have the necessary tools, a learning difference won't prevent them from climbing to great heights.
"Our teachers come to the classroom every day with the assumption that these are smart kids," Smothers adds. "It's a lot more difficult to work with students who have the same intellectual capability but need to have their learning tailored toward them. Here at DV, teachers have to reassess students every single day, thinking: Where do we need to go next? It requires teachers to constantly figure out what their students' needs are and then be super responsive to make sure those needs are addressed."
This approach is rooted firmly in understanding each child's learning difference. Then, educators might use the appropriate tools needed to help that student meet his or her goals, according to Dorinda Shank, assistant head of school, grades nine to 12, for Woodlynde School in Strafford.
"There's a big difference between a teacher who stands up and lectures versus one who is providing multisensory instruction," she says. "We've developed programs and technology that allow a child to be successful. For the kids who learn best through auditory comprehension, you have to make sure books and lessons are recorded, utilizing speech-to-text and text-tospeech technology. It's all about opening doors for these students, and then helping them develop self-advocacy skills."
Some students struggle for years in traditional educational settings until they find more specialized instruction. Shank says the earlier these students get the attention they need, the better the outcome. That having been said, "We've had juniors who have had only one to two years here and have done some really amazing things," she adds.
Ready for Anything
Academics are a key focus, but not the only focus; other aspects of programs in schools for children who learn differently include athletics and other extracurricular activities designed to foster new interests and develop skills such as collaboration and leadership. At Delaware Valley Friends School, for example, a team of students has spent a good part of the school year working with educators to write, produce and perform a modern retelling of Shakespeare's Romeo and Juliet as an entirely original musical.
While the likes of Delaware Valley Friends School and Woodlynde School are designed specifically for students with learning differences, the environment they provide may also suit students who simply prefer learning in smaller classrooms with more individualized instruction.
"We might have classrooms with three or four students, but usually it's eight to 10," says Shank. "We may have some classes with as many as 12 students, because we try to make the classes bigger for our seniors; we're preparing these students for a college setting of some sort."
At Woodlynde, students don't have far to look for inspiration, as four alumni currently teach at the school. Also, at a recent alumni gathering, Shank learned that three students from the same graduating class have become elite achievers: One had just finished law school; another had gone on to medical school; and a third was pursuing a Ph.D.
"Hearing those kinds of success stories is wonderful, but we're just as happy to hear about a student who has gotten a really good job as a diesel mechanic," she adds. "When a student leaves here, I'm very hopeful we have taught them how to be independent learners with confident selfadvocacy skills. If they're using the strategies we taught them here— knowing that they need extended time for testing, for example—I'm a happy Woodlynde employee."
Smothers recently interviewed a new faculty member who he believes captured the essence of what schools like his offer to students with learning differences.
"I asked her why she had chosen to work with what is typically regarded as a challenging student population," he recalls. "I really liked her answer. She said, 'It's simple. When we learn, we all have the moment when the light bulb comes on. When these kids have the "aha moment," the light bulb goes on so much brighter.'
"The payoff for these students is huge, and it's a great feeling to be part of that."
A WORLD OF DIFFERENCE
Students with learning differences tend to struggle until they find the learning style—and learning environment—that best suits them. As the following list suggests, the Greater Philadelphia Area abounds with schools devoted to helping students with learning differences succeed in school and in life.
AIM ACADEMY
Conshohocken
AIMPa.org
BENCHMARK SCHOOL
Media
BenchmarkSchool.org
CAMP HILL SPECIAL SCHOOL
Glenmoore
CampHillSpecialSchool.org
CENTER SCHOOL
Abington
CenterSchoolPa.org
DELAWARE VALLEY FRIENDS SCHOOL
Paoli
DVFS.org
THE QUAKER SCHOOL AT HORSHAM
Horsham
QuakerSchool.org
STRATFORD FRIENDS SCHOOL
Newtown Square
StratfordFriends.org
THE TRANSCEND PROGRAM AT VILLA JOSEPH MARIE HIGH SCHOOL
Holland
VJMHS.org
THE VANGUARD SCHOOL
Malvern
VFES.net/Vanguard
WOODLYNDE SCHOOL
Strafford
Woodlynde.org
Published (and copyrighted) in Suburban Life Magazine, March 2018.
.
.
.