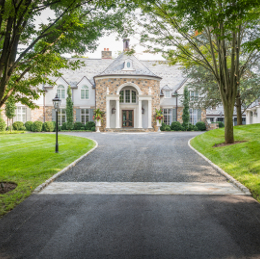 A Piece of Paradise
From the Main Line to Florida, Gale Nurseries Inc. creates stunning landscapes designed to bring the natural beauty out of any property.
When an entrepreneurial couple purchased their new estate home on the Main Line, they sought to update the property, both inside and out. Outside, they wanted the grounds to serve as a sanctuary, of sorts, where they could unwind after stressful workdays and also have some distinctive spaces for year-round entertaining.
They entrusted this undertaking to Gale Nurseries, Inc., an award-winning landscape design-build firm based in Gwynedd Valley. Gale Nurseries began the process the only way it knows how: by spending time with the couple to gain a true understanding of their vision for the property. To the firm, this feedback was essential to creating a compelling design that would shape the property into an enduring, breathtaking and perfectly useable space, tailored to the couple's lifestyle.
"When we started the project in 2014, the homeowners wanted us to design something very personal that would let them be comfortable as a couple but also entertaining for larger crowds ," says Loren Foster, vice president of Gale Nurseries, who led the design work on the 3-acre, tree-lined estate in Bryn Mawr. "We come t o every project with our own ideas, but we want to know what's most important to the homeowners. With a lot of clients, we ask them to create a Pinterest or Houzz page or mark pages from books and magazines so we can get an idea of what speaks to them."
The firm collaborated with the couple to devise a number of signature design elements: an outdoor kitchen and terrace, complete with custom limestone balustra de and a granite millstone fire feature with a commercial-size burner; two water fountains; multiple marble urns filled with annuals to provide seasonal color; and a vineyard so the homeowners could enjoy just-picked table grapes. Perhaps the most unique aspect of the d esign project was an indoor/outdoor aviary for housing pigeons and chickens, as the homeowners "liked the idea of having fresh eggs and c aring for animals," Foster says. With the final design approved, Gale Nurseries began construction on March 1, 2015. The "finishing touc hes" were completed the following spring, a ccording to Foster.
"Some projects take a week and some take a year," he says. "But no matte r how long it takes, each one is different, which is good because we don't like to do the same thing twice. Whether it's a vineyard, an a viary or something else, we have the ability to include a lot of custom features so the design is unique to the homeowner."
This high level of customization means Gale Nurseries continually adds to its areas of expertise—in this case, becoming well versed in vineyards and av iaries. The firm added the vineyard to the Bryn Mawr home by replacing a 60-by-120-foot tennis court. By removing such a sizeable stretch of impervious surface, the firm improved the property's availability to capture storm water. The aviary, on the other hand, started out as one of the homeowner's wish-list items, but Gale Nurseries' staff researched the topic thoroughly to make the dream a reality. "It's a collaborative process," he says. "We had a lot of fun developing ideas with the homeowner. As we're developing the plan, we always keep the budget in mind, so we'll say, 'If we want to do this, here's a range of o ptions and what each option will cost.' With this project, we proposed even more limestone balustrade than was eventually used; a portion of the planned balustrade was replaced with a sheared evergreen boxwood hedge that had a significant reduction to the budget but accomplished the same functional goal. It turned out to be a great feature."
Drawing on History
Since the firm's founding in 1927, Gale Nurseri es has acquired the expertise to handle any planting or masonry work. If a project requires the utilization of a specialized tradesman, such as an electrician, pool builder or arborist, Gale Nurseries will function as the project manager, orchestrating all landscaping and masonry crews, as well as subcontractors.
"We've been around for a long time, so we have a large breadth of experience," says Foster, who is now in his 18th year with Gale Nurseries. "We're always drawing on our history, but if we don't know the answer to something, we know w here t o find it or who to call."
Every new project begins with the process of learning about the homeowner's year-round lifestyle. If, say, a family spends two months out of the year at a vacation home down the Jersey Shore or elsewhere, Gale Nurseries will adjust the desig n accordingly; there's little reason to have all mid-summer blooming flowers if the homeowner is at the shore, for example. Likewise, the firm strives to maintain consistency—"flow," as Foster calls it—from the inside of the house to the outside. It also carefully considers the view of the grounds from ever y possible angle, according to Christine M. Gale, president of Gale Nurseries.
"This is especially impor tant in P ennsylvania," she says. "Because of the winters here, a homeowner is going to spend a lot of time looking at the landscape fro m the inside, so the view of the landscape through your kitchen window is just as important as the view from out on the terrace. That's w hy we spend so much time walking through a client's home, picking up on their style but also noting all the vantage points the client cou ld view the outdoor space."
Over the years, Gale Nurseries' work has earned multiple awards and recognition from the likes of the Pennsylv ania Horticultural Society, the Philadelphia Chamber of Commerce and the Montgomery County Planning Commission. Gale says the firm's co mmitment to craftsmanship and professionalism stems from her grandfather, Charles H. Gale II, who founded Gale Nurseries, and her father, Chuck Gale, who currently serves the company as CEO.
"My father always told me never to settle for mediocrity, and I think you can find that same spirit in all the departments of this company," say Gale. "We strive to be the best, and we take our work very personally and seriously. We have a lot of perfectionists here."
Although much of Gale Nurseries' work is influenced by the classical European design, the firm has the skill to perform all types of design work—from contemporary to agrarian. In fact, while the firm does most of its work in Bucks and Montgomery counties and along the Main Line, its designers have designed gardens up and down the East Coast, from Cape Cod, Mass., t o Naples, Fla., as well as overseas.
"Every job we do has the same level of involvement as the home in Bryn Mawr, but the projects can ra nge in size," Gale says. "We have a handful of clients whose estates my father once did design projects for, and now those clients have since moved to retirement communities. We're still doing work for those clients; the jobs are smaller, but each has the same level of care and detail."
As part of its service to clients, Gale Nurseries offers fine-garden maintenance for shaping gardens over time. For examp le, Foster walks the grounds of the Bryn Mawr property approximately once a week. Staying so intimately involved helps to keep the grounds pristine "so we can shape our vision as the property grows in," as Foster puts it. He likes to tell the story of visiting a project he designed in 2001, seeing a 25-foot-tall willow tree where a 6-foot-tall tree once stood.
"We've worked for some families for 20 years at t his point," adds Gale. " We love doing the design work, and we offer the fine-garden maintenance because we want to keep the integrity of our designs intact, the way they were intended to be."
Gale Nurseries Inc.
1716 School House Road
Gwynedd Valley, Pa.
(215) 699-4714
GaleNurseries.com
Published (and copyrighted) in Suburban Life Magazine, March 2018. .
.
.