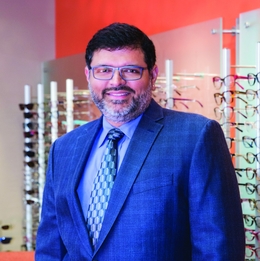 High Visibility
Dr. Sanjay Kamat of Bucks Eye Specialists gives patients access to better, brighter, healthier views of the world around them.
Consider Sanjay Kamat, D.O., an oracle, of sorts, because he sees all—and has seen it all—in regard to the health and wellness of the human eye. In fact, more and more patients rely on his expert opinion as a skilled ophthalmologist—to serve as a second set of eyes, so to speak—an d either confirm or refute another eye-care doctor's professional diagnosis.
"It ebbs a n d flows, but right now we're seeing a lot of people coming in for second opinions," says Dr. Kamat, owner of Bucks Eye Specialists in Yardley. "There maybe many reasons why this happens, but usually it's because someone else—another doctor— has advised the patient to undergo eye surgery and they want someone they consider an expert to determine whether surgery is their wisest option."
With each patient who comes to him for a second opinion, Dr. Kamat approaches the situation with an unblemished eye; in other words, he'd rather not k now the patient's prior diagnosis so he can, as he says, "assess the individual's situation based on what I see and what they tell me, not on what someone else has told them." Most often, these patients have been advised to undergo surgery to remove cataracts, to treat glaucoma or to amend some other condition—drooping eyelids, perhaps—that may be negatively affecting their gift of sight.
"I do a lot of functional eyelid surgery— functional, in the sense that the patient has had medical testing necessitating an eyelid lift, because it's affecting their vision," he says. "There are some surgeons who do eyelid lifts purely for cosmetic reasons, but my primary reason to treat someone who thinks they might need an eyelid lift is so they can see better, plain and simple."
He's Seen It All
Considering Dr. Kamat's background and training, the fact that he's called upon to provide such expert opinions should come as no surprise. A Bucks County native, Dr. Kamat attended medical school at Kansas City University of Medicine and Bioscience s in Kansas City, Mo., and completed his internship and residency at Philadelphia College of Osteopathic Medicine, where he served as chie f resident. He also honed his skills in complex cataract surgery and oculoplastic trauma at Albert Einstein Medical Center in Philadelphia.
He continues to build upon his education and experience. A board-certified fellow of the American Osteopathic College of Ophthalmology, Dr. Kamat maintains his membership in the American Academy of Ophthalmology, the American Society of Cataract and Refractive Su geons and the American Osteopathic Colleges of Ophthalmology and Otolaryngology-Head and Neck Surgery, as well as the Pennsylvania and Bucks County medical societies. In addition, he recently joined the medical advisory board of Wills Eye Surgery Center in Warminster.
As a private practitioner, Dr. Kamat— named a "Top Physician" by Suburban Life every year since 2013—has been treating disorders and diseases o f the eye since 2009, w hen he took over Bucks Eye Specialists from his childhood ophthalmologist. In doing so, he and Dana Cianni, O.D., have worked closely with patients to treat just about every eye-related condition imaginable—everything from cataracts, glaucoma and macu lar degeneration, to blepharitis (chronic inflammation of the eyelids), diabetic retinopathy (damage t o retinal blood vessels caused by diabetes) and eyelid cancers.
One of the most common areas of treatment is surgery to correct refractive error, which includes myopia ( nearsightedness), hyperopia (farsightedness), astigmatism and presbyopia (the aging eye's inability to see things up close). At Bucks Eye Specialists, the refractive surgery treatment options include highly accurate lasers such as PRK, LASIK, LASEK and epi-LASIK, among othe rs.
Cataracts are another area of specialty. Dr. Kamat has witnessed a remarkable rise in "custom cataract surgery and combined procedure s," as he calls it—removing a patient's cataracts and then treating the same individual for glaucoma in one trip to the OR, or removing cataracts and then implanting premium replacement lenses so the patient can wake up with perfect vision.
"The world of cataract surgery has made some dramatic leaps and bounds," he says. "Multifocal lenses, lenses with astigmatism correction and all kinds of accommodative lenses have made it so patients' postoperative outcomes have improved a great deal. Expectations have changed, too; people used to be all right with having their cataracts removed and then have to wear corrective lenses afterward. Not anymore; patients today know they can have 20/20 vision, without corrective lenses, so that's what they expect."
Aside from treating maladies that can detract from an individual's vision, Dr. Kamat also treats common "quality of life" conditions, such as dry eye. The condition is marked by symptoms such as frequent tearing, eye fatigue or the feeling that something is in the eye. While the condition is definitely bothersome, Dr. Kamat says dry eye may also prevent people from wearing contact lenses or keep them from becoming candidates for surgery to correct refractive error.
Lucky for his patients, Dr. Kamat offers a revolutionary technology called Intense Pulsed Light (IPL), which uses powerful bursts of light t o treat patients' dry eye, as well as Lipiflow, a "sister therapy" of IPL that essentially treats the condition by massaging the eyelids. Also, Bucks Eye Specialists is certified to perform clinical testing for dry eye. This means the practice can perform a comprehensive analysis of patients' tears to determine the best course of treatment, be it IPL and/or Lipiflow or a host of other treatments, such a s artificial tear supplementation, omega-3 supplements or prescription eye drops.
Giving Back
Dr. Kamat regularly sees patients at his Yardley office, as well as at his office across the river in Mount Laurel, N.J., Briggs Eye Specialists, which he opened in 2016. When he' s not at either of those offices, he's performing delicate surgeries or teaching the next generation of eye-care professionals at medical centers throughout the region.
Although he's always on the move, he frequently makes time to give back. Bucks Eye Specialists participates in the American Academy of Ophthalmology's EyeCare America program, meaning a certain number of patients in need receive medical eye exams a t little to no out-of-pocket cost. In addition, Dr. Kamat often works at inner-city clinics to make sure patients receive necessary eye care. He even offers complimentary eye screenings to children at a school near his office in Mount Laurel.
"Your eyes are vitally imp ortant; they're how we experience the world around us," Dr. Kamat says. "I'm happy to play a part in making sure people of all ages, and f rom all walks of life, have the care they need. No matter what someone's situation is or where they live, I've always felt strongly that people deserve access to quality eye care so they can have the best vision possible."
Bucks Eye Specialists
BucksEyeSpecialists.com
301 Oxford Valley Road, Suite 801-A
Yardley, Pa.
(215) 493-7330
Briggs Eye Specialists
BriggsEyeSpecialists.com
2026 B. Briggs Road
Mount Laurel, N.J.
(856) 235-1211
Photography by Jody Robinson
Published (and copyrighted) in Suburban Life Magazine, March 2018. .
.
.