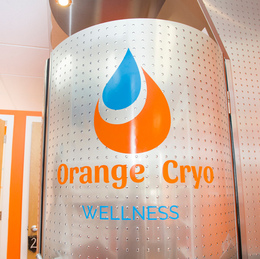 Relief from the Cold
For anyone recovering from an injury or simply looking to revitalize, Orange Cryo West Chester offers a revolutionary therapy designed to deliver the results they seek.
Kathleen Brill had gotten used to the unwanted daily reminders of her fight with Lyme disease. She "tried everything" to alleviate the symptoms of the disease, but to no avail. She had resigned herself to living the rest of her life with achy joints.
As a bodybuilder and personal trainer, Nick Corpora had accepted sore knees and tired muscles as a cost of doing business.
High school basketball star Nestor Diaz figured his severely sprained ankle would relegate him to the sidelines rather than his spot on the free-throw line.
Although all three individuals were struggling with unique maladies, they had one thing in common: Each of them felt "rejuvenated" after going to Orange Cryo West Chester. There, they benefited from a revolutionary method of cold therapy designed to reduce inflammation, promote recovery and revitalize the body.
Cold Comfort
Cryotherapy's roots stretch back to 1978, when a Japanese physician discovered that patients with rheumatoid arthritis experienced near-instantaneous relief when the surface of the skin was exposed to su bzero temperatures. Since then, the treatment has blossomed throughout the world. In the United States, everyone from professional athlet es and Hollywood A-listers to blue-collar workers and college kids have come to appreciate its benefits, according to Bryan Koegel, own er of Orange Cryo West Chester.
"Cryotherapy acts as a specific form of shock treatment, and it releases endorphins and all kinds of othe r good stuff the body needs," says Koegel. "If you're in for a fullbody session, you put on gloves and special socks and then step into the cryo chamber. Three minutes later, you're all done. Yes, it's cold, but it's completely tolerable."
Orange Cryo West Chester off ers three different forms of treatment to suits its clients' needs:
• Whole-body cryotherapy. This threeminute session inside the cyli ndrical cryotherapy c hamber exposes the body to temperatures ranging from -200 F to -256 F, via liquid nitrogen vapor. The cold stimulates the skin's receptors to constrict the blood vessels, making blood rush to the body's core, where it is oxygenated and enriched. After the session ends, the blood vessels dilate and blood returns to the extremities, fully enriched with anti-inflammatory proteins, endorphins and fresh oxygen. This, in turn, stimulates the body's natural ability to heal. The treatment can even promote weight loss, according to Koegel, as the body burns 400 to 800 calories per session.
• Localized cryotherapy for treating targeted areas. When applied directly to a specific area of the body—a knee or elbow, for example—the vaporized liquid nitrogen directly penetrates the tissue to improve blood circulation and reduce inflammation. Clients often choose to pair each five- to 10-minute localized session with a whole-body session.
• Facial cryotherapy as part of an anti-aging protocol. During this treatment, a staff member uses a specialized machine to stream vaporized liquid nitrogen across the face for six to seven minutes. The treatment helps to tighten the skin, smooth fine lines and wrinkles, and improve blood perfusion, as well as flush out toxins that prematurely age the skin.
First Exposure
Koegel a lready had a successful career in corporate sales when he became intimately familiar with cryotherapy. In the summer of 2017, he was down the Jersey Shore when he underwent three days of treatment at an Orange Cryo location in Avalon.
"By the final day, I could see why the best athletes in the world are doing it every day," he recalls. He cites Justin Anderson as an example. The star shooting guard for the Philadelphia 76ers swears by Orange Cryo as a highly capable "recovery mechanism."
Although he certainly appreciates endorsements from high-profile athletes, Koegel may offer the best testimonial his clients could possibly hear. In 2008, Koegel tore his ACL while playing basketball. What followed: 18 months of intensive physical therapy; a knee brace; twice-daily ice-down sessions, each one taking an agonizing 20 minutes; follow-up surgeries and diagnostic procedures to remove scar tissue; another round of physical therapy; and sleepless nights spurred by constant pain.
He's a new man since discovering the benefits of cryotherapy. He no longer has to wear a knee brace. He no longer has to ice his knee. And he's sleeping through the night again.
"The 'aha moment' came after those three days in Avalon," he says. "It's tough to put a value on how my quality of life has changed. Just the relief of sleeping through the night has been enough, but then there's the time and effort I used to spend icing the knee. Now I get everything I need with a three-minute session in the cryo chamber."
Koegel has plenty of company in terms of people who might agree.
'Outstanding' Results
Kathleen Brill, business manager for Westtown-East Goshen Regional Police Department, experienced a significant difference in the symptoms caused by her Lyme disease. After having six cryotherapy sessions at Orange Cryo West Chester, her once-achy joints felt much better.
"I was amazed at how I felt afterward," she says. "Honestly, I noticed a difference even with something as simple as walking up and down the steps. I think it's something I have to continue as a form of maintenance. I can't wait to go back."
Nick Corpora, for his part, went for the first of his three cryotherapy sessions in January, the day after the playoff game in which the Philadelphia Eagles bested the Minnesota Vikings to secure their spot in Super Bowl LII. Even though he was out celebrating the Eagles' win until nearly 4 a.m., he made it to his 10 a.m. cryotherapy appointment on time.
"I was tired when I got there, but I immediately felt rejuvenated," says Corpora. "I was even able to get in a weightlifting session later that day, which I didn't think I would have the energy to get through. I felt the effects during second treatment, too; my knees felt brand new. By the third treatment, the effects were outstanding. It's definitely something I believe in."
He hopes to partner with Orange Cryo in the near future, somehow offering cryo treatments as a value-added service to clients of his personal training firm, Grind West Chester.
Then there's Nestor Diaz, a senior at SpringFord Area High School in Royersford. Diaz, who stars on the school's varsity basketball team, had sustained a severe ankle injury during a game. At one point, he could barely walk on the ankle, let alone make the sharp turns and pivots a player needs to make in the course of a game.
"We were trying to find ways for him to recuperate," says Diaz's father, also named Nestor. "We heard about Orange Cryo and decided to give that a shot. My son didn't break the ankle, but he had some ligament issues. I think the cold therapy made the swelling not so bad so he could begin to put some weight on it. It really helped him."
Diaz was back on the hard court before long. In fact, he played in the Pioneer Athletic Conference Semifinals in early February, and he sank a free throw just before the final buzzer to help his team advance to the PAC championship game against Methacton.
"We see people getting emotional because their lives have changed from the cryo treatments," Koegel adds. "But, honestly, even people who don't have chronic issues say they feel a difference. FROZEN
At Orange Cryo West Chester, the benefits of cryotherapy go beyond personal rejuvenation.
• Orange Cryo West Chester extends corporate memberships to organizations that wish to offer cryotherapy as an employee perquisite. Bryan Koegel, owner of Orange Cryo West Chester, says the treatments can also act as a productivity tool.
• Orange Cryo West Chester offers significant savings for monthly members. Also, through its "Hero Pack" program, Orange Cryo West Chester offers special pricing for military veterans, police officers, firefighters and EMTs.
• With every whole-body cryotherapy treatment, Orange Cryo West Chester donates 20 meals to Feeding America, the nation's largest domestic hunger-relief organization, championed by bestselling author, entrepreneur and philanthropist Tony Robbins.
Orange Cryo West Chester
323 E. Gay Street
West Chester, Pa.
(484) 887-8292
OrangeCryo.com
@orangecryowestchester.com
Photography by Jeff Anderson
Published (and copyrighted) in Suburban Life Magazine, March 2018. .
.
.