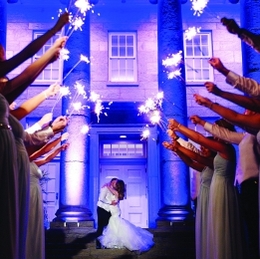 The Only One
Brides-to-be fall in love with The Ballroom at Ellis Preserve, a wedding venue unlike any other in the Greater Philadelphia Area.
Every bride-to-be wants her wedding day to be unique, memorable and, in a word, special. This may explain why so many couples have chosen The Ballroom at Ellis Preserve in Newtown Square as the place to say "I do" since the venue hosted its first wedding in August 2016.
Simply put, The Ballroom at Ellis Preserve is a wedding venue unlike any other in the Greater Philadelphia Area. From th e moment a bride-to-be pulls up to the towering Greek-inspired pillars and grand stone staircase, she falls in love all over again. The look of awe quickly buds into a giddy smile, because she knows she's feasting her eyes on a truly exceptional venue worthy of hosting one of the most important days of her life.
"There are not very many places like this in the area," says Tricia Finley, general manager of The Ballroom at Ellis Preserve. "I've heard some people say the property reminds them of a smaller version of the Art Museum."
As one of four distinctive event venues run by Finley Catering—The Ballroom at the Ben, The Crystal Tearoom and Union Trust— The Ballroom at Ellis Preserve is the only one located outside of Center City. Finley says the property's idyllic location, complete with well-manicured grounds that provide the perfect backdrop for outdoor ceremonies, is one of the primary factors that drew Finley Catering's interest when the property became available.
"The thing I love most about this property, as compared with the others in our portfolio, is the ability to s pend time outdoors," says Finley. "We've had some weddings where the entire ceremony and reception are held outdoors, because the views are so spectacular. There is no need to go to a park or a museum for photos because of the natural beauty of the campus. We also have a gorgeous patio that serves as an extension of the cocktail room during cocktail hour. And even when you're inside, our 20-foot-high windows shower the rooms with natural light.
"Every wedding we've had here has been wonderful," she continues. "You often have a bride's mother come in and say, 'This is my daughter's day, and I want it to be special.' We treat every wedding like it's the most special event we've ever done, and we cater to each couple to make sure everything is perfect for their day. Some couples have done some unique things to make the venue stand out a little more, but the quality of the experience is the same for everyone."
Besides the venue itself, The Ballroom at Ellis Preserve has two other signature touches that add to the appeal—namely, best-in-class food and inimitable service. The venue has earned a reputation for both, as evidenced by a conversation Finley recently had while traveling.
"I was on a flight recently and was speaking with the gentleman next to me," Finley says. "He asked what I did for a living, and as soon as I told him where I worked, he said, 'Oh, my God, that food was amazing!' He had recently been to a wedding here, and he was still so excited about it. Sometimes you go to weddings and have some butlered hors d'oeuvres during the cocktail hour and that's it. Here, we aim to wow the guests."
Brides can customize the menus, from cocktail hour through dessert. Finley says every wedding's cocktail hour includes multiple food stations, ranging from awe-inspiring seafood towers to ornately arranged sushi stations and pasta stations. Everything is prepared and cooked fresh on site, with the exception of the copious sweets provided by Philadelphia's Termini Brothers Bakery for the dessert stations.
"I can't say enough about our chefs and staff," Finley says. "They go above and beyond to make sure everyone leaves with a smile on their faces."
Such devotion to exceeding guests' expectations stems from the top down, beginning with Finley Catering's leadership circle. This includes Tricia Finley, who has been working for the company since she was 16 years old.
"I'm on site all the time, and I take a personal interest in making sure the people we serve go home happy," she says. "From the moment a bride-to-be and her mother step foot onto the property for the very first time, I let them know that they can trust us to take care of them and their guests. We have over 100 brides a year, and want each of them to feel relieved that we'll take care of the event so they can take care of the rest."
It should come as no surprise that The Ballroom at Ellis Preserve has earned a fivestar rating—the highest score possible—on sites such as WeddingWire.com. Reviews from happy brides include a seemingly endless list of superlatives, raving about everything from the stunning venue to the delicious food to the kindness and attentiveness of the staff. As one bride put it in her online review, "I seriously cannot say enough good things about how perfect the day was."
For those interested in having their weddings at The Ballroom at Ellis Preserve, Finley says weekends fill up quickly. A bride-to-be should plan to book her desired date a year and a half in advance in order to get the Saturday of her choice. Likewise, Fridays need to be booked a year in advance, while Sundays may have more flexibility. The venue can accommodate sit-down weddings of up to 260 guests, though Finley says the venue hosts weddings from 100 guests and up.
Finley Catering is currently scouring the Greater Philadelphia Area for the next jewel in its crown—meaning another distinctive property of the same caliber as Finley Catering's four other events venues.
"We have something specific in mind—a more rustic, barn-style property," Finley says. "At this point we haven't found it yet, but we'll know it when we see it."
For more information about The Ballroom at Ellis Preserve and Finley Catering's other distinctive events venues, visit FinleyCatering.com or call (610) 298-5530.
Published (and copyrighted) in Suburban Life Magazine, March 2018. .
.
.