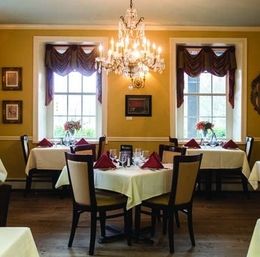 A Place for All Occasions
For fine dining, nightlife, special events and so much more, The Plumsteadville Inn truly offers something special for everyone.
It's the perfect place to watch the game with a cold beer and a good friend seated beside you. It's a cozy spot to enjoy a night of fine dining by the warmth of a well-fed hearth. It's a culinary school of sorts, where you can learn the "tricks of the trade" from a professional chef. It's a nightlife destination where you can dance to the infectious grooves of hits from the 1980s. It's even the spot where love-struck men choose to get on one knee and ask their girlfriends, "Will you marry me?"
Welcome to The Plumsteadville Inn in Pipersville, a Bucks County landmark that serves as the backdrop for all of the above and then some. Matt George, general manager of The Plumsteadville Inn—simply "The Plum," to regulars—sums it up quite nicely by describing it as "a place for all occasions."
"Full-service hospitality is what we're aiming for," says George. "Our job is to make people happy, and that's what I like the most about what we're doing here. Every day is a new day and a new opportunity to exceed our guests' expectations."
To begin with, the restaurant offers an array of unique places to enjoy a meal—formal dining areas, a bar and tavern-style dining room with a working fireplace and Steinway piano, a lounge and, in kinder weather, an outdoor patio complete with a fire pit and a working fountain. No matter where they choose to sit, guests can select any dish on the inn's diverse menu of "American bistro" fare. The lineup of finely crafted recipes includes everything from German- and Asian-inspired favorites to fine seafood and the ever-popular American pub fare, like burgers and wings.
"Our official motto is 'Burgers and Beer, Lobster and Cheer,' and that certainly applies, but I also like to say that we offer something for all occasions," George says. "You'll see people here to watch the game, for business meetings or to have a nice dinner with their husband or wife. We've even had a number of people propose to their girlfriends here. That's because we have the menu, the space and the expertise to do it all."
Aside from the restaurant, The Plum serves as a comfortable inn, with 13 fully refurbished overnight rooms. While all of the rooms speak to the inn's historic roots from the early 1700s, they also have modern amenities, including flatscreen televisions, private bathrooms and Wi-Fi. The rooms are available to rent as singles or in blocks, the latter option being particularly popular in spring and summer for guests in town for a wedding or some other special event.
"What often happens is that families come to the area to attend a big event, and they'll rent out the entire hotel," George says. "When that happens, it's almost like being at home with the entire family."
Expansion Plan
The Plum has never stopped evolving in its quest to serve guests' needs. Recently, for example, it has adopted an innovative program that's essentially an extension of the kitchen: monthly cooking demonstrations. During these interactive demonstrations, one of the restaurant's two full-time chefs—Dennis Matthews—spends an evening teaching attendees how to make multiple dishes using one central ingredient.
One upcoming demonstration will use ground beef as the main ingredient, and Chef Matthews will teach attendees how to make dishes such as meatloaf, Salisbury steak, chili and beef tacos. As part of the evening, guests will learn how to properly pair these dishes with appropriate wine selections. What's more, they will go home with a recipe book, featuring step-by-step instructions for preparing the dishes they just learned how to make.
So far, guest feedback has been very positive, according to Christopher Arnold, The Plum's manager, who has been intimately involved with putting on the first few demonstrations.
"Our goal is to make sure everyone has fun, and hopefully learns something along the way," he says. "We've been very happy with the feedback so far. It's a unique atmosphere because you'll have a group of 20 to 30 people who get to interact with Dennis and ask him questions. I think it would be tough to find a similar experience like this somewhere else."
In addition, The Plum offers special BYOB dinners and nights featuring live entertainment, ranging from standup comics to singer-songwriters. But one of its most reliably popular draws is a festive '80s Dance Party, featuring a DJ spinning 1980s hits from the likes of Blondie, The Clash and a seemingly endless list of memorable one-hit wonders.
"We do the '80s Dance Party four times a year, and it's become a huge success," says George. "We'll clear out one of the banquet rooms, add a bar and bring in the DJ who has a deep catalog of '80s songs. It's typically one of our best-attended events, with 120 to 130 people coming in every time we do it and dancing until midnight." The Plum has even found ways to extend its reach by way of a growing catering business.
"People might not realize it, because they see us as this historic Bucks County landmark, but we do a lot of catering that is customized to each client's needs," Arnold says. "Just the other day, we did a private event at a hunting lodge in Bedminster for one of our regular customers. We brought everything we needed to the lodge, made breakfast, lunch and dinner for everyone to enjoy.
"If there's a need," he continues, "we'll find a way to make it work."
While The Plum has done its best to redefine the term "full-service hospitality" with new and inventive ways to connect with guests, George and his team strive to deliver one core ingredient with every interaction: consistency.
"Consistently clean, consistently great service, consistently a great product—that's what we're trying to deliver here," George says. "We always have daily specials and featured items, and we're continually adding to our calendar of events, so even if you come here on a consistent basis, you're going to find something new and different we think you're going to enjoy."
THE PLUMSTEADVILLE INN
5902 Easton Road | Pipersville, Pa.
(215) 766-7500
PlumsteadvilleInn.com
Photography by Jeff Anderson
Published (and copyrighted) in Suburban Life Magazine, February 2018.
.
.
.