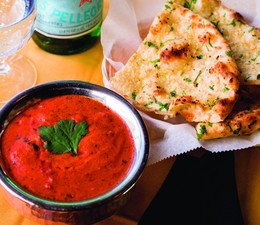 Truly Unique
Having recently opened in Wayne, Saffron Indian Kitchen brings intensely flavorful and immensely satisfying Indian cuisine to the heart of the Main Line.
Indian food, perhaps more so than any other style of cuisine in America's diverse culinary culture, has the power to stimulate all five senses. With the right ingredients and the perfect balance of spices, a skilled chef who specializes in the broad-ranging cuisine of India can prepare any dish—from the comforting paneer tikka masala to the creamy lamb korma—to be both intensely flavorful and immensely satisfying.
And that's exactly the kind of experience Rahul Bhatia has brought to the Greater Philadelphia Area. In 2009, Bhatia launched the first Saffron Indian Kitchen in Bala Cynwyd, featuring subtle décor, attentive service and a broad menu built on recipes perfected through years of practice. As an encore, he quickly opened a second location in Ambler. It may have taken a few years, but Bhatia has continued to grow his burgeoning business. Last summer, he opened a third Saffron Indian Kitchen—this one in Wayne—to introduce his distinctive brand of authentic yet accessible Indian cuisine in to the heart of the Main Line.
"There aren't many other Indian restaurants the area, so we had a big opportunity to share something truly unique with the people who live in this area," says Bhatia, originally a native of New Delhi. "There's a whole generation of people who have grown up with things like chicken tikka masala, stuffed naan and mango lassis. I'd say we're getting 80 to 85 percent of our business through repeat customers, but there are still a lot of people who haven't yet tried Indian food. And when they do, we're up to the challenge."
The Right Place
Indian cuisine is known for its bold flavors and aromatic spices—coriander, ginger and turmeric, for example—some of which may be unfamiliar to the average American palate. That's why Bhatia says it's important for first timers to try Indian cuisine at "the right place," as he calls it.
"Indian food has to have the right balance of spices so they don't overwhelm the person who's eating it, especially if they've never had it before," he says. "There's a perception that Indian food is spicy and greasy, but we're exactly the opposite. Now, for people who like a lot of spice, everything is fresh and made to order, so we can make it to whatever spice level you like. But for everything on the menu, our goal is to create a dish that provides all the different flavors people crave but without the heat that some people just don't want."
In Saffron, Bhatia has crafted a diverse menu designed to appeal to a broad swath of diners, including those who seek more adventurous options. (One example: the fiery vindaloo, either in chicken, lamb or vegetable.) For patrons who dislike richly sauced foods, the menu boasts a number of oven-grilled kabobs and rice-based biryani dishes. And for those who ascribe to a healthier, lighter lifestyle, the menu has an abundance of vegan, vegetarian and glutenfree options to satisfy the taste buds.
"The food we're making here is something you can easily enjoy three to four times a week," he adds. "The menu is big enough so that you can come here often and never get bored or run out of new things to try."
Some of the most popular dishes on the menu include chicken tikka masala, tandoori chicken and tandoori lamb chops. One of Bhatia's personal favorites is sag paneer, a dish consisting of house-made cheese tossed with fresh spinach, masala and garlic. Although the dish can be "cumbersome" to make, he says customers appreciate the time and effort that go into it. Some of Sa?ron's signature dishes
Always Something New
Besides the regular menu, Saffron introduces a number of house specials on the first day of every month. One recent special that Bhatia says was incredibly popular: tandoori salmon, a kabob-style dish with cubes of salmon, each flavored with cilantro, mint and other spices, and then grilled to perfection in a tandoor oven. Also, in colder weather, Saffron offers monthly special appetizers and soups—recent examples include pumpkin soup and tomato carrot soup—to warm the body and tempt the palate. "The specials are immensely popular for our regulars, meaning the people who are coming into the restaurant multiple times per week," he says. "We use this as an opportunity to come up with new dishes that originate from all the different regions of India, cooked with the right balance of spices to bring out the flavors of each dish."
For customers eager to try a little bit of everything, Saffron's Wayne and Bala Cynwyd locations offer an all-you-can-eat lunch buffet every weekend from noon till 2:30 p.m. Those who choose this option would be wise to save room for dessert, however. While one might not necessarily associate Indian food with sweet treats, Saffron offers three delicious dessert options that provide the perfect end to any meal. This includes the popular Badami kheer, a chilled rice pudding made with cardamom, raisins and a touch of almond. In addition to having expanded to three BYOB locations, Saffron Indian Kitchen has extended its reach beyond the four walls of the dining room. Each restaurant also offers full-service catering for gatherings of 20 to 200, be it a wedding, corporate event or, around this time of year, a Super Bowl party. Bhatia says that no matter how and where customers experience Saffron's food, the goal is always the same: "to provide an experience you are sure to fall in love with." "What I like most about what we're doing here is the opportunity to surprise people," he adds. "If it's your first time trying Indian food, we want you to discover something very good and quite different. If you already love Indian food, we want to re-familiarize you with some old favorites, only presented in a unique and very flavorful way."
Saffron Indian Kitchen
Sa?ronOfPhilly.com
522 W. Lancaster Ave.
Wayne, Pa.
(610) 254-9100
145 Montgomery Ave.
Bala Cynwyd, Pa.
(484) 278-4112
60 E. Butler Ave.
Ambler, Pa.
(215) 540-0237
Photography by Jody Robinson
Published (and copyrighted) in Suburban Life Magazine, February 2018.
.
.
.